SECOND NEXUS PERSPECTIVES
During the GOP debate/dogmatic jubilee earlier this month, Mike Huckabee (a.k.a. the other hate-mongering Presidential hopeful--not to be confused with the infamous Trump) seized an opportunity to pontificate about the military's purpose; he did so, however, at the expense of transgender service members. According to Huckabee:
---
"The purpose of the military is to kill people and break things. . . . It's not to transform the culture by trying out some ideas that some people think would make us a different country and more diverse. The purpose is to protect America."
Then, adding insult to aspersion, Huckabee continued: "I'm not sure how paying for transgender surgery for soldiers, sailors, airmen, Marines makes our country safer."
Huckabee's comments at the debate were a decidedly tamer version of remarks he made in an earlier interview with Newsmax TV. In that interview, he compared the importance of gender reassignment surgery to elective breast enhancement, suggesting that if taxpayers were required to fund gender reassignment surgery, it followed that we would also have to fund breast augmentation.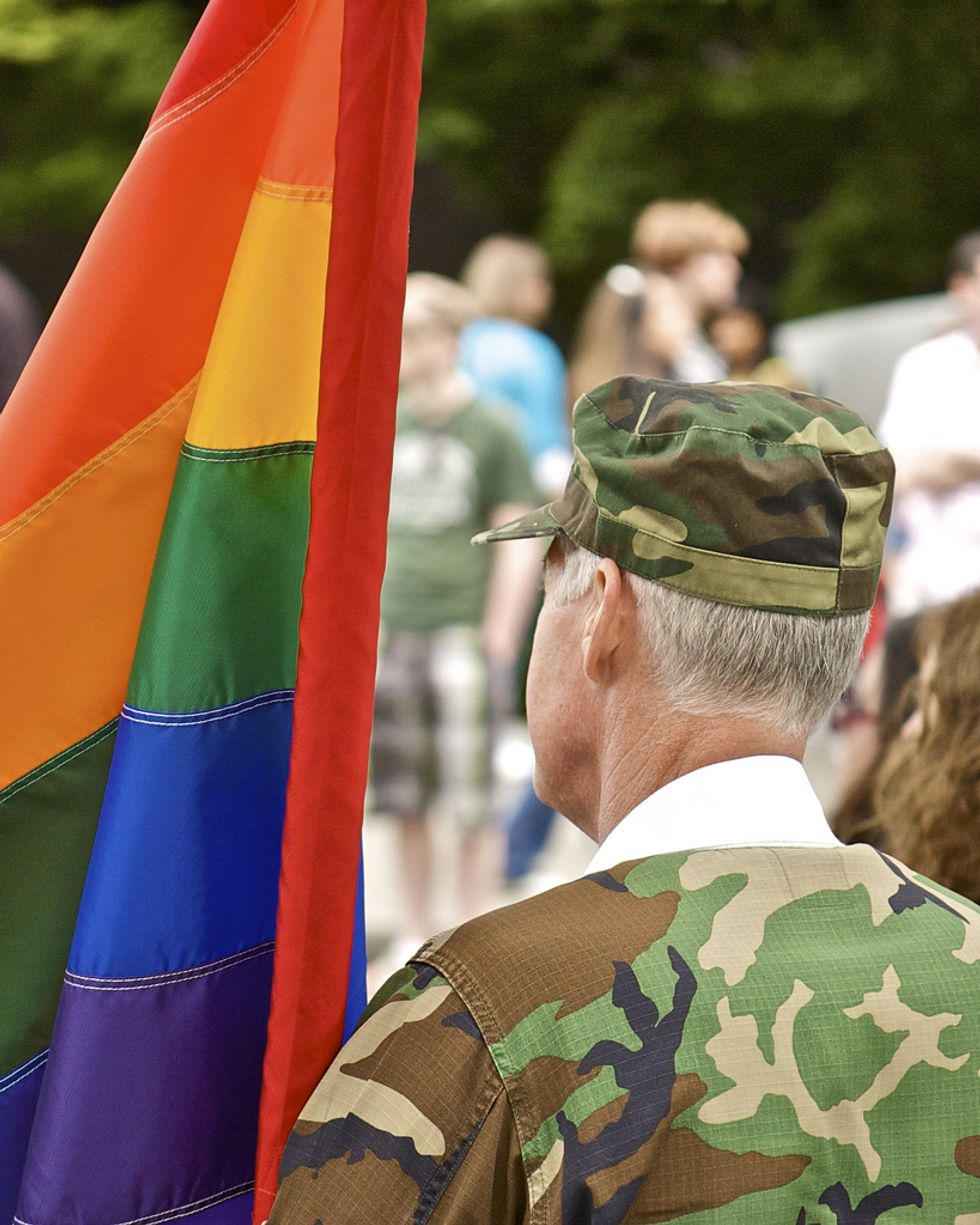 via Flickr user sonicfour
It is likely that Huckabee is attempting to refocus a few watts of the national spotlight on himself and away from Donald Trump. But it is just as likely he is using the issue in order to distinguish himself from Jeb Bush who recently came out in support of the Obama administration's push to allow transgender individuals to serve openly in the military.
The State of Things
Since the 1960s, transgender people have been prohibited from serving in the military. The experience of being transgender, also called "gender dysphoria," is when a person does not identify as the gender they were assigned at birth. Gender dysphoria can cause severe anxiety and depression, and a University of California School of Law study found that a staggering 41% of transgender individuals had attempted suicide. Some, but not all,
transgender people seek hormone therapy or sex reassignment surgeries in order to alleviate their depression and to feel comfortable in their bodies. Such medical care can, in many instances, greatly improve the lives of people struggling with gender dysphoria.
The military's current discriminatory policies do not prevent transgender people from entering the service if their status is unknown (Chelsea Manning, for example, served in the United States Army in Iraq, and Congressional candidate Kristin Beck served as a Navy Seal for over two decades, earning a Purple Heart, a Bronze Star and a Joint Service Commendation). But under current military policy, anyone diagnosed with "psychosexual conditions ... including but not limited to transsexualism, exhibitionism, transvestism, voyeurism, and other paraphilias" is considered medically unfit for service. Similar to the former controversial "don't ask, don't tell" policy, trans people often enter into military service without disclosing their status. If they reveal themselves or are found out, they face discharge.
In her article for The Guardian, Chelsea Manning describes what it was like to be transgender in the military:
"When I wanted to serve my country, I was forced to hide the most basic and human aspect of my life and my identity from the people to whom I was supposed to be the closest – and with whom I had to trust my life. I also had to hide from myself. Every morning, I had to put on a uniform, and a disguise, because I was transgender, and I am a soldier. . . . I . . . had to actively work to suppress my gender identity or risk being kicked out of the military or even physical harm from anyone who might've harbored prejudice against trans people. I was also unable to seek mental health and medical treatment, for fear of administrative or criminal actions being taken against me if I admitted that I was trans. And so, by default, I was unable to receive any treatments to keep me healthy, mentally and physically."
via Flickr user smuconlaw
Manning, and thousands of other brave men and women like her, have had to endure the detrimental effects of the military's discriminatory policy or risk losing their livelihoods. According to the New York Times, it is estimated that the number of transgender people currently serving in the military could be as high as 15,000 -- in fact, transgender individuals serve in the military at a rate twice that of the general population; as many as 134,000 veterans are transgender.
In addition to enduring discriminatory policies intended to keep them from serving in the military, transgender people experience other forms of discrimination, harassment, and even violence while serving. Even after they leave the military, according to a 2013 Williams Institute study by Jack Harrison-Quintana and Jody L. Herman, trans people were more likely to be incarcerated or homeless than other veterans.
Change is Coming
The Obama Administration indicated back in February that it was open to allowing transgender people to serve, but the Department of Defense (DoD) did not appear to make any formal movement in that direction right away. Then in July, Pentagon officials
announced plans to explore how to dismantle the discriminatory policy. It will, however, take several months at least before any change is likely to come about.
Unfortunately, improving conditions for trans service members is not as simple as merely nixing a culturally outdated policy, and even doing that will take time. After all, it was more than a year after the repeal of "don't ask, don't tell" before the military actually put their new inclusive policies into effect.
In the meantime, Undersecretary of Defense, Brad Carson, has been assigned to lead a working group to investigate what effect rolling back the policy will have -- including, for instance, the costs of providing medical care. But whether the military will pay for hormone treatments or reassignment surgeries is only one small part of the investigation. The working group has also been tasked to hash out a myriad of logistical concerns, such as where to house trans service people.
In his article for Military.com, Jeremy Redmon points out that the DoD will need some time to work out practical issues such as how uniforms will be issued, how duties will be assigned, and how to list a person's gender on their military ID. The DoD will also need to decide whether and how to vary physical fitness standards for individuals undergoing hormone therapy; such standards already differ with regard to gender.
via Flickr user DVIDSHUB
There are few to whom we owe more respect than the brave men and women who serve in our nation's military. To deny them the most basic dignity -- to force them to actively hide who they are -- is unconscionable. All members of our armed forces should be allowed to do their jobs without fear of intimidation, harassment, violence and hate; that result, however, can be accomplished only by bringing the military's discriminatory policies to an end.