Obituaries
Nothing to see here.
16 April 2019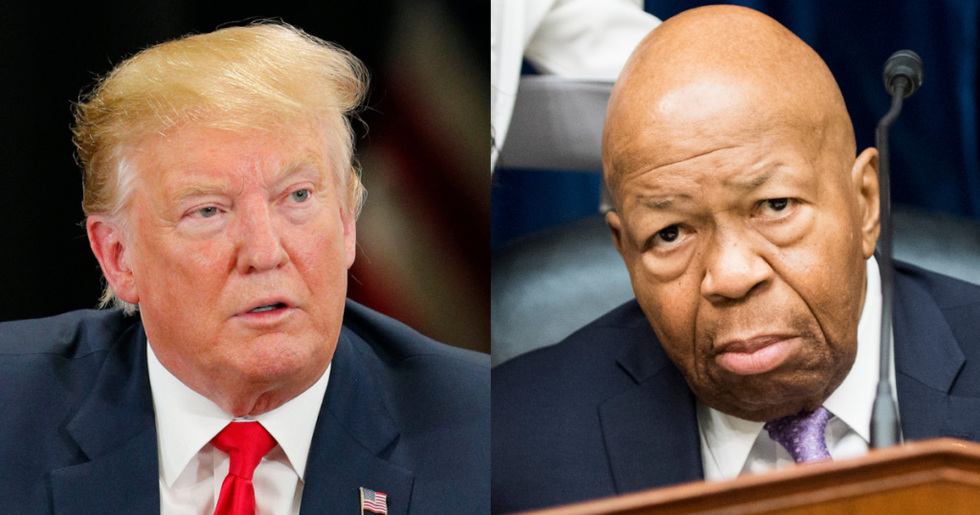 Adam Bettcher/Getty Images, Bill Clark/CQ Roll Call/Getty Images
President Donald Trump's attorneys are urging a financial firm to ignore a Congressional subpoena demanding the president's financial records, Politico reported on Monday.
House Oversight Committee Chairman Elijah Cummings (D-MD) issued a subpoena to accounting conglomerate Mazars USA, which is in possession of Trump's coveted tax documents.
The subpoena seeks to confirm testimony by Trump's former lawyer Michael Cohen, who alleged that Trump over and under-inflated the value of his assets.
According to Politico, attorneys William S. Consovoy and Stefan Passantino put Mazars "on notice"—implying legal action should the firm comply with the subpoena.
"It is no secret that the Democrat Party has decided to use its new House majority to launch a flood of investigations into the president's personal affairs in hopes of using anything they can find to damage him politically," lawyers for the president wrote to Jerry D. Bernstein, Mazar's counsel.
Trump's attorneys accused Cummings and Congressional Democrats of mounting a political attack on their client, going so far as to peddle a false narrative about the findings of Special Counsel Robert Mueller's report on Russian election interference.
"The Democrats' fervor has only intensified after the special counsel squelched their 'Russia collusion' narrative," Consovoy and Passantino claimed.
The attorneys also argued that Congress lacks the authority to demand Trump's financials.
"The House Oversight Committee is not a miniature Department of Justice, charged with investigating and prosecuting potential federal crimes," they said. "It is a legislative body, not 'a law enforcement or trial agency,' and the chairman's attempt to assume for Congress the role of police, prosecutor, and judge is unconstitutional."
All this points to one thing: Trump is petrified of the public getting a glimpse of his finances.
@desiderioDC I'm not surprised at all. There must be something very damaging in his taxes...........but we already know that.

— Hear Me Roar (@Hear Me Roar) 1555346860.0
@desiderioDC @wildwestleft https://t.co/kdFgjrNSQq

— sylvia (@sylvia) 1555351156.0
@desiderioDC @NatashaBertrand Lol...this is why the company asked them to issue a subpoena. They knew Trump would b… https://t.co/h4fTTyxX7Z

— Mel #CloseTheCamps (@Mel #CloseTheCamps) 1555341434.0
@desiderioDC @samstein No financial records, no tax returns, no Mueller report... yet Trump somehow contends he has nothing to hide.

— Gertrude The Squid (@Gertrude The Squid) 1555341819.0
Trump's legal time is encouraging witnesses to break the law.
The whole thing stinks of witness tampering and obstruction of justice.
@desiderioDC @NatashaBertrand I fixed it for you: Letter obtained by Politico urges Mazars outside counsel TO BREAK THE LAW.

— Trina Birdsong (@Trina Birdsong) 1555342507.0
@desiderioDC @NatashaBertrand How are lawyers allowed to threaten 'legal' action against a party for abiding by the… https://t.co/YlzrE1etjm

— Aaron Centaaar (@Aaron Centaaar) 1555343051.0
@desiderioDC @TeaPainUSA I believe there is a term for that. What was it ...? ... Oh yeah: obstruction.

— Toby Woods (@Toby Woods) 1555343871.0
@desiderioDC seems worthy of a contempt of congress charge

— Brett Craycraft (@Brett Craycraft) 1555342218.0
And Republicans are letting him get away with it. Cummings' Republican counterpart on the Oversight, Congressman Jim Jordan of Ohio, called Cummings' subpoena a "gravely dangerous" abuse of power.
"I strongly object to Chairman Cummings' unprecedented subpoena to Mazars and his irresponsible and gravely dangerous course of conduct in a singular obsession of attacking President Trump and his family for political gain," Jordan said.
Cummings was not having it. Congressional subpoenas "are key to the committee's ongoing investigations of matters squarely within our jurisdiction," Cummings replied, referring to Trump's perceived conflicts of interests.
"Jordan is embarking on an unprecedented path of partisanship that all members of the House of Representatives should find concerning," Cummings wrote, "because it could have a detrimental impact on Congress' ability to exercise its core constitutional oversight responsibilities for years to come."
Keep reading...Show less