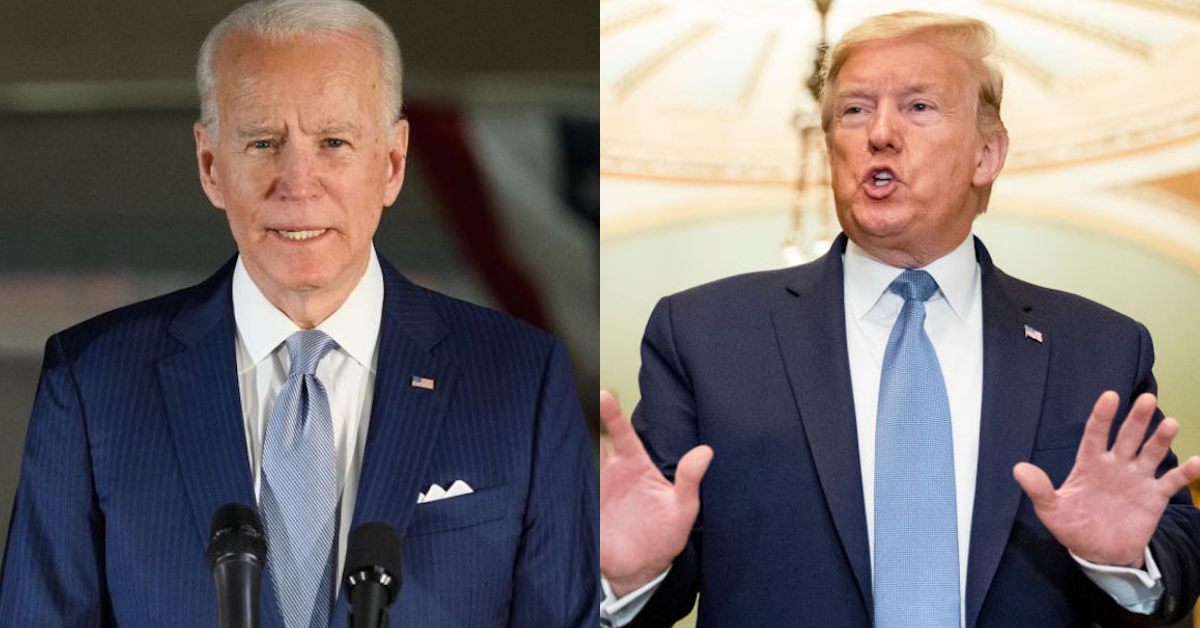 Mandel Ngan/AFP via Getty Images; Samuel Corum/Getty Images
As the presidential candidate field narrows leading up to national conventions, voters whose preferred candidate dropped out are realigning their support. Beyond Republican and Democrats, independent voters are also making decisions about who to support in November.
A new Morning Consult poll shows more of those independent voters choosing former Vice President Joe Biden over incumbent President Donald Trump.
NEW: Biden's Lead Over Trump Swells to a 2020 High https://t.co/NJNp35BFk1 via @jpiacenza https://t.co/4D0I7oIsqH

— Morning Consult (@Morning Consult) 1583838405.0
.@JoeBiden's lead over Trump in national election grows to largest margin of 2020, new @MorningConsult poll shows… https://t.co/eCqSeD8wfN

— Jason Lemon (@Jason Lemon) 1583844743.0
You can see the numbers here.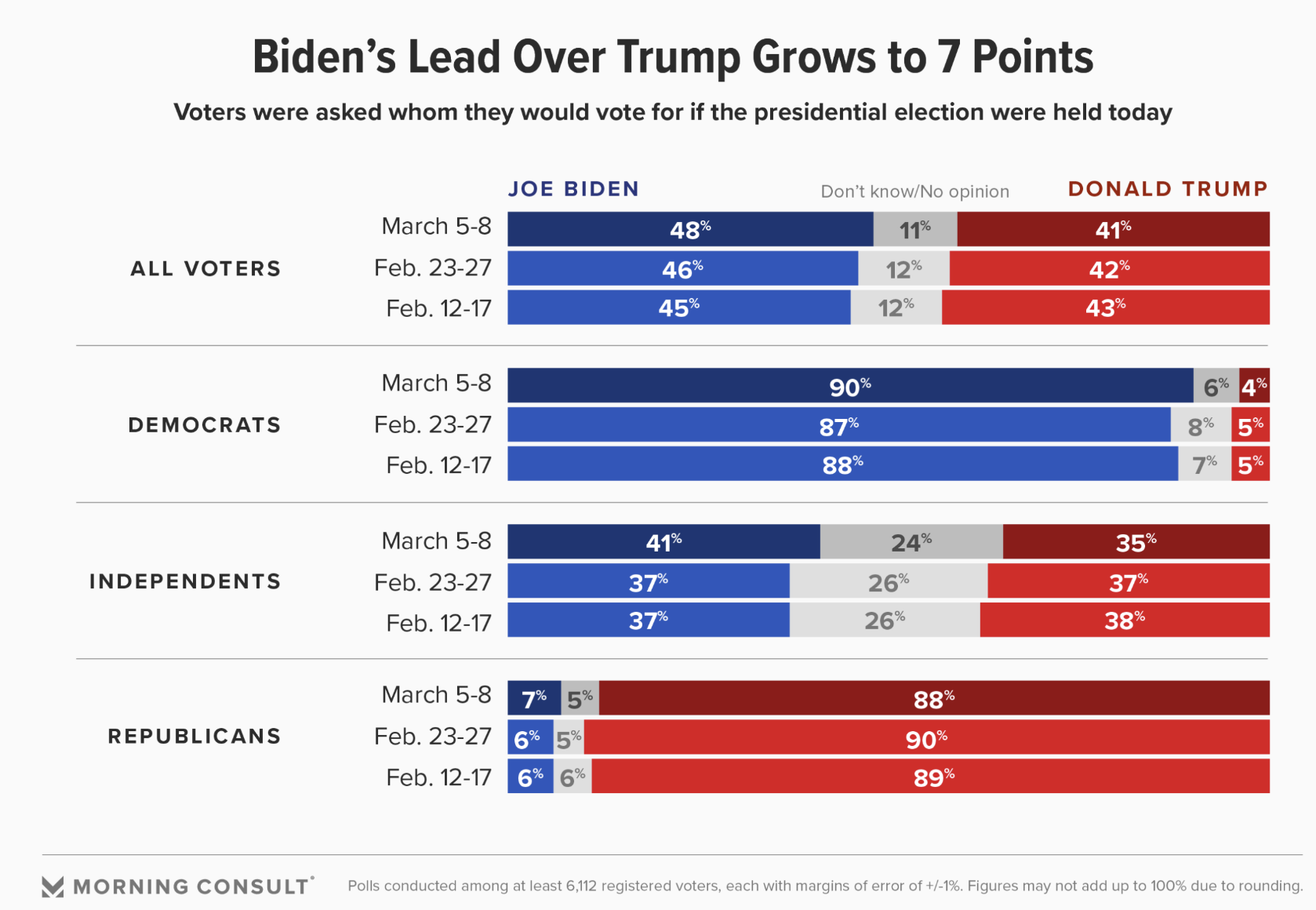 Morning Consult
The poll also shows a shift of some of those independents from Trump to Biden.
Results of a poll conducted February 12-17 had 37% for Biden, 26% undecided and 38% for Trump. By March 5-8, independents went 41% for Biden, 24% still undecided and down to 35% for Trump.
@MorningConsult We also have Biden with his biggest head-to-head lead (+7) over Trump in a @MorningConsult poll thi… https://t.co/J0Qva2ENgl

— Cameron Easley (@Cameron Easley) 1583842861.0
Biden gained the lead as well as 4 percentage points while Trump fell behind and lost 3 percentage points.

Democrats and Republicans split along party lines. But for overall totals, Biden led Trump 45% to 43% in early February. By March, that two percentage point lead widened to seven percentage points at 48% for Biden and 41% for Trump.
Not everyone got the memo though.
@realDonaldTrump Democratic presidential frontrunner Joe Biden's lead over Trump: The poll, conducted by Morning Co… https://t.co/d7KikgFkQv

— Sophie Adler (@Sophie Adler) 1583868833.0
NEW general-election matchups: Biden: 48% Trump: 41% Sanders: 47% Trump: 41% https://t.co/19xcvbKDo2 Conducte… https://t.co/mflTZ1jzbh

— Morning Consult (@Morning Consult) 1583830980.0
More voters seem to be growing confident that Trump will meet his match with Biden in November.
Biden is going to beat Trump by a wide margin in November. Screen shot this

— Tony Posnanski (@Tony Posnanski) 1583926342.0
To everyone who's been saying that Joe Biden can't beat trump, that he doesn't have what it takes, I hope you saw h… https://t.co/oprsahyXZ6

— BrooklynDad_Defiant! (@BrooklynDad_Defiant!) 1583896382.0
Joe Biden is not my candidate. But people saying he isn't electable are lying to themselves. Becoming obvious Biden… https://t.co/OtAvm7uSwb

— Molly Knight (@Molly Knight) 1583888707.0
As of Wednesday, March 11, the 2020 presidential election is 236 days away.

Keep reading... Show less