GOP Lt. Gov. Randy McNally used his official Instagram account to leave hearts and fire emojis on several of Instagrammer Franklyn McClur's racy photos.
09 March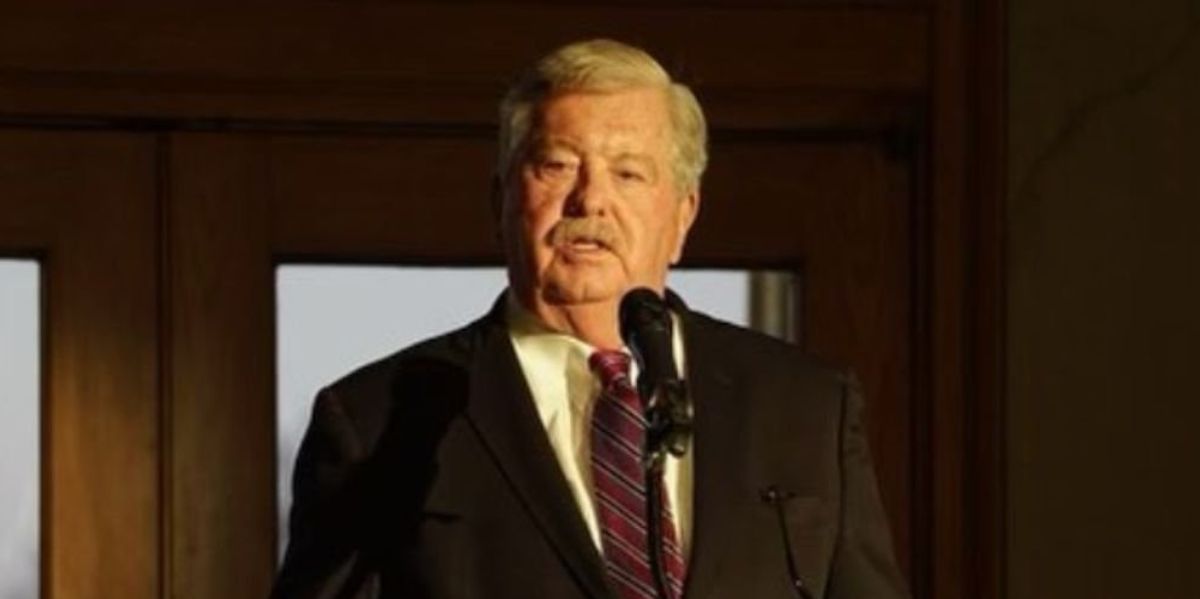 @ltgovmcnally/Instagram
Republican anti-LGBTQ+ Lieutenant Governor Randy McNally became the subject of a bizarre controversy after it was revealed he had been leaving flirtatious comments on a young man's Instagram page.
People accused the Tennessee Republican of hypocrisy given his private online activity contradicted his homophobic and transphobic persona–as well as his frequent endorsement of anti-LGBTQ+ bills.

McNally–a Roman Catholic man married to a woman with whom he has two adult daughters–allegedly left numerous comments praising an Instagram account featuring NSFW images of a gay 20-year-old man identifying himself as Franklyn McClur.
Under the comments section of a suggestive photo featuring McClur's backside, McNally's verified Instagram account left heart and fire emojis, according to WKRN.
Warning: NSFW photos.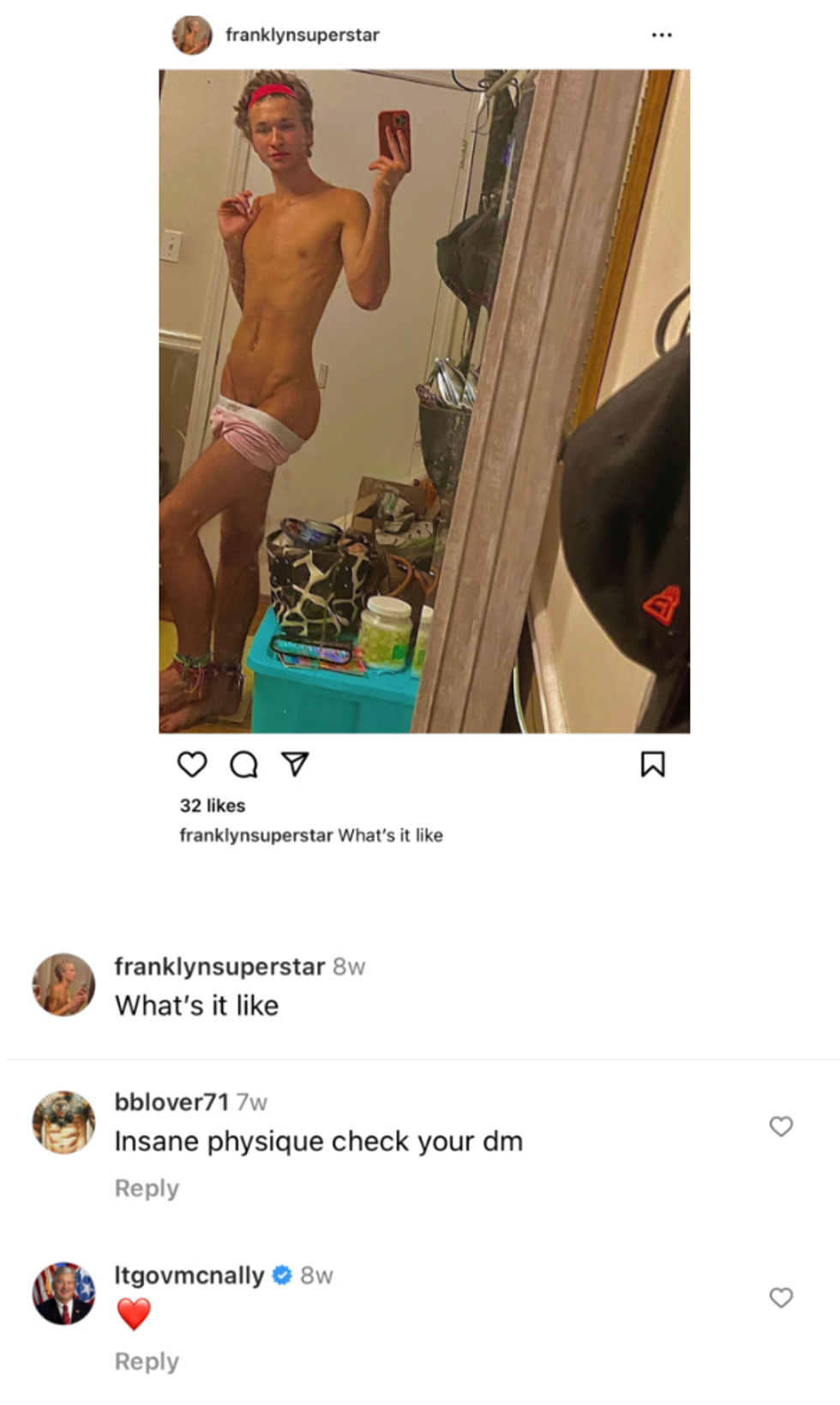 @fransklynsuperstar/Instagram
His account also added:
"you can turn a rainy day into rainbows and sunshine!"
In another photo in which McClur appeared to not be wearing underwear, McNally wrote:
"great picture! Best wishes for continued health and happiness."
More screenshots were shared on Twitter.

McNally's account also liked a photo of a woman who identifies as transgender. The photo's caption included the hashtag #transgender.
The interaction left social media users scratching their heads especially since McNally had been backing a number of anti-LGBTQ+ legislation–mostly targeting transgender people.
He voted for two of the anti-trans bills signed into law by Tennessee Republican Governor Bill Lee–including a 2021 bill that authorized students and faculty to refuse to share a bathroom with trans people, and another bill the same year that prohibited trans students from participating in a sports team corresponding with their identifying gender.
This year, Lee signed a total ban on gender-affirming healthcare for trans youth and an anti-drag bill restricting "adult-oriented performances that are harmful to minors."
Lee himself faced public scrutiny and was accused of hypocrisy after a 1977 yearbook photo resurfaced that many alleged was of the future Tennessee Governor as a high school student wearing a short cheerleader's miniskirt and a wig.
When the news outlet contacted McNally's office about his online engagement with McClur, a spokesperson did not deny the legitimacy of the Lieutenant Governor's posts.

They responded:

"Trying to imply something sinister or inappropriate about a great-grandfather's use of social media says more about the mind of the left-wing operative making the implication than it does about Randy McNally."
"As anyone in Tennessee politics knows, Lt. Governor McNally is a prolific social media commenter."
The spokesperson's wording raised eyebrows.

The statement continued:

"He takes great pains to view every post he can and frequently posts encouraging things to many of his followers."
"Does he always use the proper emoji at the proper time? Maybe not."
"But he enjoys interacting with constituents and Tennesseans of all religions, backgrounds and orientations on social media."
The spokesperson added that McNally "has no intention of stopping."
Social media users suggested McNally consider the alternative.
The Tennessee Holler managed to contact McClure to get the full story from his perspective.
According to the outlet, McClure and McNally met a few years ago through mutual friends on Facebook on which McNally found McClur's Instagram page.
He's been commenting on McClure's page ever since.

The amateur model said of his body:

"My body is art, I like to use it the way god intended."
He said he always interpreted the Lieutenant Governor's flattering comments as nothing sinister.
"I just thought he was older and out of touch," he said, adding:
"I've always taken it as a compliment. I don't dislike him or think he's a bad person, he's one of the only people who has consistently uplifted me and made me feel good."
When the outlet apprised McClur of the Lieutenant Governor's anti-drag and anti-trans advocacy and of the country's increasing push for GOP-led anti-LGBTQ+ bills, the young Instagrammer agreed it was wrong.
"It's wrong to ban drag, wrong to ban anything that isn't hurting anyone. I don't support hate of any kind."
In spite of everything, McClur maintained he had no antipathy towards McNally.
"I don't hate him. I don't dislike him. I don't have a negative opinion on him."
"I've had a transformation since we started talking — I was more christian, now I'm more not Christian."
"We were friends back before I was more openly myself. Before I was posting things more mature."
He added:
"If he's hitting on me it's real out of touch hitting on me."
McClur also expressed compassion towards McNally.

"I just hope that he knows I love him and LGBTQ+ loves him and would love him even more if he would open his heart and treat everyone else the way he wants to be treated because the way I want to be treated is to be accepted and be able to be myself and not be taken to police."
Just, wow.