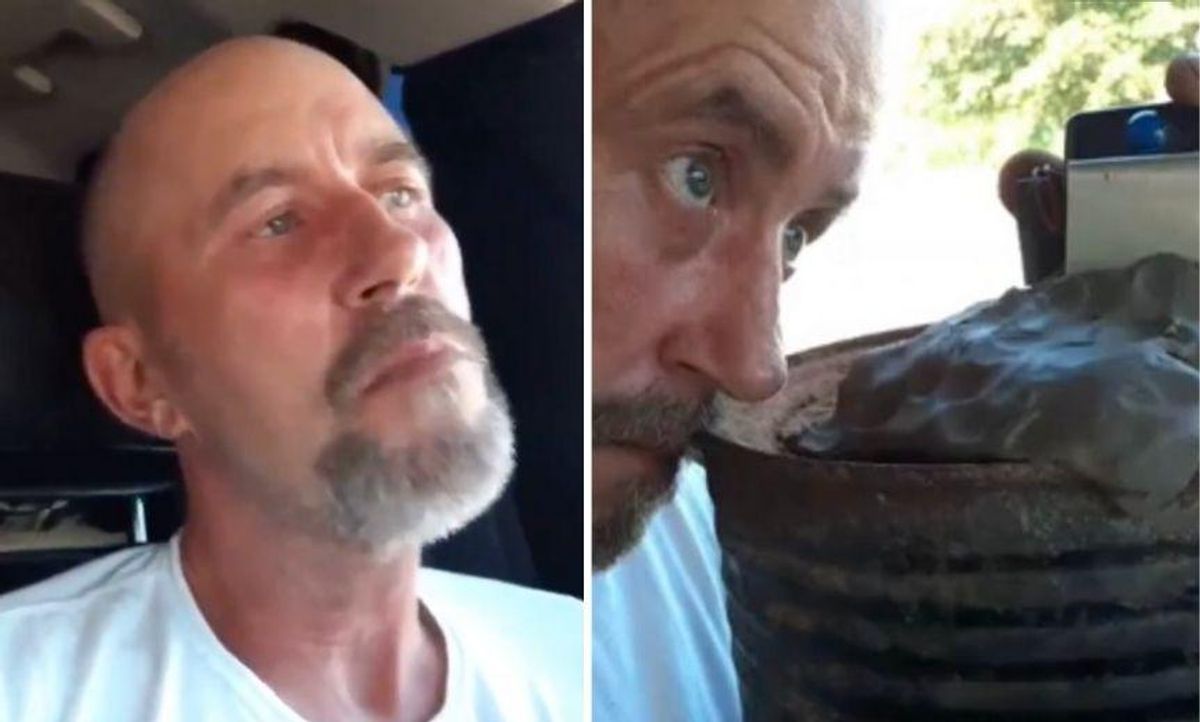 Ray Roseberry/Facebook
UPDATE (2:37 PM): Roseberry has surrendered after a standoff with law enforcement.
----
The Library of Congress and the Supreme Court have been evacuated after a man known as Ray Roseberry of Earl, North Carolina parked his pickup truck, loaded with explosives powerful enough, he claims to decimate two and a half city blocks.
On Thursday afternoon, Roseberry began streaming live on Facebook, announcing that the "revolution" had arrived and demanding to speak to President Joe Biden.
Facebook has since shut down both Roseberry's account and his livestream, but chilling portions of it have been shared on social media.
#BREAKING there is a white man in a truck on the sidewalk in front of the Library of Congress across from the Capit… https://t.co/T2lsY8DTd7

— Vishal P. Singh (They/He) (@Vishal P. Singh (They/He)) 1629389974.0
NEW: "The revolution is on. It's here… I'm ready to die for the cause." Here's video from the man who said he's go… https://t.co/bS8equIMSg

— Ryan J. Reilly (@Ryan J. Reilly) 1629391018.0
Roseberry said at one point:

"If you blow my truck up, man, hey, it's on you, Joe. I'm ready to die for the cause. And, brother, you said if you could do anything to save one life, one life, you said you'd do it. You got a chance. I wanna go home Sunday. I wanna go home and see my wife. We're living in a free country, Joe. Choice is yours. If you wanna shoot me, and take the chance of blowing up two and a half city blocks ... I don't wanna die, Joe. I wanna go home."
Roseberry claimed his explosive has a "dead man's trigger," which detonates once a human operator's pulse drops below a certain level, signifying death or loss of consciousness. He further claimed the explosives would be detonated at the sound of breaking glass. What's more, Roseberry says there are four other "patriots" spread across D.C.
Journalist Emily Gorcenski scoured Roseberry's social media to paint a more detailed picture of his motivations and ideology.
Facebook likes from the alleged perpetrator of the bomb threat in DC https://t.co/kNKq2pw3BF

— Emily G (@Emily G) 1629389746.0
Facebook posts include a regular array of right-wing, proto-white nationalist talking points, including:

- anger at transgender people being allowed into the military
- "black on black" and "black on white" crime
- anti-masking
- anti-democratic party sentiment
— Emily G (@EmilyGorcenski) August 19, 2021
A couple things to note:

- he claims to have four other people stationed around the city. Militia-types love overinflating their strength of force
- he claims his trigger would fire on the sound of glass shattering. this is plausible and can be easily built.
— Emily G (@EmilyGorcenski) August 19, 2021
I was able to get these stills of the device. He describes the trigger, but misuses certain terms. He says it's triggered off "decimals" (not decibels) and he points to the round protruding bit and says it's a "speaker." pic.twitter.com/OSXFC8Y3Vq
— Emily G (@EmilyGorcenski) August 19, 2021
The disturbing scene embodied the continued national spiral into derangement and extremism, largely prompted by the right wing's embrace of nationalism and conspiracy theories.
All those years profiling Muslims and Arabs & destroying lives in the Middle East. In the meantime we have been gro… https://t.co/HTHugHWH39

— Ariel Gold אריאל 🕎 ☮️🔥✡️ (@Ariel Gold אריאל 🕎 ☮️🔥✡️) 1629392028.0
They're weak minded cowards who can't stand losing and they keep losing. They're willing to die for their cause bec… https://t.co/nqE5MXqEhT

— David (@David) 1629392852.0
Further demonstrating the grip of right-wing conspiracy theories on the nation, "false flag" soon began trending on Twitter, with people baselessly claiming Roseberry's terrorism was manufactured by the state as a distraction from the chaos engulfing the withdrawal of troops from Afghanistan
Note to D.C. We know you love a good false flag when your backs are against the wall. Dont expect us to care much… https://t.co/UnEFy15hpG

— Javier Goya (@Javier Goya) 1629385588.0
False Flags are popping up everywhere. They will do everything in their power to distract from Afghanistan.

— John D • (@John D •) 1629394576.0
Don't let the alleged Bomb Scare in D.C. Distract from what's going on in Afghanistan...the #DCbomb is a False Flag...a distraction

— Ssgt Grumpy Mary Veterans R Infrastructure (@Ssgt Grumpy Mary Veterans R Infrastructure) 1629396348.0
Afghanistan is a catastrophe so they try to distract us with false flags.

— 🇺🇸 Matthew Holliday 🇺🇸 (@🇺🇸 Matthew Holliday 🇺🇸) 1629396978.0
The threat is still active and the situation still unfolding.