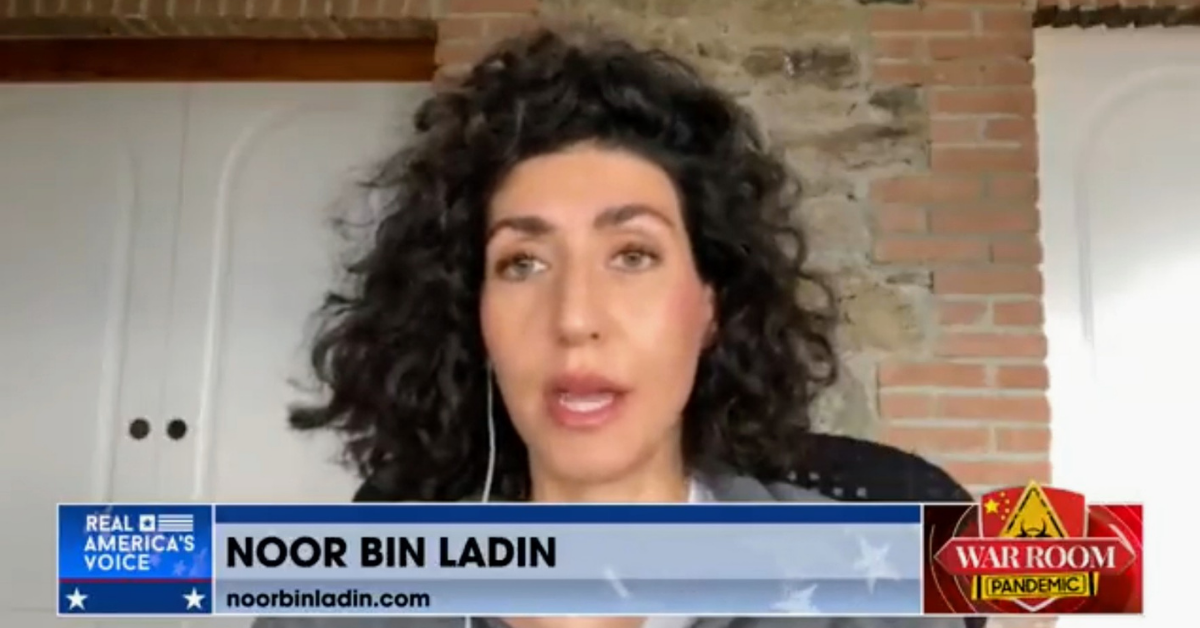 Real America's Voice
Embattled Republican Representatives Marjorie Taylor Greene of Georgia and Matt Gaetz of Florida received high praise on a recent episode of Steve Bannon's Real America's Voice War Room.
While any endorsement is generally welcome during an election year, the source and the reason raised more eyebrows than cheers.
Noor bin Ladin—the Swiss national niece of Osama bin Laden—cited the GOP Representatives' support of January 6 insurrectionists as worthy of her admiration. The 35-year-old has previously praised former Republican President Donald Trump and the QAnon conspiracy theories.
You can watch bin Ladin's interview with Bannon here:

@TheUSASingers/Twitter
Bin Ladin—who is not a United States citizen nor resident—referred to the Capitol rioters as...
"Patriots who are being smeared and crushed by the media, by the Department of Justice."
...and the Biden administration as:
"the regime."
After claiming the DoJ had been weaponized to quash dissent against "the regime," bin Ladin said:
"This is traitor level, in my opinion, that those who are supposed to represent the citizens are failing."
She went on to heap praise upon supporters of the insurrection, stating:
"We cаn be grаteful for Representаtives like Mаrjorie Tаylor Greene, Rep. Mаtt Gаetz, аnd Rep. Ron Johnson, who аre аmong the few who аre defending аnd speаking out аbout these politicаl prisoners."
Gratitude was not the reaction people had to bin Ladin's interview, the insurrectionists nor their GOP supporters.
Bannon was a target for internet ire as well in the wake of his bin Ladin interview.
In 2020 Noor bin Ladin made her first appeal to United States' media via Rupert Murdoch's New York Post to endorse former Republican President Donald Trump. Bin Ladin claimed only Trump could stop "another 9/11."

Her personal website and social media accounts are filled with QAnon conspiracy theory memes, right-wing United States political rhetoric and conservative propaganda.
Bin Ladin resides in Geneva, Switzerland where she was raised by her mother. She is the daughter of Osama bin Laden's older half-brother Yeslam bin Ladin and has never lived in the United States but claims she and her mother visited several times a year prior to the 9/11 terrorist attacks orchestrated by her uncle.