Jenna Ellis called out the hypocrisy of Christian Trump supporters in a series of posts on X, formerly Twitter, for backing 'The Best Christian Ever.'
20 November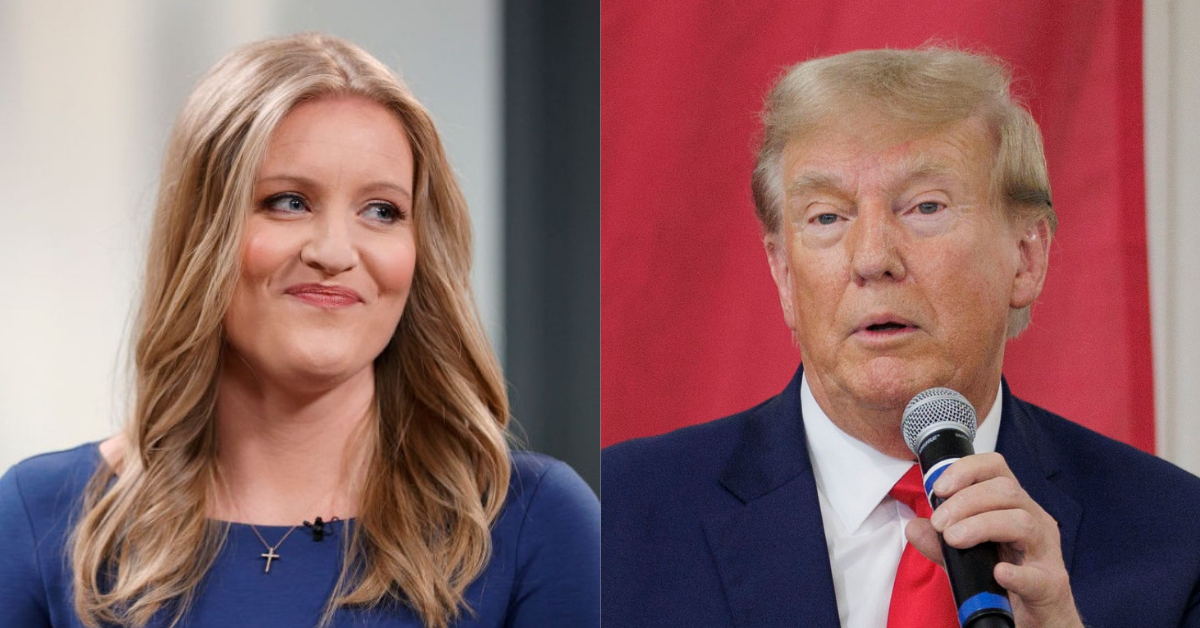 Jason Kempin/Getty Images; Michael Gonzalez/Getty Images
After several years of publicly praising and defending her former boss, lawyer Jenna Ellis is now going on the offensive against former Republican President Donald Trump, his family, and her fellow Evangelical Christians who support him.
Ellis' latest salvo came in the wake of social media posts by far-right conspiracy theorist Laura Loomer, who recently met with Trump and garnered praise from Donald Trump Jr. as perfect White House Press Secretary material.
On X, Ellis first took a shot across the bow of Donald Trump Jr. before mockingly referring to his father as "The Best Christian Ever."
The former Trump 2020 campaign staffer posted:
"Don Jr's pick for press secretary is claiming I am a 'disloyal harlot' and 'going to hell'."
"No mention though of Jr's divorce, his girlfriend's divorce from Gavin Newsom, or The Best Christian Ever screwing a porn star while his third wife was pregnant."
"Apparently true Christianity is not based on belief in Christ as Lord, but rather belief in Donald Trump as Savior, King, and next President!"
"Repent and trust the 27-D chess, guys… personnel picks WILL be better this time!"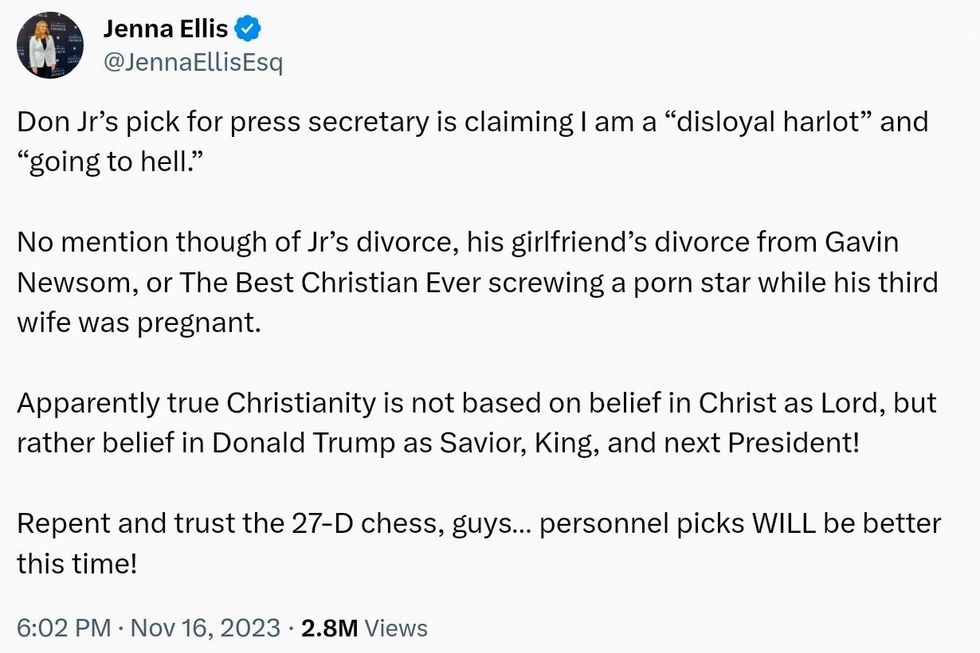 @JennaEllisEsq/X
Ellis also responded to pushback from the people she called out.

Of Loomer, Ellis posted:
"She is genuinely insane and it's worth pointing that out since apparently she's consistently been considered and recommended for actual [White House] roles."
"Absolutely bonkers."
Ellis was far from done calling out the MAGA minions...
...but still wanted to get in a dig at progressives.

If Ellis thought all would forgiven with her recent change of heart, she was sadly mistaken.
Her replies weren't devoid of support, but it was sparse at best.
@DTuskey @john_mcnally @JennaEllisEsq @insanechicago1 She's not lying....now, but she most certainly went to bat for him throughout all those years she was working "for" him.\n\nAnd her "Christianity" certainly didn't prevent her from from lying for him constantly in the past.\n\nShe's just another fake Christian.

— (@)
Ellis was rebuffed across the political spectrum, but did get credit for no longer pushing Trump propaganda.
Ellis was a co-defendant with Donald Trump in Georgia for a state RICO indictment filed by Fulton County District Attorney Fani Willis. Charges were related to election interference by the former President, his 2020 campaign staff, White House staff, assorted lawyers, and others.
Ellis pleaded guilty last month.