Medhi Hasan asked Vivek Ramaswamy to explain his judgment that Trump's actions on January 6 were 'abhorrent' and he awkwardly refused to answer.
07 September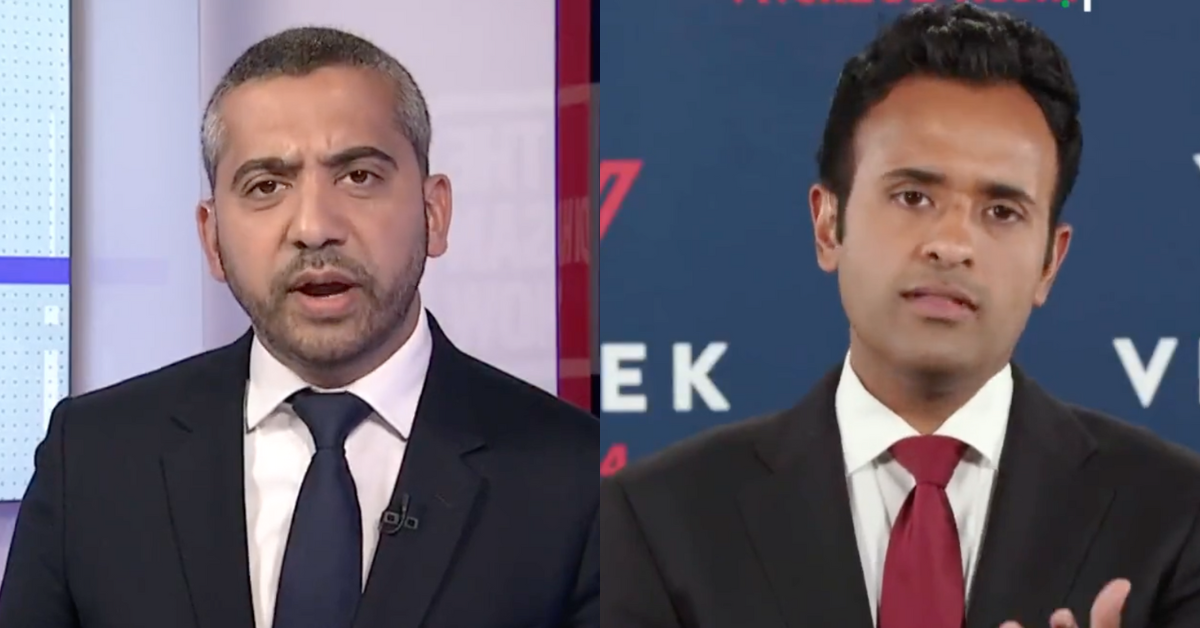 MSNBC
Republican presidential candidate Vivek Ramaswamy was called out when he struggled to explain his past criticism of former President Donald Trump's actions on January 6, 2021, the day a mob of his supporters attacked the United States Capitol on the false premise the 2020 election had been stolen.
During an appearance on MSNBC, host Medhi Hasan raised a tweet from Ramaswamy in which he had described Trump's actions on that day as "downright abhorrent." Ramaswamy had posted his message just one week after the attack.
Hasan repeatedly asked Ramaswamy to clarify what specific actions by Trump he condemned but despite his persistent questioning, Ramaswamy did not offer a straightforward response to explain his earlier criticism of Trump's actions on January 6.
You can watch what happened in the video below.
After Ramaswamy did not answer Hasan after several lines of questioning, Hasan said:
"You're avoiding my question. What did Donald Trump do, in your view, that was 'downright abhorrent'?"
Although Ramaswamy insisted he was not "avoiding" Hasan's questions, Hasan pushed back:
"Unless you're scared of him, why won't you say what he did that was 'downright abhorrent'? It's a simple question. It's your words. It's on the screen."
Many on X slammed Ramaswamy for his evasion.
Ramaswamy has expressed his agreement with "90%" of Trump's policies but went further to suggest that he could, should he win the presidency, reunite the nation in ways Trump couldn't.

Indeed, the 38-year-old political novice has continued to defend and back Trump, who continues to lead in GOP primary polls despite facing numerous federal and state charges for attempting to overturn the 2020 election result.
Notably, Ramaswamy has pledged to pardon Trump if he were to secure the presidency and has addressed the multiple federal and state charges Trump faces without labeling them as criminal.