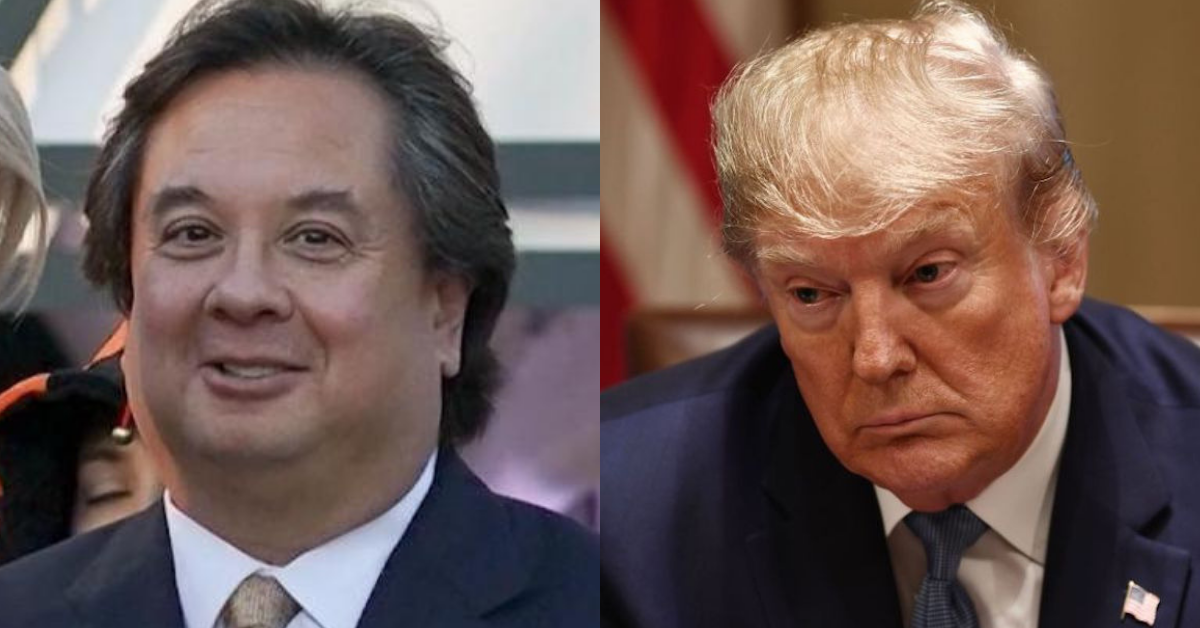 CNN video; Brendan Smialowski/AFP via Getty Images
One of the central themes of the 2016 Trump presidential campaign and a pet project of the presidency of Donald Trump has been his promised border wall.
Originally promised as a wall—definitely not a fence—spanning the entire southern border, 30 feet high and paid for by Mexico, things changed once reality set in.
And now a Customs and Border Patrol report reveals that Trump's 2020 promised progress goals for his fence are unlikely to be met. Despite bulldozing protected species of cacti and infringing on the treaty rights of the Tohono O'odham Tribe the Trump border fence is behind schedule.

Mark Morgan, acting commission for the U.S. Customs and Border Protection, told reporters:
"Our goal at the end of 2020 was 450 miles. It's hard right now to be able to say whether we're still going to be able to meet that goal, but I'm confident that we're going to be close."
But since Trump's inauguration in 2017, only 93 miles of fencing was added. At least 90 miles of that replaced existing structures whose upgrade or replacement was already approved under President Obama.
And George Conway was there to herald the news like always.
Conway tweeted:
"THREE brand new miles of new wall in just THREE years!! No president has ever accomplished anything close!!"
"Thank you, Mr. President!! Best president ever!! #MAGA #IMPOTUS"
THREE brand new miles of new wall in just THREE years!! No president has ever accomplished anything close!! Thank… https://t.co/CMKfEjMTCa

— George Conway (@George Conway) 1577376498.0
Ouch.
So what went wrong?

First, Mexico said no.
Then the Republican controlled Congress refused to fund Trump's wall for the two years between Trump's inauguration in 2017 and the swearing in of the 115th Congress in 2019. In January 2019 the GOP lost control of the House of Representatives thanks to the 2018 election and missed their chance to rubber stamp a Trump wall.
Then the over $20 million wall prototypes Trump paid for all failed in testing. Bigly.
In the end, the bollard fencing approved under President Barack Obama replaced the Trump plan for a solid 30 foot wall. The changes drew ridicule from conservatives and liberals alike.
@BrusselsSprout1 @gtconway3d Wow, that's some expensive playground equipment.

— H McA (@H McA) 1577390496.0
And they are so successful in keeping people out, that you can cut through it with a 40$ saw from Harbor Frieght. Great job Cheeto Orange King (C.O.K for short)#Democrat2020
— BusWrench (@Buswrench) December 26, 2019
So the President declared a "national emergency" so he could raid the coffers of the Department of Defense. The move pulled funding from military housing, infrastructure and school projects.

People seconded Conway's emotion. 3 miles in 3 years -- that's just sad!
"3 miles in 3 years" would be a great campaign slogan 🤣
— n10sRed (@n10sRed) December 26, 2019
@n10sRed @gtconway3d Much better than the original "3 inches for 3 wives".

— Mike Pompeo's Real Thoughts (@Mike Pompeo's Real Thoughts) 1577378269.0
Even giving Trump credit for all 93 miles, that amounts to only 31 miles per year or a little over 2.5 miles per month. To reach a 450 mile goal, the construction would need to go from 2.5 miles a month to 1 mile per day.
People questioned the emergency part of the national emergency being used to fund Trump's fence.
If the focus has been on replacing OLD fence rather then building new fence where there was none, isn't that an admission that there is no urgent need for new fence
— Flabbergasted (@time4women2lead) December 26, 2019
And recalled that no border security expert thought Trump's $10-$32 billion dollar wall/fence project was a good idea.

@erikhalvorsen18 @gtconway3d @cindylynn1963 Pssst. Someone will need to tell #IMPOTUS who this is. And Stephen Mill… https://t.co/ixZjH6rV17

— Brettbutlerperiod (@Brettbutlerperiod) 1577386960.0
How are people in the path of the fence reacting?
The eminent domain issues they will have with Texans alone will keep them replacing existing wall for a long time. Imagine telling a conservative rancher you're throwing a big ugly wall in their backyard and there's nothing they can do about it.
— Willem Hartong (@HartongWillem) December 26, 2019
I hear those dang ole Texans are refusing to give up their land too, which is going to result in lengthy court battles.

*checks notes*

Only 1800 miles to go!
— One D-Nasty (@ONEDNASTY) December 26, 2019
And there's still the matter of who is paying the bills.

@MapleTommy @gtconway3d @realDonaldTrump https://t.co/Qz3vRhZDBp

— Chris Morris 🇺🇸⚖🍑 (@Chris Morris 🇺🇸⚖🍑) 1577378502.0
In addition to the lack of progress achieved, the backtracking on funding by Mexico, the conversion from a wall to a fence and the environmental concerns, questions are being raised about contract awards associated with the construction.

Maybe it's time to go back to Trump's moat of snakes and alligators design.
Celebrate the New Year or any occasion with the Donald Trump Humpty Trumpty Pinata available here.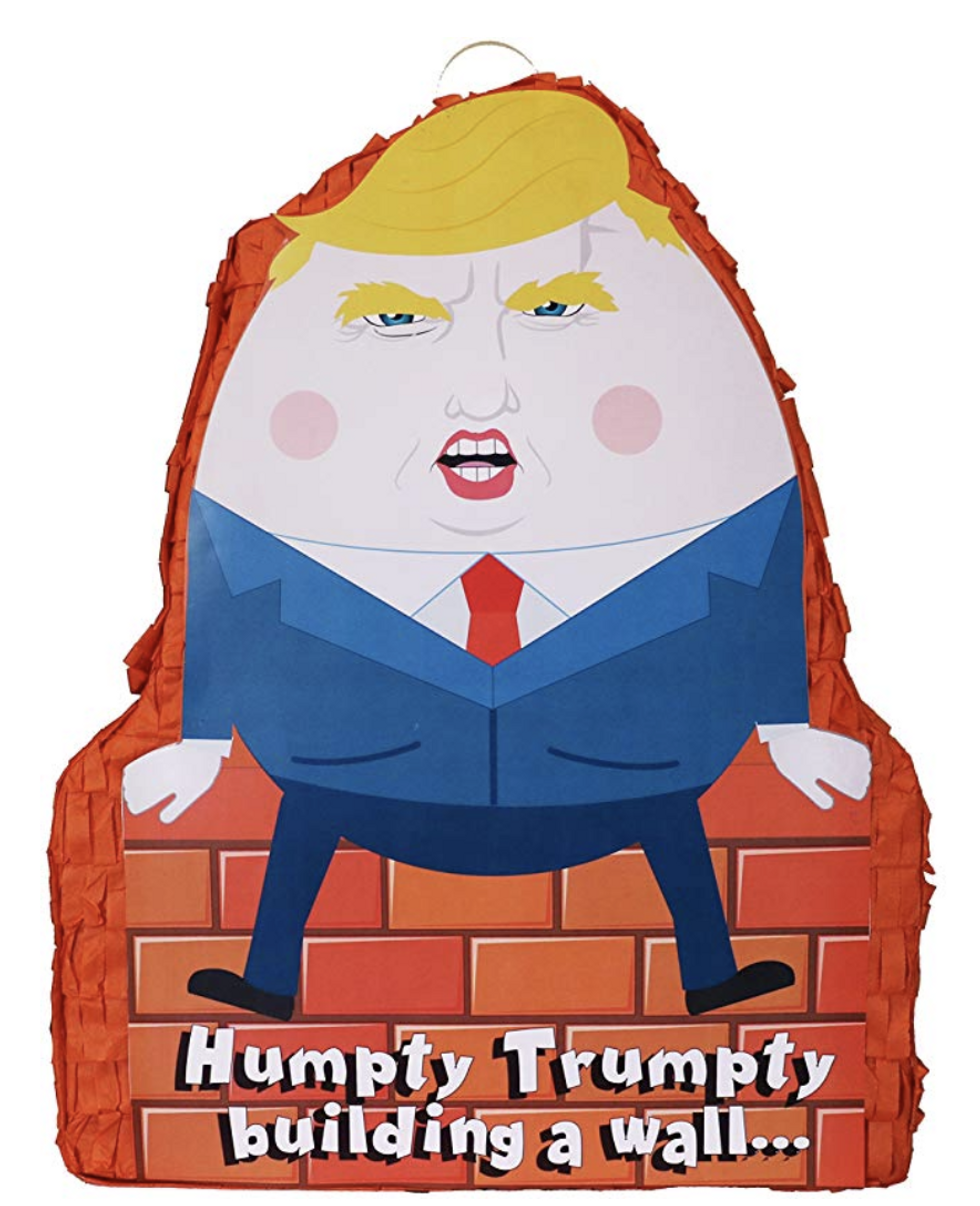 Amazon
Keep reading...Show less