In another effort to fund his campaign promise of a Mexican financed border wall, President Donald Trump's newly appointed Secretary of Defense Mark Esper pulled funds from the Pentagon's construction budget. Federal budget law restricts the movement of appropriated funds within a federal agency and from one agency to another without congressional approval.
However, by declaring a national emergency, President Trump's DoD Secretary can raid military construction projects without asking Congress to approve the budget transfer. $3.6 billion of military construction projects are on the chopping block.
---
The projects being defunded include repairs to hurricane-damaged military installations in Puerto Rico and the Virgin Islands, repairs to schools for military dependents, upgrades to heating and cooling systems, practice ranges and security upgrades. The projects cover 23 U.S. states, three U.S. territories and 20 countries.
The DoD announcement refers to the projects as deferred, but unless Congress approves adding another $3.6 billion to backfill the Pentagon budget, the projects are effectively canceled, and members of Congress are making their grievances known.
Congress was not alone in their outrage.
Defense Secretary Esper diverted the military funding using 10 USC Section 2808. During a national emergency requiring the armed forces, the Defense Secretary can pull military construction funds for "projects necessary to support those troops." By declaring the national emergency then deploying troops, Trump opened the door for his Defense Secretary to raid the Pentagon budget.
Esper—who was one of three men who served as acting Secretary for 202 days after James Mattis resigned over disagreements with the Trump administration—deemed Trump's border wall was "necessary to support the troops" Trump deployed to the border.
In addition to the $3.6 billion being siphoned from military construction projects, Trump is also taking $2.5 billion from the Pentagon budget citing a drug intervention law—10 USC 284. What military projects those diverted funds will kill was not part of the Pentagon briefing.
Democrats, government ethics watchdogs and some Republicans criticized Trump's manipulation of circumstances to activate laws intended for real emergencies to bypass the constitutional separation of powers and checks and balances.
Under the Constitution, Congress controls appropriated fund allocations. Even conservative critics state Trump's actions open up the possibility for all future Presidents to use emergency declarations and military deployment to fund anything not approved by Congress.
Congress is currently in recess. The Senate and House return on Monday, September 9.
Whether they address the Defense Secretary's diversion of funds remains to be seen.
Don't support Trump's border wall? This shirt is available here.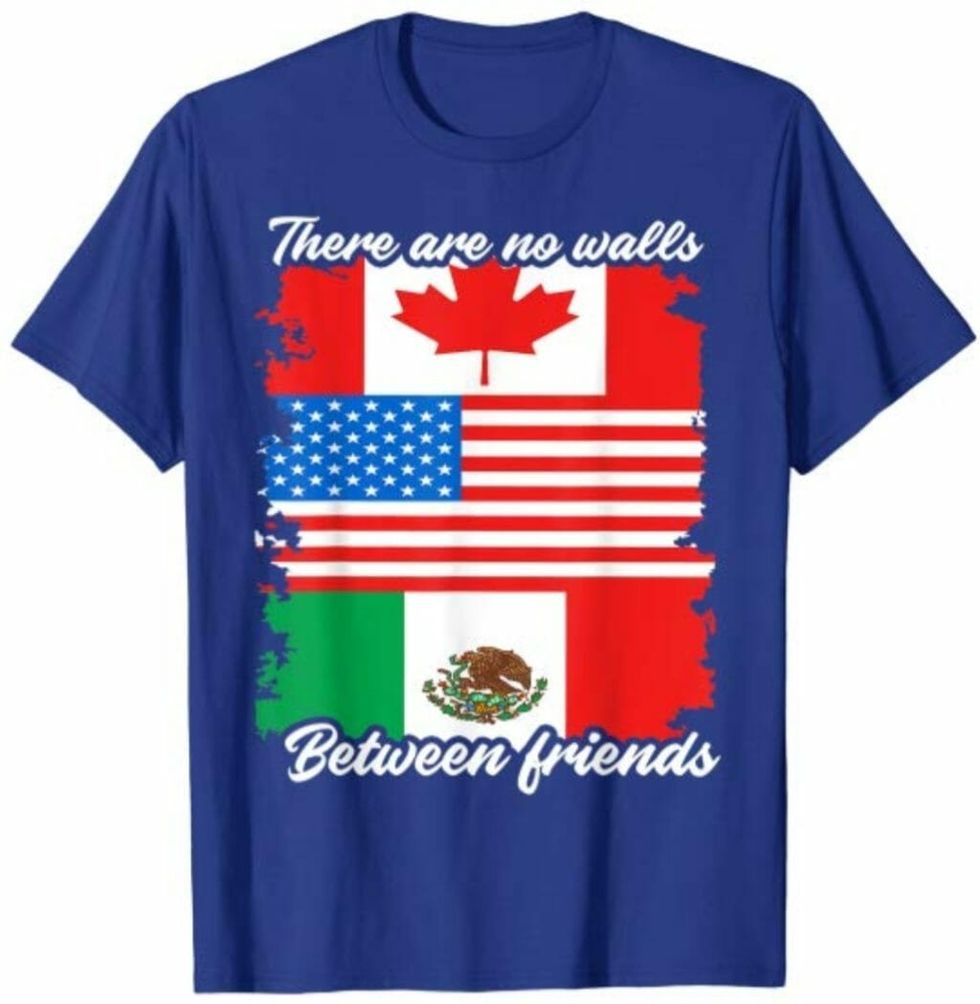 Amazon
********
Listen to the first three episodes of George Takei's podcast, 'Oh Myyy Pod!', where we explore the racially charged videos that have taken the internet by storm.
Be sure to subscribe here and never miss an episode.