[DIGEST: CNN, New York Times]
For the second time in two months––and with less than three months until Election Day–– Donald Trump's campaign has undergone a major staff shakeup. Trump named Stephen Bannon, the executive chairman of conservative website Breitbart News, as his campaign's chief executive. He also promoted Kellyanne Conway, a senior adviser and pollster for his campaign, to campaign manager. Conway confirmed the news to CNN this morning.
---
The news of the staffing change comes after several weeks of negative press coverage for Trump, and recent polls indicate he trails behind Hillary Clinton, the Democratic competitor, in almost every key battleground state. "I have known Steve and Kellyanne both for many years," Trump said in a statement. "They are extremely capable, highly qualified people who love to win and know how to win. I believe we're adding some of the best talents in politics, with the experience and expertise needed to defeat Hillary Clinton in November and continue to share my message and vision to Make America Great Again."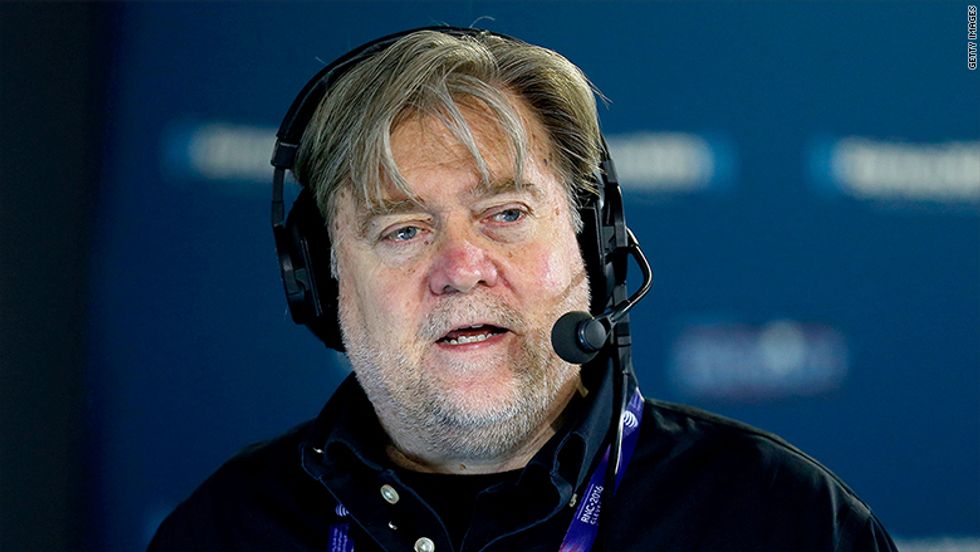 Stephen Bannon. (Credit: Source.)
Bannon––and Breitbart––have heavily favored Trump since he entered the primaries. Though he has no experience working on presidential campaigns, he has supported Trump's aggressive campaign tactics and mistrusts the political establishment. He has also heavily criticized Speaker Paul Ryan (who Trump initially refused to endorse) and Sen. Mitch McConnell, the majority leader. In contrast, Conway does have presidential campaign experience in primary races. She is also well-liked by Trump's daughter Ivanka and her husband, Jared Kushner, who until today's announcement worked as Trump's de facto campaign manager. Both are close with Robert and Rebekah Mercer, the conservative father-and-daughter duo who have supported Trump's candidacy and are funding a super-PAC that will work against Clinton.
Conway denied suggestions that the shakeup would diminish the role of Paul Manafort, Trump's campaign chairman and chief strategist. "I look at it as an expansion of the team. Paul remains as Chairman," Conway said. However, a source close to the campaign revealed that Trump's "exasperation" with his campaign's management has widened the rift
between him and Manafort. "Mr. Trump doesn't trust him anymore. That's it. Pure and simple," the unnamed source said. "When Mr. Trump doesn't feel comfortable with the way things are managed or the way things are, he has a tendency to try to do everything, thus his exasperation becomes apparent. It manifests itself."
Trump, who has praised Russian President Vladimir Putin's justifications for the annexation of Crimea, suggesting that the majority of those living in the region want to become part of Russia,  has come under increasing scrutiny for his oddly sympathetic views toward Putin's policies toward Ukraine. These views came to a head earlier this week, amid revelations that Manafort, who worked in Ukraine as an international consultant, allegedly pocketed $12.7 million in cash payments from Ukraine's former ruling party between 2007 and 2012. The report, published in Sunday's New York Times, asserts that the money could be part of an illegal, off-the-books system. Sources close to Trump's campaign said a shakeup was imminent.
Kellyanne Conway. (Credit: Source.)
The shakeup is the second major change in as many months for Trump's campaign. In June, Trump fired his former campaign manager, Corey Lewandowski, after weeks of clashes with Manafort, who the campaign initially brought on as a consultant to reduce the possibility of a contested convention. Trump's children ultimately helped fire Lewandowski, because they believed Lewandowski tried to spread negative stories about Jared Kushner. Lewandowski made headlines himself when a female Breitbart reporter accused him of grabbing her after a news conference in Florida. Prosecutors initially charged Lewandowski with assault, then declined to proceed with the case, and it was later dropped. Lewandowski, who is now a CNN political commentator, says that he and Trump still speak frequently and that he has continued to informally advise his campaign.
Reports of tensions within the Trump campaign come after anonymous sources revealed former Fox News chairman Roger Ailes will begin to advise Trump in preparation for the presidential debates with Clinton this fall. Fox News ousted Ailes last month over charges that he sexually harassed a number of female employees. Trump's campaign denied Ailes' involvement in a memo to campaign aides. However, a source notes, Lewandowski issued a similar memo when Trump hired Manafort in a volunteer capacity for his campaign.