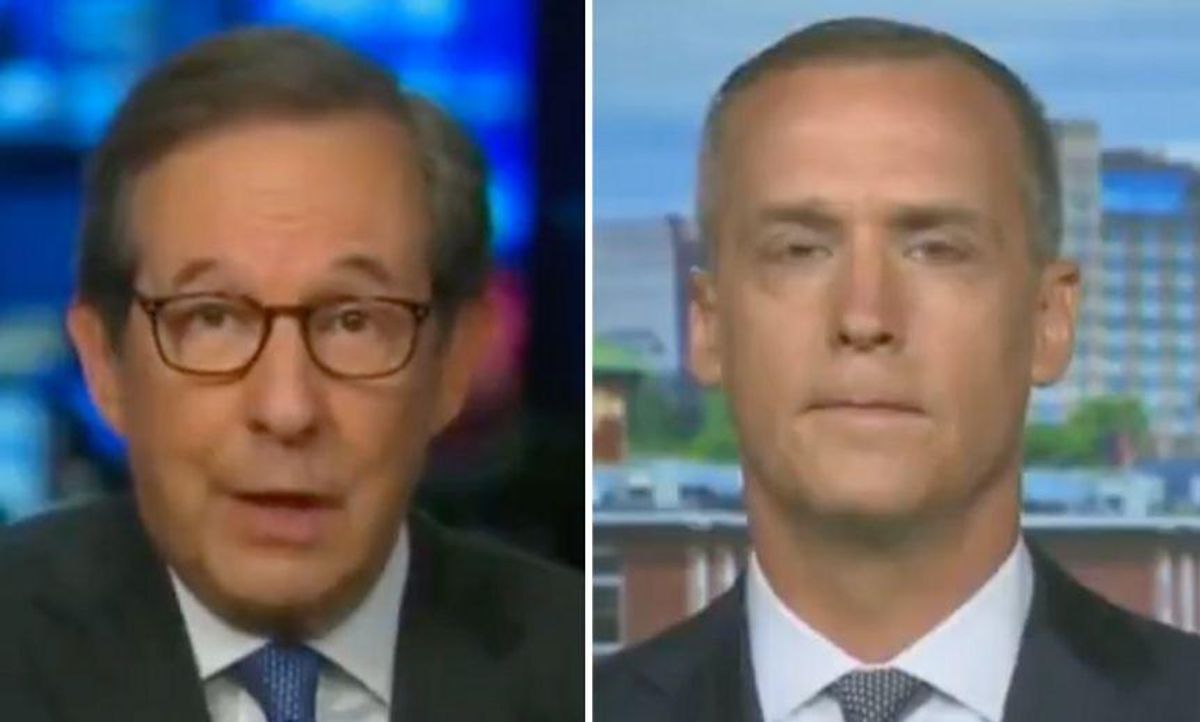 Fox News // Fox News
New York Times reporter Maggie Haberman revealed last week that former President Donald Trump has been telling associates he'll be "reinstated" as President by August, believing that partisan audits of already recounted votes, as is happening in Arizona, will secure him a second term.
Like Trump's continued lie that the 2020 election was "stolen" from him by Democrats facilitating widespread election fraud, the deranged fantasy is not based at all in fact.
Chris Wallace, of the conservative Fox News network, spoke to Trump's former campaign manager—Corey Lewandowski—about the development.
Lewandowski attempted to blame the media for not giving Trump's election conspiracy theories enough credibility, but Wallace quickly shut that notion down.
Watch below.

Wallace asked Lewandowski to name a "provision of law or the Constitution" that would allow Trump to be reinstated. Lewandowski denied that Trump had spoken to him about the reinstatement fantasy, and that he didn't know of any provision that would allow Trump to be reinstated.
Lewandowski continued:

"Look, there are election integrity matters that we need to deal with ... When I was in Philadelphia, Pennsylvania after the election results, we notified the media of at least one dead person who voted. It is unequivocal, but the response from the media was, 'well that person was a Trump supporter.'"
Wallace shot that notion down.
"You keep blaming this on the media. The fact of the matter is, this went to more than 60 different court cases and you were beaten in every one. The Supreme Court refused to even hear the Trump challenges, so please don't blame this on the media. You had your day in court and you lost."
Lewandowski continued parroting election conspiracy theories, even as Wallace pointed out that Trump's campaign lost dozens of court cases in its effort to overturn the election results.
The court of public opinion sided with Wallace.
But Lewandowski faced backlash for his continued insinuations of fraud.
It's unclear how Republicans' continued embrace of election fraud conspiracies will effect the party's turnout in the 2022 midterms and onward.