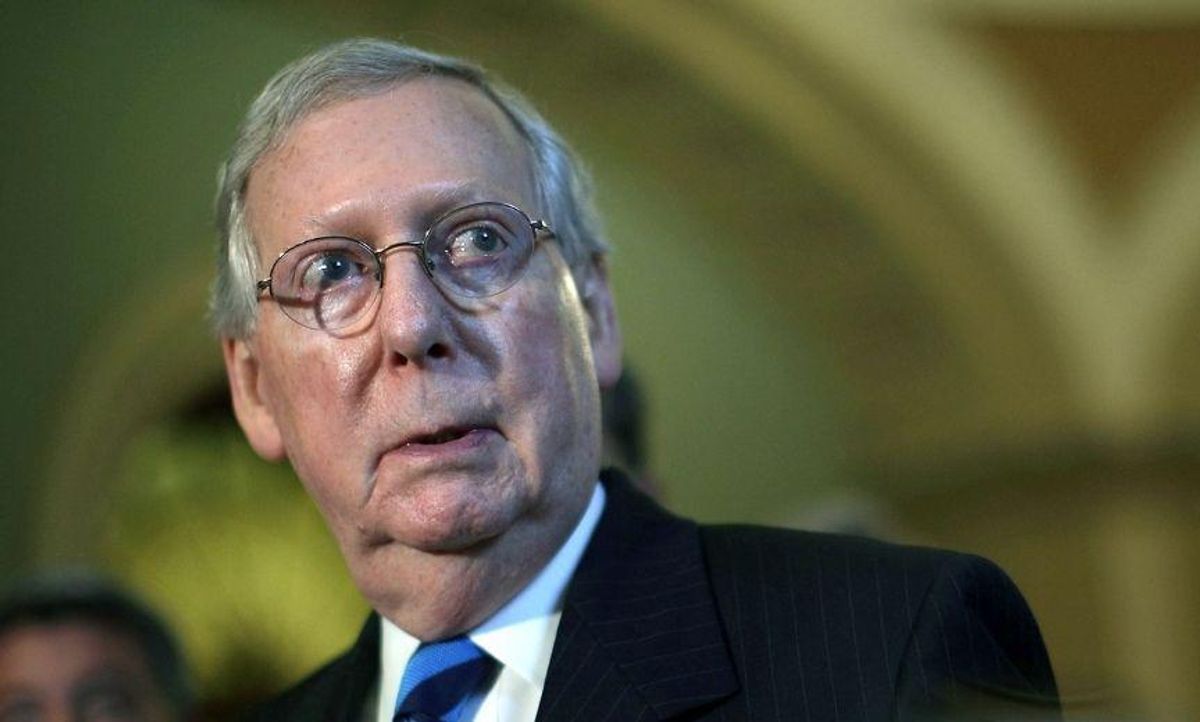 Alex Wong/Getty Images
The blood pressure of the Senate Minority Leader and one former manager of the Trump Campaign must have shot higher yesterday as news broke of FBI action at the U.S. residence of Russian oligarch Oleg Deripaska, as well as an FBI search of a property related to him in New York. While it's too soon to know what the action was hoping to unearth, political watchers raised collective eyebrows at the development. Here are two key reasons:
Deripaska is at the center of a sanctions scandal involving Mitch McConnell
In 2018, acting at the request of then National Security Advisor H.R. McMaster, who was on his way out of the Trump White House, the Treasury Department imposed sanctions on Deripaska and his aluminum company, Rusal. The company's stock tanked 50 percent on the news. The move was part of a broad set of sanctions against Russian oligarchs. As for Deripaska specifically, according to the Treasury, he had been "investigated for money laundering, and has been accused of threatening the lives of business rivals, illegally wiretapping a government official, and taking part in extortion and racketeering."
But by 2019, Trump moved to lift the sanctions and cut a deal with Deripaska, despite a key Senate Intelligence Committee report having described him as a "proxy for the Russian state and intelligence services." Outraged Democrats moved to stop the White House. But when the Senate began debating the sanctions, McConnell played a key role in persuading his GOP colleagues to back him, and together they blocked the Democratic-backed efforts. The sanctions went away.
Three months later, there was an unusual coincidence: Rusal announced a major deal to buy a 40 percent stake in a new American aluminum plant—in Ashland, Kentucky, McConnell's home state. McConnell stated he was unaware of Rusal's interest in the factory at the time the sanctions bill debate was occurring, but the alarming timing of these events earned McConnell the moniker "Moscow Mitch."
Deripaska Worked With Paul Manafort Through a Kremlin Agent
As if this wasn't enough, Deripaska was also a key figure in the shady dealings of Paul Manafort, the former Trump Campaign manager who went to prison on a seven and a half year sentence and ultimately refused to cooperate with investigators, but was among those pardoned by Trump on his way out of office. Manafort once received $10 million in funds from Deripaska, who was communicating and apparently sending instructions via another character wanted by the FBI named Konstantin Kilimnik, with whom Manafort worked closely.
Specifically, according to reporting by The Guardian, Manafort met with Kilimnik on August 2, 2016 in New York just days after Kilimnik had met with Deripaska in Moscow. According to documents later revealed in Manafort's court case, these talks in New York came shortly after Kilimnik said he needed to brief Manafort on the Deripaska meeting. We know this now because Kilimnik used not-very-secret-code that identified Deripaska, saying he had just spent hours with the man "who gave you your biggest jar of black caviar several years ago." Kilimnik's email stated Deripaska wanted Kilimnik to convey "several important messages from him to you." These messages apparently included "peace plans" for Ukraine, which Russia earlier had invaded.
The Manafort-Kilimnik connection was essentially a Putin-Trump connection using Deripaska as the go-between.

According to Steven Hall, a retired CIA chief of Russia operations, in comments to The Guardian:
"Deripaska is a key lieutenant and a significant oligarch in Putin's oligarch system. Deripaska would get his marching orders from the Kremlin about what Russia wanted, including lifting of sanctions and a resolution of the situation in Ukraine that favored Russia." Hall added, "It seems likely the chain of communication would have been Putin to Deripaska to Kilimnik to Manafort."
Like the raid on Giuliani's home and office, the Deripaska raids are backed by search warrants where judges already have agreed there is probable cause to believe evidence of crime can be found at the properties. We aren't likely to hear much more about these FBI actions for some time as investigators continue to piece together evidence; yet is certainly no small matter—to Manafort, McConnell or Trump—that Deripaska is back in the news as a target of the FBI.

--
For more political analysis, subscribe to the Status Kuo newsletter.