They did not see this coming.
07 September 2017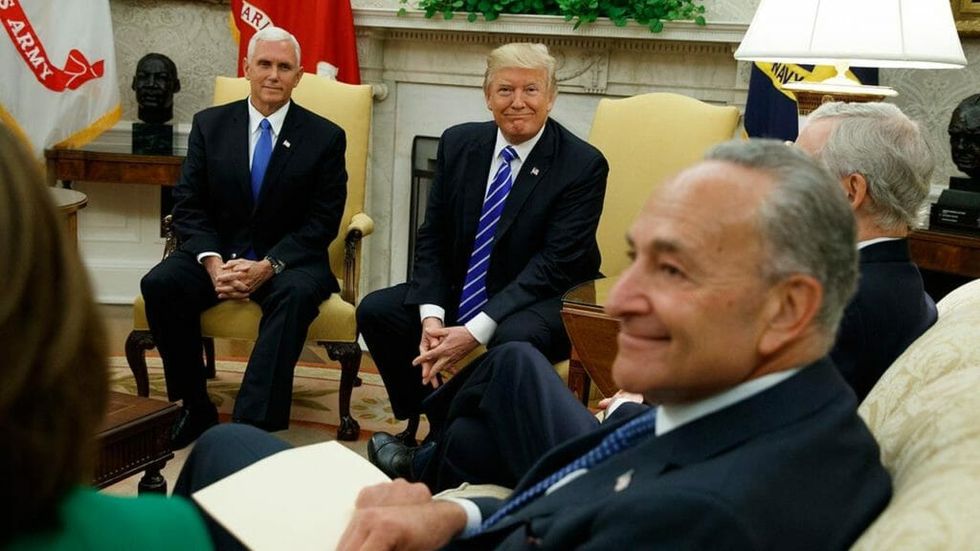 Prominent conservatives expressed their frustrations after President Donald Trump unexpectedly brokered an agreement with Democratic leaders Chuck Schumerand Nancy Pelosi that would avert a fall government shutdown. The deal would fund the government and lift the debt ceiling through mid-December as part of a relief package for Hurricane Harvey victims.
Senator Schumer (D-NY) had earlier announced the news in a tweet.
The nation can breathe a sigh of relief. We've agreed to help those recovering from Hurricane Harvey, avoid default, & avoid a shutdown.

— Chuck Schumer (@Chuck Schumer) 1504727671.0
But Republicans who had urged the president to hold out for a different deal fumed that Democrats now hold the bargaining chips––and that they'll be able to control the debate over taxes, spending, and immigration when the debt ceiling must be raised again at the end of the year.
"It's just a betrayal of everything we've been talking about for years as Republicans," said former Sen. Jim DeMint (R-S.C.). "What the president's going to find is … if they bet on Democratic votes they better plan on [giving up] a lot more than they think they're going to."
Yesterday morning, House Speaker Paul Ryan called the deal "disgraceful." White House officials had earlier told Ryan and his leadership team that Trump would publicly endorse their plan to pair a Harvey emergency funding bill with an 18-month debt ceiling hike and six-month extension. Then: Trump went rogue.
House Dem aide on this news: "This is why we didn't get rid of Pelosi. Went into their stadium and kicked their ass… https://t.co/2iq4xJPBv4

— Jeff Stein (@Jeff Stein) 1504718880.0
A House Republican lawmaker allied with Ryan who spoke to reporters on condition of anonymity said the deal does not "help our leadership to try to hold us Republicans together on anything when they know the president will chop them off at the knees. "Trump has got to start caring more about his colleagues over here."
Reports indicate that House Republicans are preparing to launch an offensive with the Republican leadership and that they have a new ally on their side: former top White House adviser Stephen Bannon, who was ousted as the president's top strategist and soon after returned to his former position as chairman of his far-right publication Breitbart.
Representative Mark Meadows (R-N.C.), the chairman of the conservative Freedom Caucus, reportedly dined with Bannon to discuss how to push the Republican legislative agenda through the remainder of the fall.
Attention Paul Ryan! Bannon and crew plotted for two hours Monday with Mark Meadows, head of the Freedom Caucus. https://t.co/Vt2NARr4lf

— Josh Dawsey (@Josh Dawsey) 1504625768.0
"Bannon has been strategizing with them on how they can pass conservative measures," said a source close to the administration and Bannon told Buzzfeed News. The source referred to Bannon as an advocate "for the administration" rather than "of the administration"; from the outside, Bannon can occasionally criticize the president and more often criticize those "misadvising the president."
Meadows himself appeared to provide an early indication of their strategy during a statement to reporters. Instead of faulting Trump for backing the Democrats, he set his sights on Speaker Ryan and Senate Majority Leader Mitch McConnell.
There were no conservative solutions offered to the president in relationship to addressing the debt ceiling," Meadows said, claiming that Trump made a decision between "no deal and a bad deal." He added: "Increasing the limit on a credit card without making any reforms is not a conservative solution."
Breitbart also took the opportunity to lambast Trump for cutting the deal with Pelosi and Schumer. A banner at the top of its homepage declared "MEET THE SWAMP"  yesterday afternoon.
Keep reading...Show less