[DIGEST: NPR, CNN, Democracy Now, Economic Times, WSJ]
As the UN climate change conference (COP21) wraps up in Paris, India finds itself in the disconcerting position of having the world's worst air quality. According to the World Health Organization, the air in New Delhi is now the most polluted in the world, and in recent weeks, the metropolis has seen the highest levels of small particulate air pollution ever recorded. India has 12 of the 20 most polluted cities on earth.
---
The culprit? Coal.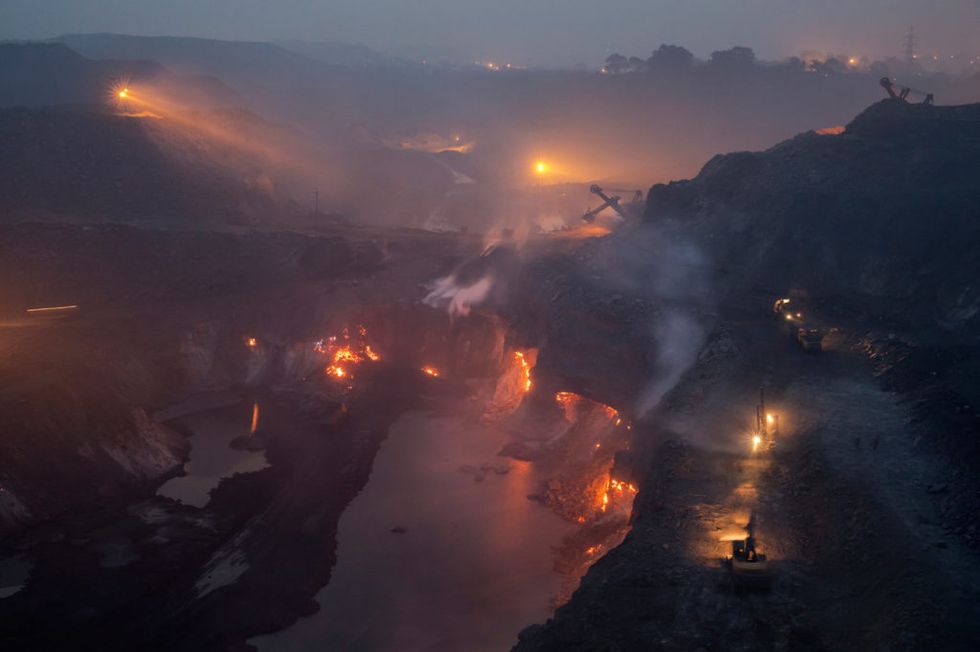 Coal fires burning in India's Jharkand state, where forty percent of India's coal is mined. Credit: Source.
Half of India's emissions and 65 percent of India's energy come from burning coal, and the country plans to triple its production of the dirty-burning fossil fuel in the next 15 years. A new coal mine opens every month in India.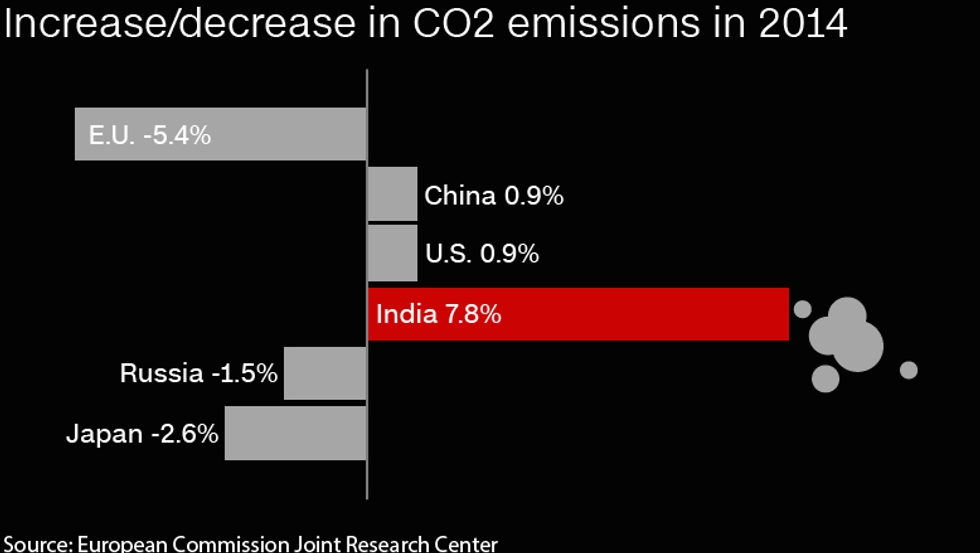 Credit: Source.
The problem is, the country lacks significant reserves of cleaner fossil fuels like natural gas, and with the world's second most populous nation struggling to pull hundreds of millions of its citizens out of poverty, India needs energy now. CNN reports that 300 million Indians (roughly the equivalent of the entire U.S. population) lack electricity, making it difficult for people to cook or keep warm, for children to study, and for businesses to develop and deliver technologies that will advance Indians' quality of life.
At the climate talks in Paris, Indian Prime Minister Narendra Modi made the case that developing nations such as his should be exempt from restricting their emissions during this period of growth and development, as their citizens face privations and lack basic life necessities developed nations take for granted. A nation that's racing to achieve economic growth often does not see the health of the environment as its top priority. But 
Modi faces a dilemma: Failing to reduce emissions is already impacting his country's health, and climate change is poised to plunge millions more into poverty in the future.
Rising Waters
India, more than many nations, faces immediate repercussions from its energy policies. Devastating droughts, catastrophic floods, smog and extreme weather diminish the country's quality of life and threaten its economy and security.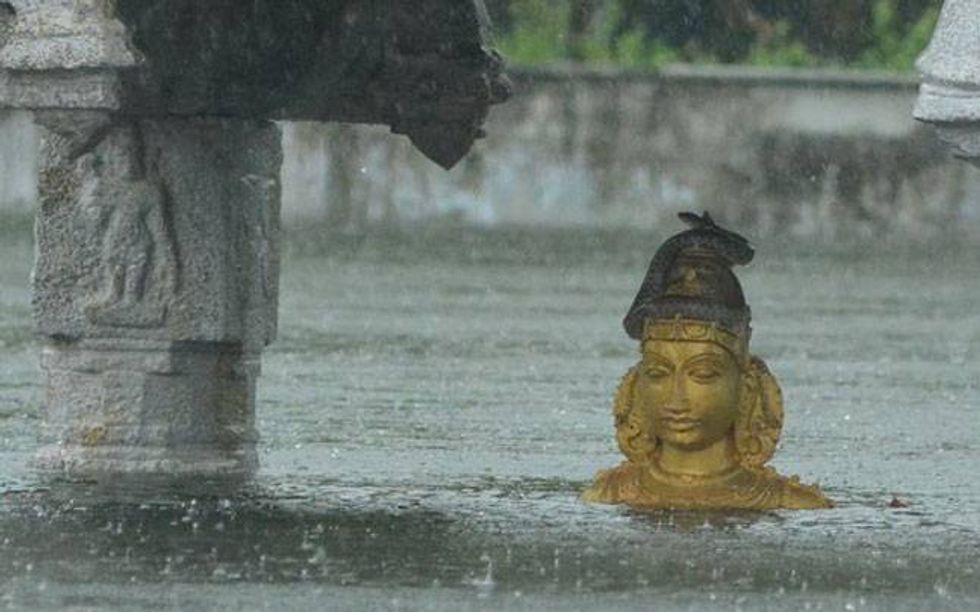 Flood in Chennai, India. Credit: Source.
For example, Modi blames climate change for the massive floods that killed hundreds of people earlier this month and cut off basic services for three million more in the southern city of Chennai. On December 2, The Hindu, one of the country's oldest newspapers, failed to produce an issue for the first time since 1878, due to severe flooding.
"We are in the Southern East Coast of the country, which is normally prone to hurricanes and cyclones, as we call them. And so this is the first time that we have been hit by 50 centimeters of rain in one day," marveled managing editor G. Ananthakrishnan.
India has announced plans to set up eight new climate change monitoring stations across the country. At present, the country has just one. The stations will monitor the impact of climate change on water, air, forests, wildlife and human activities. "Climate change impacts everything. It does not only impact air, water or weather, it 
impacts biodiversity as well. To really judge the long-term ecological impacts, we need long-term ecological observatories. India believes in science," said Prakash Javadekar.
Let the Sun Shine In
"What we want to do with renewable energy in the next 7-10 years took Germany 21 years to achieve," Dr. Arunabha Ghosh, chief executive of the Indian Council on Energy, Environment and Water, told CNN.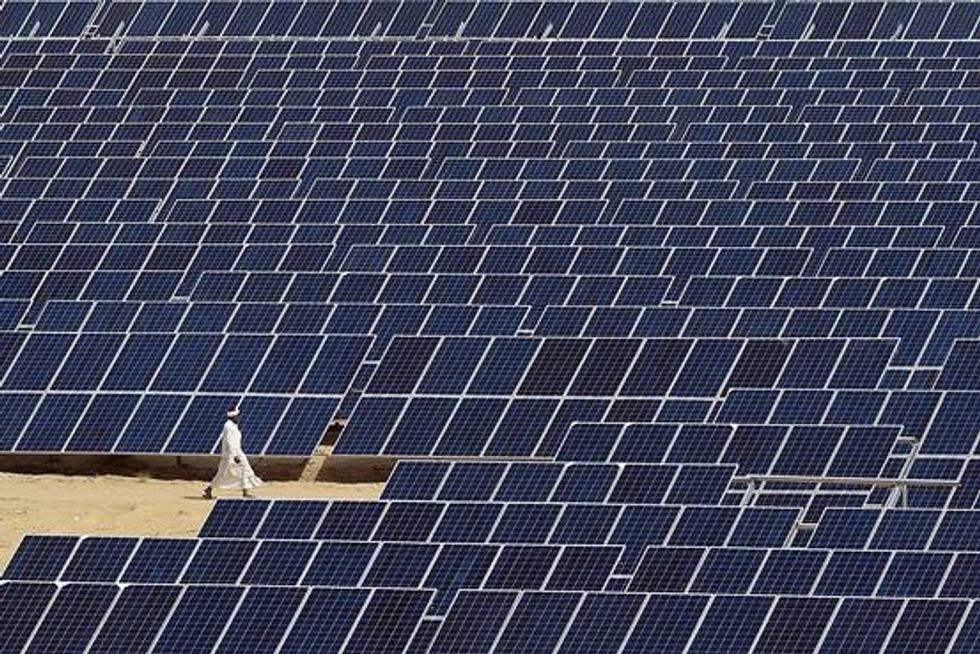 Credit: Source.
India's biggest solar installations are already producing energy at a lower cost than that produced by imported coal, and the cost of  solar-generated energy will soon drop below the cost of domestic coal-fueled energy. The challenge is to expand the solar network to rooftop installations across the country, an effort that can be achieved only through broad government support. At present, few people in India can afford to install solar panels. Meanwhile, the government does subsidize fuel for gas lamps, the paper notes.
Even as parts of India become blanketed by smog, Indian Prime Minister Narendra Modi's government is promoting solar and other renewable power, with a stated goal to have 40% non-fossil energy sources compared to the current 19% by 2030. It may be the country's best hope for balancing growth and emissions. But with coal mining continuing to tear open the countryside and cloud the skies, India's sunshine is growing dim.
In The Hindu this week, activist and writer Naomi Klein called India's pollution crisis a "game changer" for the country and for the planet, saying that the only hope lies in "massive investments in public services and in the public sphere." But her hopes seem dim; India's problem may be everyone's, but so far no one is willing to pay to fix it.