Fears that both scientists and environmentalists had hoped were irrational may well become reality amidst the ongoing catalog of Trump administrative proposals.
Some of these proposals are the Trump administration's decision to closely scrutinize studies and data from the United States Environmental Protection Agency (EPA), as well as a forced gag order blocking communication between EPA scientists and the public and press.
---
Other federal agencies were also instructed to halt external communications.
For a brief time, the EPA was under "temporary freeze," which the Trump administration has since lifted, regarding $4 billion in funding for grants, including revolving grants to states and Native American tribes.
However, the administrative review of existing content on the EPA's website — including details of scientific evidence of climate change and man-made carbon emissions — still stands, according to the communications director for President Trump's transition team at the EPA, Doug Ericksen, in statements to The Associated Press.
Ericksen clarified in his explanation that the Trump administration is not mandating that any studies or data from EPA scientists undergo review by political appointees before public release, but rather that existing scientific information on the EPA website is under review by members of the Trump administration transition team. Ericksen has also said that no decisions were made on the removal of the term climate change from epa.gov, though mentions of the term are gone from the White House official website.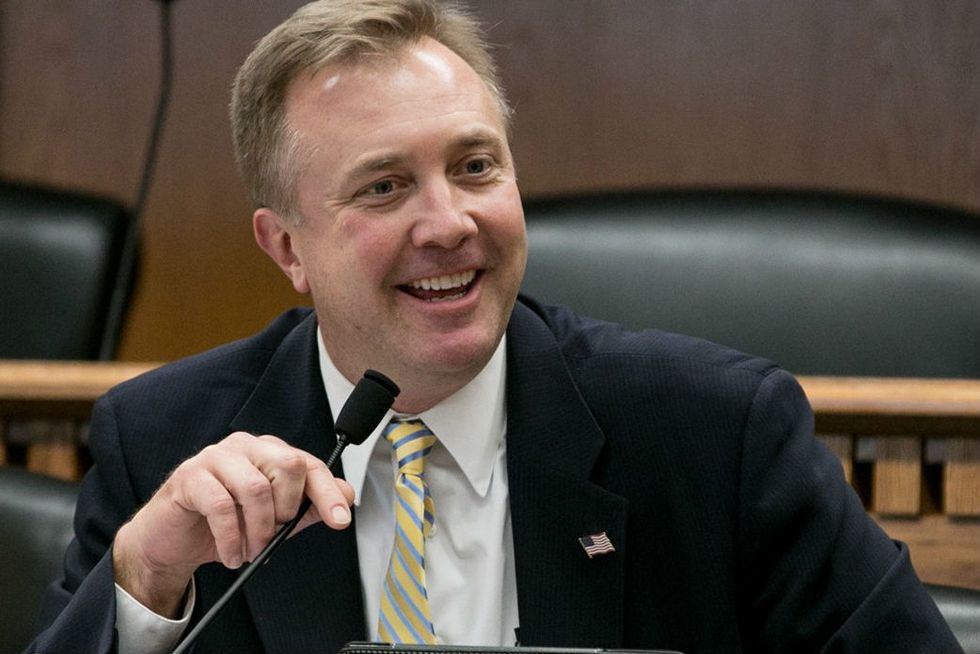 Doug Ericksen. (Credit: Source.)
Despite the overt removal of the term climate change, the full contents of the Obama administration's White House and State Department websites, which include links to climate change reports, are archived and available to the public thanks to scientists who worked frantically to safeguard the data.
Former EPA staffers under both Republican and Democratic presidents said President Trump's administrative restrictions greatly surpass the practices of past administrations.
In an interview with the AP several weeks ago, Ericksen explained, "We're taking a look at everything on a case-by-case basis, including the web page and whether climate stuff will be taken down." He also noted that, "Everything is subject to review," when asked specifically about the collection of scientific data by agency scientists, such as the standard monitoring of air and water pollution.
Is the Trump Administration Impeding The EPA's Purpose?
The EPA is the federal agency responsible for the protection of human health and the environment, according to the agency's own mission statement.
Some major goals of the agency are to "ensure that all Americans are protected from significant risks to human health and the environment where they live, learn and work," as well as "ensure that national efforts to reduce environmental risk are based on the best available scientific information."
Based on both the mission statement and the two aforementioned goals of the EPA, the Trump administrative proposals infringe upon the EPA's operations in several ways. For one, a presidential administration's scrutiny of scientifically-backed and peer-reviewed information politicizes science and fact.
These administrative measures also directly violate the EPA's scientific integrity policy, which was created under President Barack Obama with the intent to protect "sound, high quality science." Over 30 environmental rules in the Federal Register were subject to delayed implementation, including renewable fuel standards and improved pollution rulings for a number of states.
But this is not surprising considering Mr. Trump's views on climate change, as well as his views of the EPA.
After all, he once called global warming a "hoax," and claimed that the Chinese invented climate change — which he later claimed was only a joke in a segment with Fox & Friends. He has also notably installed a host of climate change deniers into administrative and cabinet positions in the days following his inauguration.
In terms of the Paris climate accord — an aggressive effort in the reduction of carbon emissions by more than 190 countries — Mr. Trump has said he is "not a big fan," since he claims the deal treats the United States unfairly and gives preference to countries like China. "At a minimum," he once claimed, "I will be renegotiating those agreements." This suggestion would require the endorsement of 195 countries to achieve approval.
He went further in May 2016 to claim that the U.S. would pull out from the Paris agreement, though it is uncertain as to whether that assertion has any real legitimacy, particularly since 194 members of the United Nations Framework Convention on Climate Change (UNFCCC) have signed the treaty — 132 of which have ratified it. The Paris accord acquired legal force once it was ratified by the 55 countries that contribute to 55 percent of global emissions.
It is also clear that President Trump has intentions of using executive orders to refashion the EPA with the intent to limit or cut environmental regulations.
How Does Oklahoma Attorney General Scott Pruitt Tie In?
One of the EPA's listed goals is to "ensure that federal laws protecting human health and the environment are enforced fairly and effectively."
In addition to the exercised restrictions on the EPA, President Trump's choice to head the EPA — who was confirmed by the U.S. Senate on Feb. 17 — Oklahoma attorney general Scott Pruitt, is already in conflict with this and other basic tenets of the agency.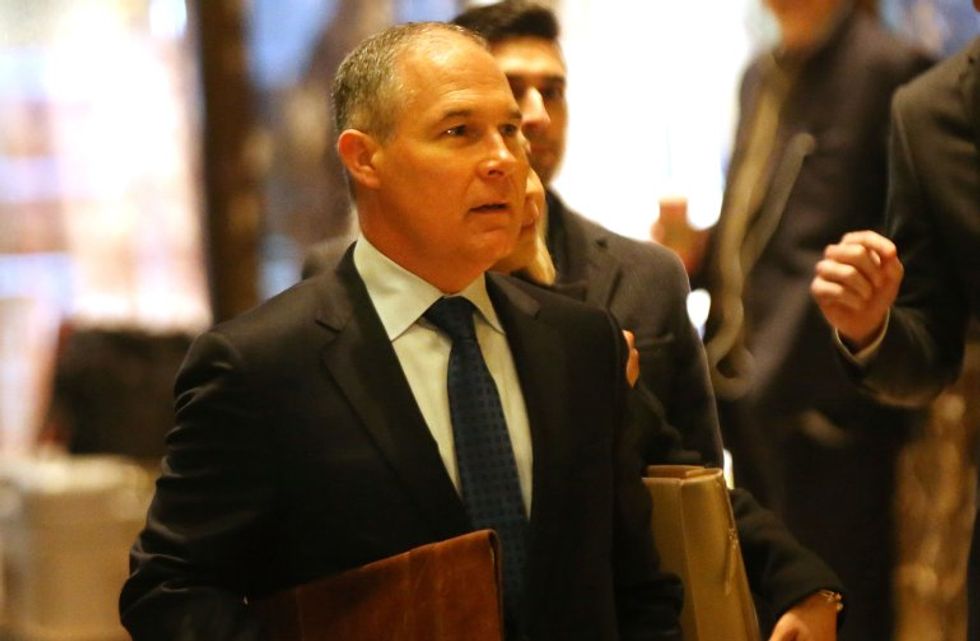 Scott Pruitt. (Credit: Source.)
He is one of a group of U.S. attorney generals to file a lawsuit against the EPA's Clean Power Plan, the chief Obama-era policy intended to reduce greenhouse gas emissions from the electricity sector. Pruitt also sued the EPA over regulations seeking to decrease emissions of methane from the oil and gas sector.
In fact, Pruitt has sued the EPA over 14 times and is currently involved in the Clean Power Plan suit. Thus far, his lawsuits against the EPA have failed, but the proverbial tables could turn should he see Senate confirmation.
In 2014, The New York Times reported that Pruitt's staff copied almost verbatim — onto state government stationary — a letter opposing EPA regulations. The letter was written by lawyers for Oklahoma-based oil and gas company Devon Energy. The plagiarized letter was then sent to the agency with Pruitt's signature as the official position of the Oklahoma Attorney General's Office.
Pruitt was the recipient of significant sums from fossil fuel interests during his runs for office. For example, during his unopposed run for reelection in 2014, Pruitt raised $114,000 from energy company PACs and executives — or about 14 percent of his total fundraising. Within that $114,000 is $5,000 from Devon's PAC and $100 from William Whitsitt, a Devon executive who applauded Pruitt's deceptive letter to the EPA as "outstanding," according to the New York Times report.
Over the last month, Pruitt was sued by Oklahoma's ACLU, he defied oversight requests from Senate Democrats and he overrode Oklahoma's public-records law. Previously, Pruitt has argued that the EPA over-regulates the economy, he has challenged the authority of the agency and he has dissolved the environmental protection unit in the Oklahoma attorney general's office, instead creating a "federalism unit" to litigate against federal government "overreach."
Like President Trump, Pruitt has a long history of publicly questioning the validity of climate science.
What Exactly Are Trump's Environmental Goals?
It is all but proven that the Trump administration has very direct intentions of limiting the reaches of the EPA, if not dismantling it entirely.
Big oil is certainly a factor in attorney general and EPA head nominee Pruitt's perspective on environmental regulations, given donations he has received from oil magnate Hamm; PACs connected to Exxon Mobil, Koch Industries, Alpha Natural Resources, ITC Holdings, Alliance Coal, Spectra Energy, ONEOK, Chesapeake, OGE Energy and Tulsa-based oil and gas producer Unit Corp.; and executives from Continental Resources, the Oklahoma Independent Petroleum Association, the American Gas Association, the American Coalition for Clean Coal Electricity, American Fuel & Petrochemical Manufacturers, AEP, Peabody Energy, Southern Co. and Oklahoma Gas & Electric.
Presumably, big oil is just as great of an influence for President Trump, who nominated Rex Tillerson, the CEO of Exxon-Mobil to serve as Secretary of State, and who just this week permitted oil giants the ability to hide payments made to foreign governments.
Rex Tillerson. (Credit: Source.)
Some Republican lawmakers have recently raised pressure on the EPA, emboldened by Trump's presidential election.
In any other administration, an EPA freeze, a halt on external communications and an Oklahoma attorney general's freewheeling conflicts of interest would have dominated news cycles for weeks. In the current administration, the sheer inundation of unusual activity since President Trump's inauguration — including, most recently, Attorney General Jeff Sessions' recusing of himself from any investigation into charges relating to Russian involvement in the 2016 presidential election — has reflected the form of very brief coverage of the Senate votes on Pruitt's nomination.
These decisions will certainly affect science — the question is how drastically. Among EPA staff, there is cause for concern; President Trump's and Mr. Pruitt's openly hostile views indicate that the new administration intends to perform sweeping cuts to budget, vital programs, and research.
William K. Reilly, the EPA administrator under Republican President George H.W. Bush, describes the present moment in EPA history as "going down a very dark road."