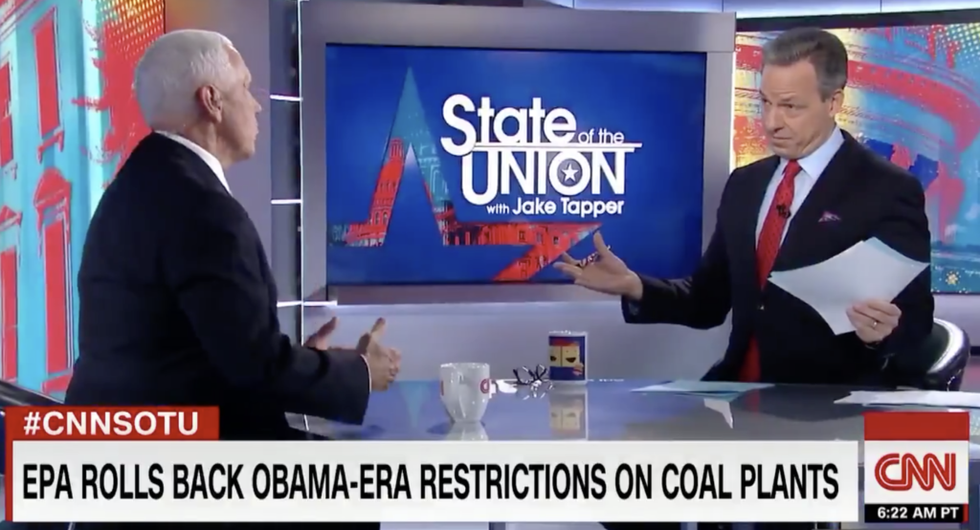 CNN
It's no secret that the climate change crisis is one of the most urgent threats facing the entire planet. If drastic action isn't taken in the next few years, the consequences will be irreversible.
Last week, the Environmental Protection Agency (EPA) rolled back Obama-era limits on carbon emissions in coal-fueled power plants, allowing states to set their own carbon emissions standards. According to the EPA's own findings, the move could result in as many as 1300 deaths by 2030.
The new policy prompted CNN's Jake Tapper if he believed climate change was a threat, Vice President Mike Pence attempted to dodge the question.
Vice President Mike Pence refuses to say whether the climate crisis is a threat, when asked repeatedly by CNN's Jak… https://t.co/SF1hj85kFI

— CNN (@CNN) 1561299282.0
"What I will tell you is that we will always follow the science on that in this administration," Pence said as Tapper pointed out that the science says climate change is a threat.
"What we won't do—and the Clean Power plan was all about that—was hamstringing energy in this country, raising the costs of utility rates for working families across this country."
Tapper continued to press Pence on whether he believes climate change is a threat.
"But is what people are calling a climate emergency...do you think it's a threat?"
"I think the answer to that is going to be based upon the science."
"The science says yes, I'm asking what you think."
"Well," Pence said skeptically, "There's many in the science [community] that—"
Tapper pointed something important out to Pence.
"The science community in your own administration at [the National Oceanic and Atmospheric Administration] and the [National Intelligence Director], they all say it's a threat, but you won't for some reason."
Pence went on to claim that the United States has the cleanest air and water, which Tapper immediately shut down with a laugh:
"That's not true, we don't have the cleanest air and water in the world. We don't."
The internet was frustrated with Pence's denial.
@CNN Pure incompetence. Unqualified to govern.

— Risky Liberal (@Risky Liberal) 1561306061.0
@CNN @melpriceHB Can you imagine being so morally weak that you allow yourself to become this?

— 👀 THE ACCOUNTANT 👀 (@👀 THE ACCOUNTANT 👀) 1561303289.0
@CNN Pence lies. We are not making progress on carbon emissions. Last year we backslid on carbon emissions. As for… https://t.co/adszNlRyR7

— Jamie Lawson (@Jamie Lawson) 1561309941.0
@CNN It's almost like a tragic comedy skit.

— Viuda Alegre (@Viuda Alegre) 1561304416.0
Though people were irate with Pence, they applauded Tapper for holding him accountable in a media climate that many believe doesn't do enough to hold the Trump administration accountable for lies or misrepresentation.
@CNN @jaketapper did a good job here. I'm quite shocked he held pence to account somewhat. I'm impressed.

— Stay Informed 🆘 (@Stay Informed 🆘) 1561352970.0
@CNN Good for @jaketapper! WE all know the answer that the slippery ignorant @VP Mike Pence (who lied) refuses to… https://t.co/cX5IS5spq3

— cdbrzezinski ⏳🌹 (@cdbrzezinski ⏳🌹) 1561302723.0
@CNN .@jaketapper I really appreacie when the VP said something that is not true, you said "That's not true" and t… https://t.co/GJlOPgGtei

— Piper Perabo (@Piper Perabo) 1561315570.0
@CNN @dwinfrey72 I love you @jaketapper. Always keeping it real when so many others in the media won't. Thank you for all you do.

— BeccA (@BeccA) 1561308732.0
It's unclear what it will take to spur Conservative lawmakers into action against what scientists near-unanimously believe is an urgent threat.
Keep reading...Show less