Whether he's claiming the Capitol rioters were framed or that immigrants make countries "dirtier," far-right Fox News host Tucker Carlson regularly promotes disinformation and nationalism to millions of viewers every night.
One consistent theme throughout his diatribes has been support for Russian President Vladimir Putin over Ukraine, the democratic nation that broke from the U.S.S.R. in 1991, which Putin invaded last week.
As far back as 2019, Carlson said that he was rooting for Russia. Ahead of the invasion, he only doubled down on this stance, lamenting that Americans are supposedly expected to hate Putin and saying Ukraine wasn't a legitimate country, but rather a "client state." His pro-Putin diatribes have been aired on Russian state television to boost support for the authoritarian leader's aggression.
So it came as a surprise on Monday night when Carlson took a notably different stance.
Watch below.

He told viewers:

"We're gonna begin by pointing out that Russia has obviously earned our contempt. Most Americans now despise Vladimir Putin. That's understandable, they're outraged. But moral outrage is not enough. Moral outrage is not foreign policy."
The remarks come less than a week after this lie-ridden diatribe:
"Why do I hate Putin so much? Has Putin ever called me a racist? Has he threatened to get me fired for disagreeing with him? Has he shipped every middle class job in my town to Russia? Did he manufacture a worldwide pandemic that wrecked my business and kept me indoors for two years? Is he teaching my children to embrace racial discrimination? Is he making fentanyl? Is he trying to snuff out Christianity? Does he eat dogs? These are fair questions, and the answer to all of them is no. Vladimir Putin didn't do any of that."
Social media users noticed Carlson's about-face, and were quick to call him out on it.
They also found his comments on "moral outrage" hypocritical.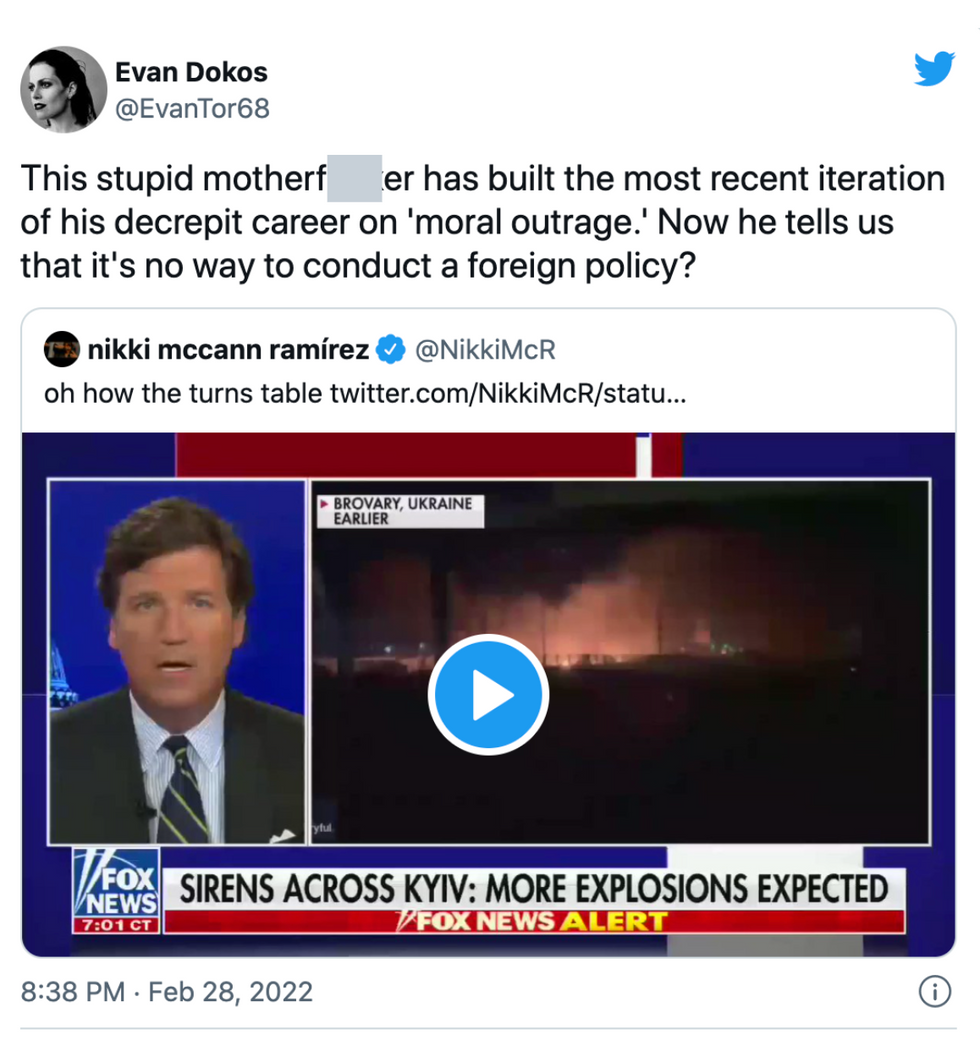 It remains to be seen how long Carlson's latest stance will last.