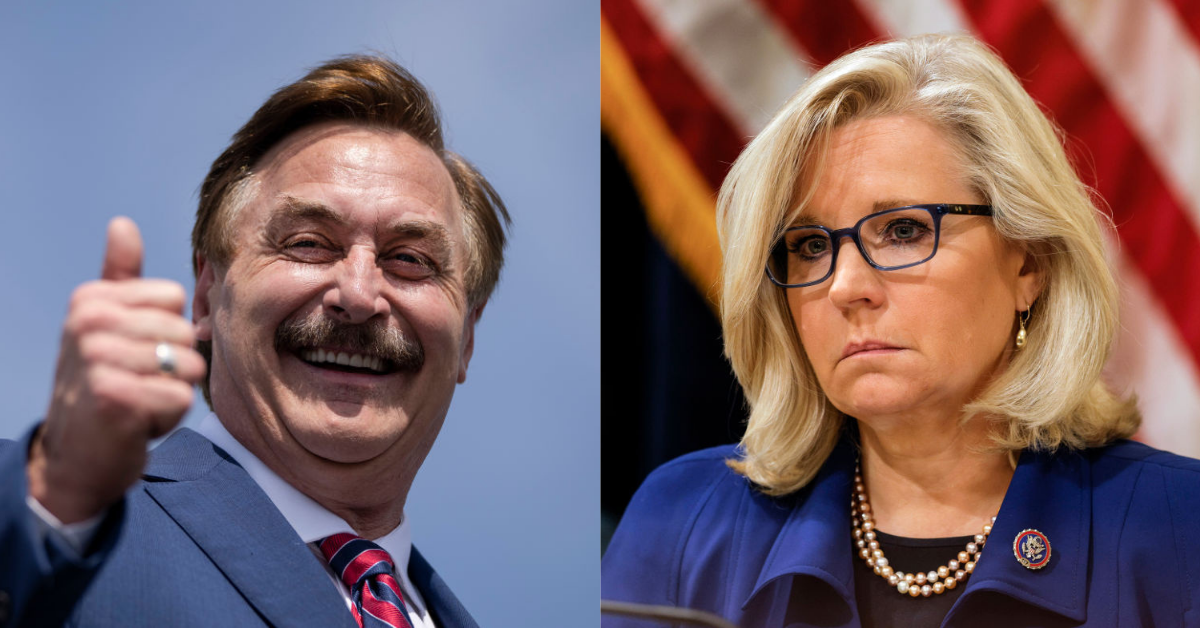 Jim Bourg-Pool/Getty Images; Drew Angerer/Getty Images
Mike Lindell—ride or die for former Republican President Donald Trump and the "My Pillow Guy"—attended Trump's Save America/MAGA Rally in Casper, Wyoming on Saturday, May 28.

In an interview with Wyoming news site Cowboy State Daily, Lindell claimed he spent over $30 million investigating 2020 election fraud and "has more information than anyone in the world."
\u201cCrowd at the "Save America Rally" for former President Donald #Trump right now at Casper's @FordWYCenter\u201d

— Leo Wolfson (@Leo Wolfson) 1653775047
The My Pillow CEO said:
"It was an algorithm that went nationwide, from Hawaii to Alaska to California to New York island."
Lindell then claimed:
"Any politician says [Wyoming's election results weren't part of the problem]— 100% traitor."
"Wyoming had 20-some thousand votes stole in the president election [sic]."
"That's almost 10% of your home votes in Wyoming. Everything was taken."
Trying to explain why he was making unsubstantiated claims about Wyoming's election results despite the state giving Trump the largest margin of victory in any state in 2020, Lindell added:
"When you do it with computers you have to smooth out all 50 states."
Lindell has been very long on election fraud claims, but very short on proof.
In response to his inflammatory comments in Wyoming, Republican Representative Liz Cheney issued an official statement.
The Wyoming Congresswoman stated:
"Our county clerks work tirelessly and do a fantastic job, as does our Secretary of State. The people of Wyoming honor and respect their public service and we have complete confidence in them to fairly and lawfully carry out our elections, as they have done consistently in the past."
Addressing Lindell, she wrote:
"For an unhinged conspiracy theorist to make these baseless claims questioning the integrity of our elections in Wyoming, and calling those who don't buy his fantasy 'traitors', is dangerous and wrong."
"Everyone across Wyoming, including the Republican state party leadership, elected officials, and candidates have a responsibility to condemn these unfounded allegations and make clear that we won't allow an out-of-state wacko to baselessly attack the integrity of our public servants or question our patriotism."
Cheney also addressed Lindell's false claims on Twitter.
She tweeted a link to the Cowboy State Daily interview, captioned:
"We have a name for this in Wyoming."
"Lunacy."
\u201cWe have a name for this in Wyoming. Lunacy. \n\nMr. Pillow: Wyoming Voting Machines Are Fraudulent And If You Don't Agree, You're A Traitor | Cowboy State Daily https://t.co/3r3MHxvieh\u201d

— Liz Cheney (@Liz Cheney) 1654050919
Cheney—a traditional conservative Republican—still differs widely with all but right-leaning Democrats, but she has earned kudos and respect for refusing to pander to Trump or parrot his Big Lie about his 2020 presidential election loss.
In contrast, Cheney's integrity earned backlash from her GOP congressional colleagues. The Republican House members stripped Cheney of her position as GOP Conference Chair and handed it to Trump cheerleader, New York Republican Representative Elise Stefanik.
But Cheney's assessment of Lindell garnered kudos on social media.
Wyoming's voting system is very secure.. I've voted here every election since turning 18.. it's easy to register right at the polls, and the election staff are very professional in ensuring privacy and accuracy.

Mr. Pillow seek therapy and stop trying to cause
— PrincessAmericanMutt2.0 (@Polly77923363) June 1, 2022
Thank you for all that you do-brave, integrity, truth. I don't agree with all your politics but I sure do appreciate YOU
— Abby Normal (@Rebecca84841883) June 1, 2022
Thank you for your sensibility, as opposed to that of your right-winged colleagues. History will be kinder to you.
— Knuzzi (@Knuzzi) June 1, 2022
Mike is deeply troubled. If you don't believe that, you haven't been paying attention.
— Scott Matheson (@smatheson57) June 1, 2022
In his recent interview, Lindell added claims the GOP primary in Georgia was tainted because some candidates endorsed by Trump lost.

Lindell said:
"[Republican Governor] Kemp, [Attorney General] Chris Carr, [Secretary of State] Brad Raffensperger—the triple crown of crime."
"It was all done through the machines, we have all the evidence. We sat outside [watching] for guys, we watched it all."
Lindell also spouted the repeatedly disproven conspiracy theory about voting machine companies Smartmatic and Dominion that resulted in an ongoing $1.3 billion lawsuit against him.
Of his election fraud claims, Lindell said:
"You're not going to find it on Fox rotten news, they don't talk about the election. They don't talk about it at Newsmax."
In every court appearance thus far, Lindell and the Trump camp failed to provide any proof for their election fraud claims.
The majority of their claims seem to hinge on the outcome they wanted didn't happen, so it must be fraud.