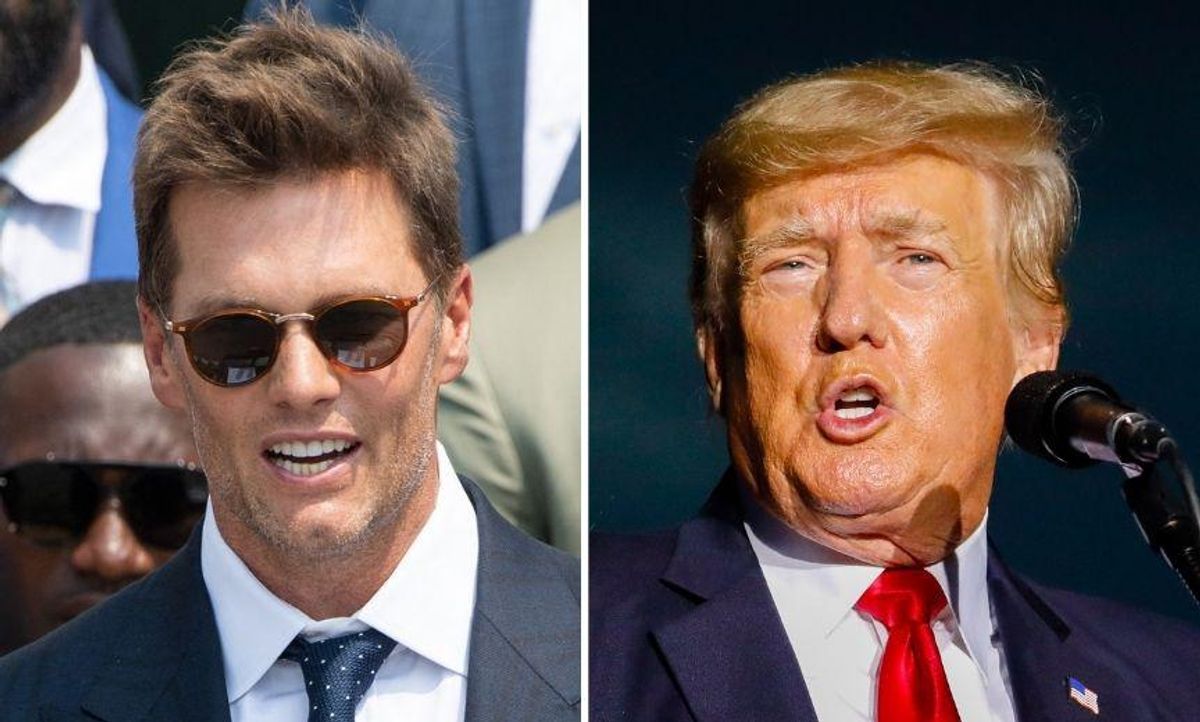 SAUL LOEB/AFP via Getty Images // Eva Marie Uzcategui/Getty Images
Former President Donald Trump has been out of office for months, but that hasn't stopped him from continuing to spew deranged conspiracy theories that the 2020 election was "stolen" from him by Democrats engaging widespread election fraud.
Through unhinged statements issued through his spokeswoman, Trump insists that the election was "rigged" and seems to think Republican audits of swing states he lost will vindicate his claims, though there is no evidence that suggests this.
And while some of Trump's most devout supporters are under the collective delusion that he'll be reinstated in the coming months, President Joe Biden continues to govern, issuing executive orders, attending world leadership summits, and—most recently—met with the winning team of the Super Bowl, the Tampa Bay Buccaneers.
Among the visitors was quarterback Tom Brady. In remarks at the White House, Brady alluded to the widespread belief that the Buccaneers wouldn't win the Super Bowl, given the team's underwhelming performances in past seasons.
In the process, he made a joke at Trump's expense.
Watch below.
Brady said:

"Not a lot of people think that we could have won. In fact, I think about 40 percent of people still don't think we won. You understand that, Mr. President?"
Biden agreed he knew what that was like, and shared a laugh with the players.
Given Trump's infamous grudges, people could only imagine how irate Trump was to hear the news, and one denizen of the internet even issued a fake "statement" from Trump.
It was so convincing, it had to be debunked by CNN fact-checker Daniel Dale.
The fake statement read in part:

"Tom 'Shady' needs to do his research and realize how Rigged (and Rigged it was) the last election was. Maybe he was too busy Deflating balls (weak grip?) to follow what is happening all around our Great Country (including Maricopa County, Georgia and Pennsylvania). When I'm back in the White House we'll see who he jokes with (the answer is Me, your favorite 'President', if I even invite him). So much Voter Fraud!"
It's understandable why some would be fooled, as it features some of the most infamous characteristics of a Trump statement, down to its random capitalization, petty nicknames, and near-incoherent logical flow.
People found it highly convincing.
People didn't hesitate to imagine Trump's reaction to Brady's trolling.
Trump has yet to issue an official statement.