MANDEL NGAN/AFP via Getty Images // Justin Sullivan/Getty Images
Throughout the impeachment proceedings against him, Republicans have defended embattled President Donald Trump by claiming that Democrats were hell-bent on impeaching the President since before his inauguration in January 2017.
This is neglecting that it took nearly three years before House Speaker Nancy Pelosi (D-CA) launched an official impeachment inquiry against the President after constant resistance.
Neither does the argument address Republicans who bragged about the imminence of 2016 Democratic nominee Hillary Clinton's impeachment, when her election of Trump seemed certain.
Now, at least one lawmaker is doing the same with a frontrunner for the 2020 Democratic nomination.
Keep reading...
Siavosh Hosseini/NurPhoto via Getty Images
President Donald Trump's personal attorney Rudy Giuliani is known by some to hurt his client more than help him.
Such was the case on Monday afternoon, after Trump's impeachment defense attorney, Jane Raskin, defended Giuliani on the Senate floor, dismissing the idea that he went to Ukraine to look for dirt on former Vice President Joe Biden.
Keep reading...
Office of the House Minority Leader; Preston Ehrler/SOPA Images/LightRocket via Getty Images
In an appearance on Fox News' Hannity, Republican House Minority Leader Kevin McCarthy proposed that former Vice President Joe Biden should suspend his 2020 presidential campaign during the Senate impeachment trial of President Donald Trump.
McCarthy said:
Keep reading...
Donald Trump's impeachment was set in motion after a whistleblower report came to light complaining about the inappropriate nature of Trump's July 25th call with Volodymyr Zelensky, the President of Ukraine.
During that call, Trump leveraged the threat of withholding U.S. aid funding to Ukraine in order to get an investigation into alleged corruption of Joe Biden and his son Hunter.
Many had fixated on one aspect of the timing of the call: it came just one day after Robert Mueller testified in front of Congress about his report, a testimony that was widely seen as a dud. Perhaps Trump felt emboldened and newly vindicated by Mueller's testimony.
But now we have a new clue as to what may have inspired the call to Zelensky: a Fox News poll that Trump had been touting that very morning:
What else was in that poll?
Well, for one thing: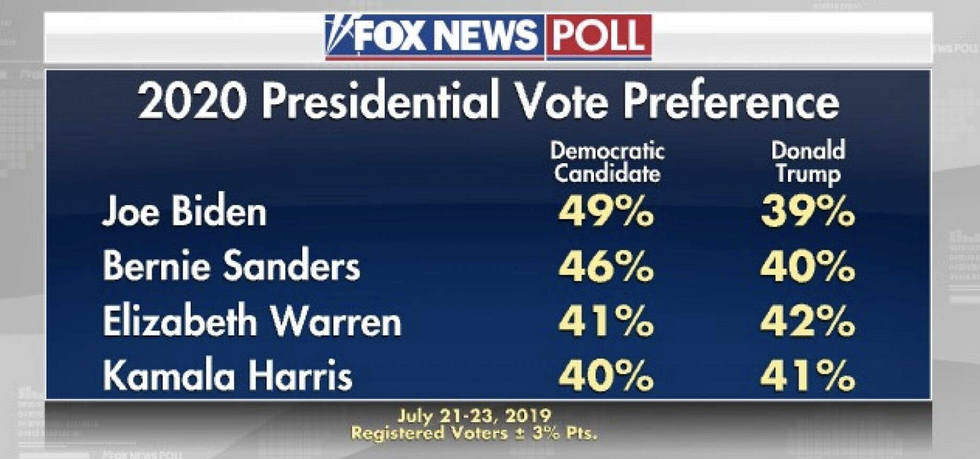 NBC News politics correspondent Heidi Przybyla gives us a glimpse into what may have motivated Trump that very day to want to undermine Biden's campaign:

The timing is damning:
People are on board with the theory.

And legally, it could have serious implications.
Hard to argue with math.

Hoisted by his own Twitter petard.