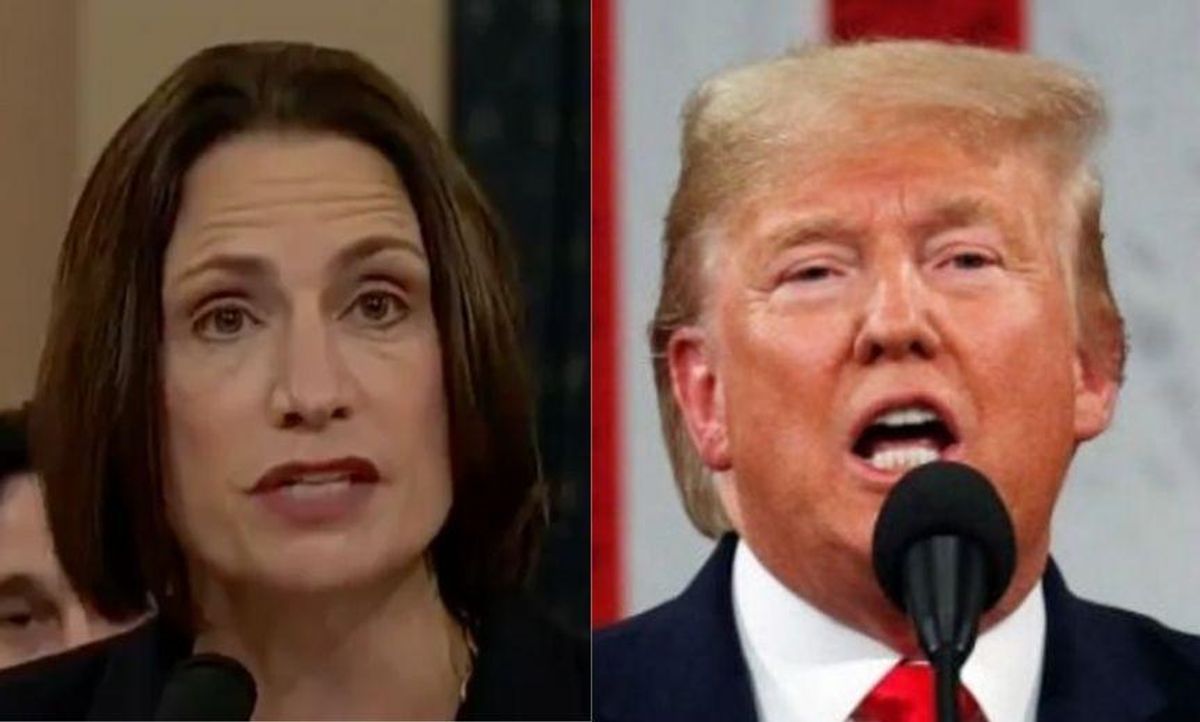 C-SPAN // Leah Millis-Pool/Getty Images
In 2019, former National Security Council official Fiona Hill testified in a House Select Committee's impeachment inquiry of former President Donald Trump. Trump's first impeachment centered around a phone call with Ukrainian President Volodymyr Zelenskyy in which Trump urged Zelenskyy to open investigations into Hunter Biden and the 2016 election, implying that he'd release congressionally approved military aid (which the White House stalled at the Office of Management and Budget) in exchange.
Hill, an American who was born in England and graduated from Harvard with a Ph.D in Russian history, testified about Russia's interference in the 2016 election and confirmed reservations that her boss, then-National Security Advisor John Bolton, had about Trump's efforts in Ukraine.
More than two years, a second impeachment, and a deadly Russian invasion of Ukraine later, Hill and other former officials recalled the events of that period in 2019 for a recent piece by Robert Draper of the New York Times.
In one moment of the piece, Draper asked Hill for confirmation that Trump heavily preferred pictures over texts, noting that he would often completely ignore the written word.
Hill confirmed with a bizarre anecdote:

"That's spot on. There were several moments of just utter embarrassment where he would see a magazine story about one of his favorite leaders, be it Erdogan or Macron. He'd see a picture of them, and he'd want it sent to them through the embassies. And when we'd read the articles, the articles are not flattering. They're quite critical. Obviously, we can't send this! But then he'd want to know if they'd gotten the picture and the article, which he'd signed: 'Emmanuel, you look wonderful. Looking so strong.'"
Someone apparently read that anecdote to Trump, because he soon released a vicious statement through his spokeswoman, Liz Harrington, which said in part:
"Fiona Hill is a Radical Left RINO, but the word RINO is too good. She doesn't know the first thing she's talking about. If she didn't have the accent she would be nothing. During the Impeachment Hoax #1, she had no credibility, obviously, because we won unanimously. Never listened to her, I hardly knew her at all. She knew nothing about me, I knew nothing about her, and I liked it that way."
It's unclear what Trump means by "won unanimously." It's true that Republicans in the House of Representatives were unanimous in their opposition to the first impeachment when the measure came to a floor vote. After Trump's impeachment trial in the Senate, Republican Senator Mitt Romney of Utah was the sole Republican to cast a guilty vote against Trump. At that point, it was the most bipartisan presidential impeachment trial conviction vote in American history, though the conviction votes didn't meet the 60 vote threshold to remove Trump from office.
That record of bipartisanship would later be broken by Trump's second impeachment trial vote, wherein seven Republican senators found him guilty for inciting the deadly failed insurrection against the United States Capitol, still ultimately falling three votes short of the supermajority required.
Trump may have fumed at Hill's anecdote, but social media users mocked him for it.
cant make this up 🤣 https://t.co/oNKxQSyWbR
— Jordan Mills (@JordanM96678551) April 11, 2022
Oh my god this is so embarrassing 😬 https://t.co/bGWrrgTqRP
— Penelope Cellucci (@PeneCell) April 13, 2022
Oh my god https://t.co/WfErEoyDMw
— Cat McFeline 🇺🇦 (@ohmyword1) April 12, 2022
This is the most pathetic thing I've seen today https://t.co/cxSPKHhif6
— Ana R (@ShawAndOrder) April 12, 2022
What a complete idiot. https://t.co/XYlEXOxq7e
— Amber (@ambie1979) April 12, 2022
How Trump communicated with foreign leaders.
What a shallow ignoramus. https://t.co/CRpRlMvFDz
— Cait Featherstone (@cvfeatherstone) April 11, 2022
This reminds me of an anecdote about John DeLorean, when his wife visited him in jail and showed him the newest Time magazine. He was on the cover for allegedly dealing narcotics.

He smiled at it, realizing his dream had come true.

Narcissists are all about optics, not details https://t.co/nUs3YJGfWw
— Michelle, Warlock of the Kiln (@kilnfiendpotter) April 11, 2022
Some joked that Trump couldn't read.
Oof.