After Laura Ingraham covered Trump's weakness against Biden in swing states, Trump lashed out claiming he polls better against Biden than 'DeSanctus.'
23 May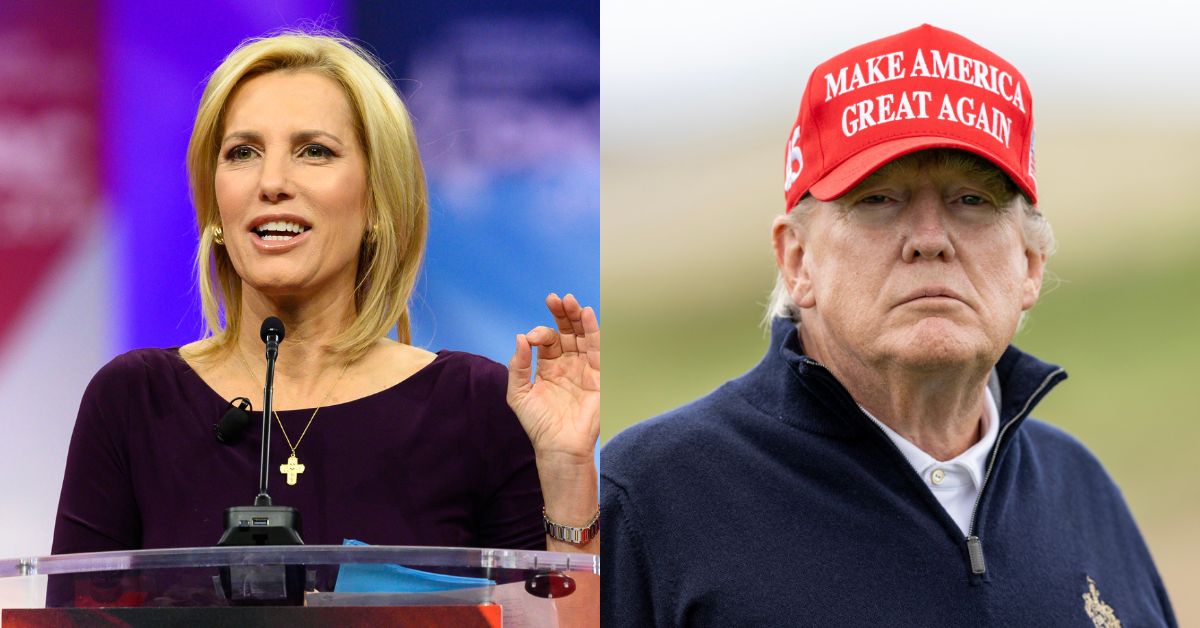 Michael Brochstein/SOPA Images/LightRocket via Getty Images & Robert Perry/Getty Images
Former Republican President Donald Trump is very unhappy with Fox News host Laura Ingraham after she shared a series of polls showing Trump losing to President Joe Biden in the 2024 presidential election.
Ingraham had historically been an enthusiastic Trump supporter as was most of Fox News. Trump was evidently quite upset by her choosing to share polling results that were less than flattering to him.
Trump posted his ire on Truth Social, writing:
"Laura Ingraham on FoxNews just did a hit piece on me (there go her ratings!) showing some polls which indicate that Ron DeSanctimonious may do better against Biden than I would, when actually polls show that I do MUCH better against Biden than 'Rob'."

@realDonaldTrump/Truth Social
Trump added:
"The poll your [sic] looking at now, which has me doing far better against Crooked Joe, was just put out by FOX, I am sure unhappily."
"I'm also leading DeSanctus by over 40 points in Primary Voting."
Trump then plugged Fox News competitor Newsmax.
Ingraham shared the polls on her show, The Ingraham Angle, on Monday. Guest Chris Bedford, Executive Director of Common Sense Society, commented Biden was polling ahead of Trump.

Bedford said:
"Donald Trump, in almost all the polls that we've seen that have been done so far, granted it's early, is behind Joe Biden."
"Now Joe Biden is running pretty badly against generic Republicans, maybe against a Tim Scott or against a Ron DeSantis type figure, but he's consistently beating Donald Trump."
The two continued the discussion of how the polls they referenced showed Biden losing to generic Republican candidates, except when that candidate was Trump.
Ingraham acknowledged the poll they were discussing was a single poll, and therefore of limited scope.
"Now this is one poll. This is 500 Arizona voters, just taken."
Bedford agreed, but said it pointed to a larger trend.
"You're right; it's just one poll. But it is a broader trend, and matchups between X Republican and Joe Biden, X Republican usually wins, except for when it's Donald Trump."
Trump was evidently so incensed by Ingraham and Bedford's conversation he ended his rant by telling people to go watch a host that still fawns over him—Greg Kelley at Newsmax.
Trump wrote:
"Watch Greg Kelley on Newsmax at 10:00 P.M."
Twitter users were quick to pick apart Trump's post.
It is no surprise to anyone Trump lashed out at Ingraham the second she said something unflattering about him. He has a history of doing exactly that.
Last week, Trump lashed out at Fox News as a whole, accusing them of "desperately pushing DeSanctimonious" because they discussed DeSantis' choice to stay on his tour of Iowa amid Tornado warnings when Trump chose to cancel his planned appearance in Des Moines.