After Sean Hannity pressed Donald Trump on whether he really intends to abuse power or break the law as president, Trump joked 'only on day one.'
22h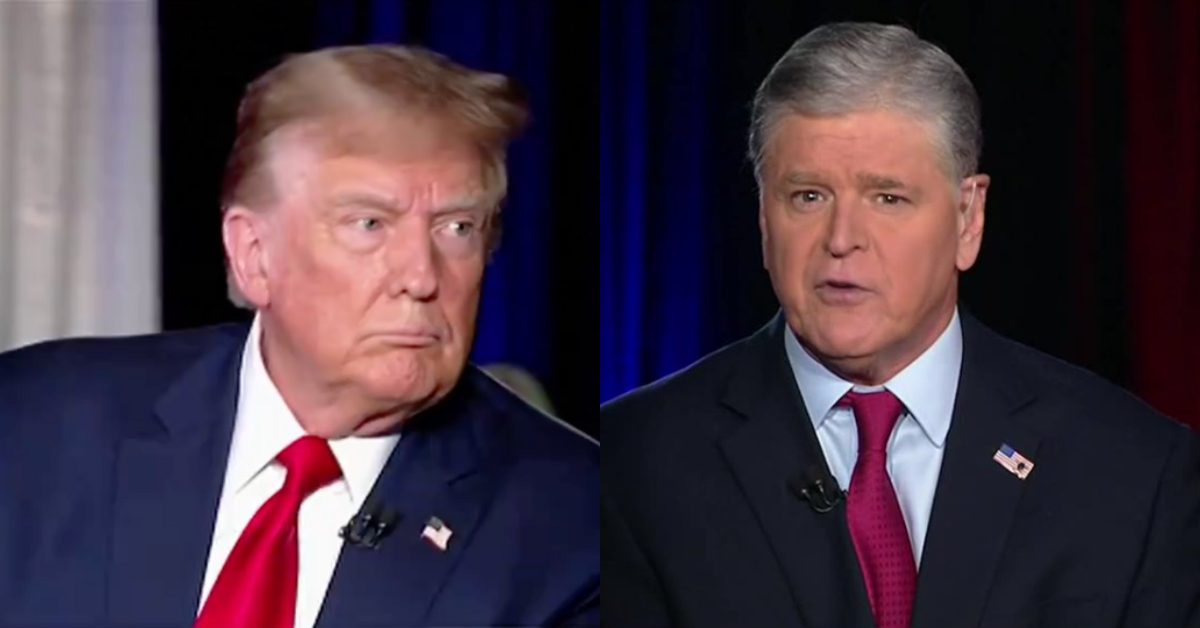 Fox News
Former President Donald Trump alarmed his critics after he told Fox News personality Sean Hannity that he plans to be a "dictator" on "day one" in the event he wins the 2024 election and returns to the White House.
Pressed about potentially taking retributive action against his adversaries if reinstated as president, Trump initially avoided a direct response. However, when probed again, he mentioned that he would adopt a dictatorial stance solely on the first day of his second term. He emphasized two specific issues for this approach: "closing the border" and an intense focus on drilling.
Mocking Hannity's line of questioning, Trump said:
"I love this guy. He says, 'You're not going to be a dictator, are you?' I said, 'No, no, no. Other than Day One.' We're closing the border, and we're drilling, drilling, drilling. After that, I'm not a dictator."
You can hear what Trump said in the video below.
These comments aimed to address recent speculation regarding a potential authoritarian approach in Trump's proposed second term. However, they quickly drew attention from President Joe Biden's campaign, with Biden-Harris campaign manager Julie Chavez Rodriguez asserting that Trump's statement provided substantial insight into his intentions.
Biden-Harris campaign manager Julie Chavez Rodriguez said in a statement:
"Donald Trump has been telling us exactly what he will do if he's reelected and tonight he said he will be a dictator on day one. Americans should believe him."
Others have also sounded the alarm.

During the conversation with Hannity, Trump also voiced skepticism about President Joe Biden's physical and mental capacity, expressing doubt about Biden's likelihood of being the Democratic nominee in 2024.
Trump said he doesn't think Biden "makes it physically," knowing that claims Biden is "mentally frail" have become a favorite talking point in conservative circles.
Biden, who turned 81 in November, has repeatedly brushed off concerns about his age and ability to adequately perform his duties. Biden told reporters he might not be seeking a second term if Trump had not launched his own campaign for the White House.

The President was firm however that "we cannot let [Trump] win."