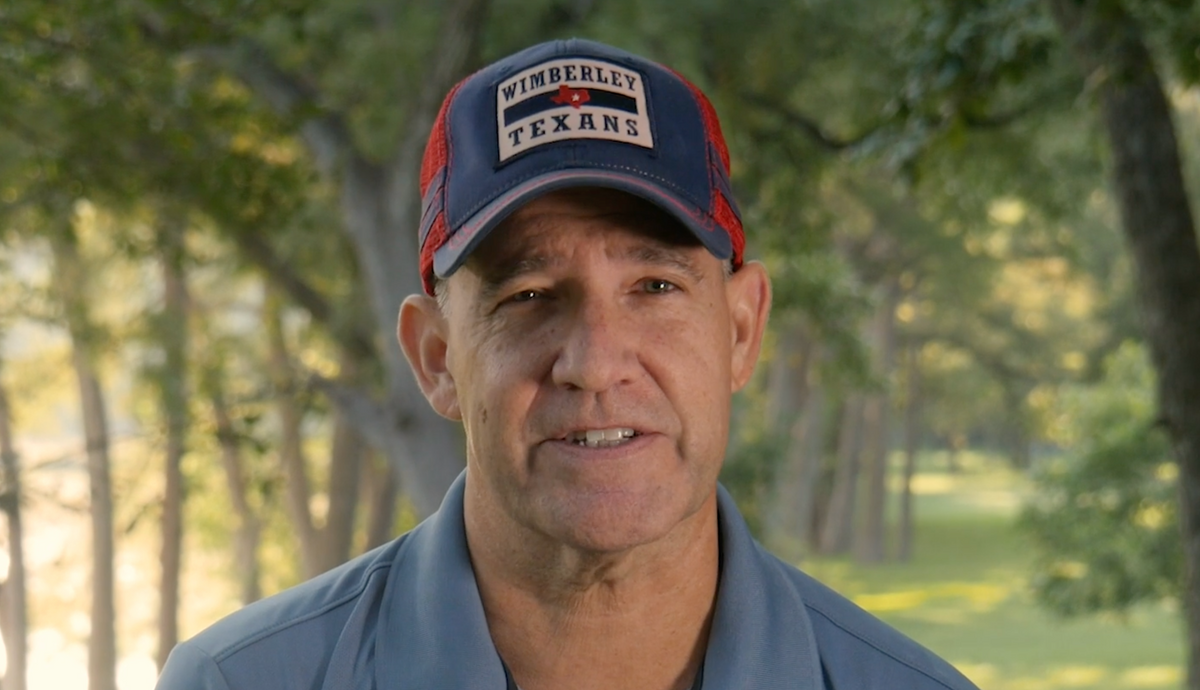 Fawaz Anwar/Vimeo
The chief strategist for former Republican President George W. Bush, Matthew Dowd, announced he'd be running for Texas Lieutenant Governor against incumbent Dan Patrick, whose embrace of far-right agendas has divided the increasingly purple state.
What's more, Dowd is running as a Democrat, an unexpected move for someone who led a successful presidential campaign for a member of the Lone Star State's most powerful Republican political dynasty.
In his announcement video, Dowd lambasted Patrick and vowed to prioritize "common decency for the common good."
Watch below.
Dowd says in the video:

"The GOP politicians have failed us, especially the cruel and craven Lieutenant Governor. Dan Patrick has been lying, deceiving, fracturing the bonds we share and endangering all our lives. He does not believe in the common good. He seeks only to represent himself and the five percent of the state that goes along with all of this He puts his me over our we."
Texas has come under national scrutiny not just because of the draconian abortion law that recently went into effect, but also for its policies banning common sense safety initiatives designed to slow the spread of COVID-19.
Dowd invoked this as well:

"With COVID-19 taking thousands of Texans' lives, Dan Patrick didn't respond to it based on science and prevented local officials from doing the things they needed to do to keep their communities safe."
After the scathing ad recapped the litany of Patrick's failures, Dowd concluded:
""Enough is enough. We need more officials who tell the truth, who believe in public services, in common sense with common decency for the common good. ... We need to expect more from our politicians. Dan Patrick believes in none of those and that is why I am running for the powerful office of lieutenant governor of this great state."
Social media users vowed to support Dowd's effort.
In 1990 @matthewjdowd worked with us to elect my mother Ann Richards Governor of Texas. He believes in public servi… https://t.co/gjVXhuD7v1

— Cecile Richards (@Cecile Richards) 1632914165.0
Oh wow!!! What great news to wake up to. Let's do this!! https://t.co/0Tj0gjRVem

— The "J" Beat (@The "J" Beat) 1632920074.0
Really happy to support this! Thank you, @matthewjdowd, for taking on this challenge. https://t.co/9qwfDrs5xw

— (((Howard Forman))) (@(((Howard Forman)))) 1632920055.0
This is the kind of person we need in politics. Not the current crop of career politicians out for themselves. Will… https://t.co/R6ZF33AYVH

— Pᴀᴛ Bᴇɴɴᴇᴛᴛ - ❤️ 🇺🇸 💙 🌎 (@Pᴀᴛ Bᴇɴɴᴇᴛᴛ - ❤️ 🇺🇸 💙 🌎) 1632920176.0
Wow. And good for Matt. He has been a consistent voice of moral clarity in a political world where people are ofte… https://t.co/1CwuJ4E6GY

— Perry Bacon Jr. (@Perry Bacon Jr.) 1632913920.0
They called on others to support him as well.
1. Texas has an opportunity to elect a good and decent man, my friend @matthewjdowd. Please support him. 2. We nee… https://t.co/qGz0KM7ihj

— Steve Schmidt (@Steve Schmidt) 1632919316.0
Quality, Qualified, Dedicated! Let's donate!!! We can do this Twitter!! https://t.co/oEs9IufKqf

— Polly Papaya (@Polly Papaya) 1632912059.0
Texas and Twitter friends, @matthewjdowd is one of the smartest and the most decent people I've ever met in politic… https://t.co/eiepLqGMKj

— Jay Rouse (@Jay Rouse) 1632914315.0
It will certainly be an uphill battle, but Dowd insists he's up for the challenge.