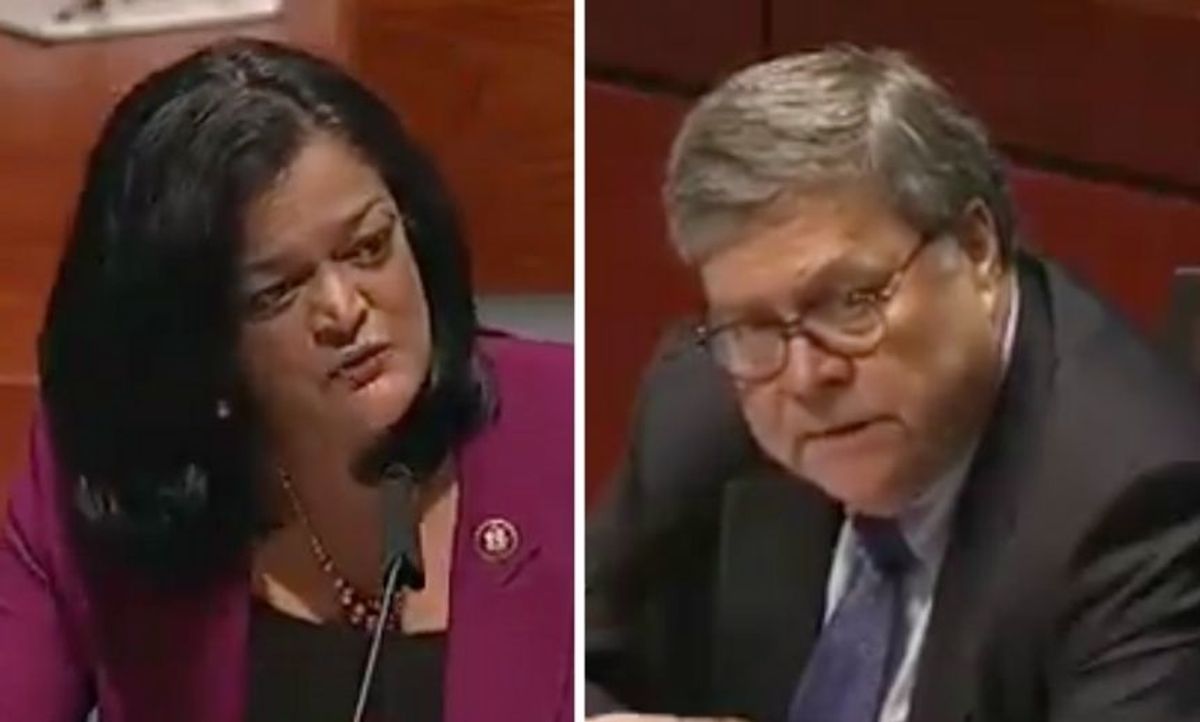 CBS News
President Donald Trump's Attorney General, William Barr, faced questions from the House Judiciary Committee on Tuesday regarding his work for the administration so far.
One of the most prominent topics in the hearing was Barr's role in the aggression Trump has shown towards Americans protesting police brutality against Black Americans in the United States.
As recently as this week, Trump referred to protesters as "anarchists" and "agitators." His tweet regarding protesters against George Floyd's murder by police in late May—where Trump said that the "shooting starts" when the "looting starts"—prompted Twitter to suppress the tweet for its glorification of violence.
Even now, Trump and his Department of Homeland Security have exacerbated unrest in Portland, Oregon by unleashing anonymous militarized officers in the area, against the wishes and strategies of local authorities. These secret police have since been "proactively" arresting protesters, often beating them, and taking them to undisclosed locations in unmarked, non-government vehicles. The protests have doubled in size in opposition to the administration's tactics.
According to reports, Barr gave the order for police to begin gassing peaceful protesters outside of the White House on June 1, as the nation watched live. Minutes after officers used force to clear the area, the President walked to Saint John's Church, where he took a photo with a borrowed bible.
There's a notable discrepancy between the treatment of those protesting against racism and those protesting local shutdowns in the face of the pandemic.
When protesters in Michigan and other cities showed up to the state Capitol with automatic rifles and other weapons, brandished Nazi iconography, and threatened death to Democratic Michigan Governor Gretchen Whitmer, Trump tweeted for protesters to "LIBERATE" their cities.
Congresswoman Pramila Jayapal (D-WA) called out this discrepancy to Attorney General Barr in no uncertain terms.
Rep. Pramila Jayapal says Barr targets Black Lives Matter protesters: "When White men with swastikas storm a govern… https://t.co/XS4SAYAzCX

— CBS News (@CBS News) 1595962327.0
She highlighted the administration's treatment of supporters protesting Democrats:

"The point I'm trying to make here … is that there is a real discrepancy in how you react as the attorney general — the top cop in this country — when white men with swastikas storm a government building with guns, there is no need for the president to 'activate' you because they're getting the president's personal agenda done."
The same does not apply to those protesting against police brutality and racism.
"But when Black people and people of color protest police brutality, systemic racism, and the president's very own lack of response to those critical issues, then you forcibly remove them with armed federal officers [and] pepper bombs, because they are considered terrorists by the president."
Barr claimed he was not aware of the Nazi imagery and violent ideations toward the governor of Michigan at those protests, which Jayapal pointed out.
She wasn't the only one to whom the discrepancy was apparent.
It appears Barr has two (2) sets of crime and punishment, one for America (and Barr's ideal of law and order) Or one for Donald, he weighs in more towards Donald and not the rule of Law unless it is Barr's interpretation of the Law...
— Michael Best (@michaelbest54) July 28, 2020
This tells the story. It was even worse in Kentucky and he ignored that too. Only going after those who are not trump supporters.
— Stusuper20 (@stusuper20) July 28, 2020
What he is aware and unaware of is all very convenient.
— TheExpert (@The24_7Expert35) July 28, 2020
Indeed Trump claimed white gunmen were liberating States.
— Timewalk Project (@Timewalkproject) July 28, 2020
They commended Jayapal for not backing down.
Can't hit the nail any harder on the head than she just did.
— Was Dan Wall (@Richard39294753) July 28, 2020
After watching @RepJayapal question/scold Barr at House hearing, I was so impressed with her responses and demeanor that she would be the absolute choice for @JoeBiden's VP in 2020. So proud of her, I stood up and gave a standing ovation.

Wouldn't you agree?
— Jason V (@Armada_JasonV) July 29, 2020
Yes!! She said that!💪🙏🇺🇸
— AndreaA (@AndreaA26765195) July 28, 2020
Good for her taking control!!! I wish reporters would do the same to @realDonaldTrump when he treats women the same way.
— Liz (@salliemousecat) July 28, 2020
Trump has said he will send similar anonymous officers to Chicago.