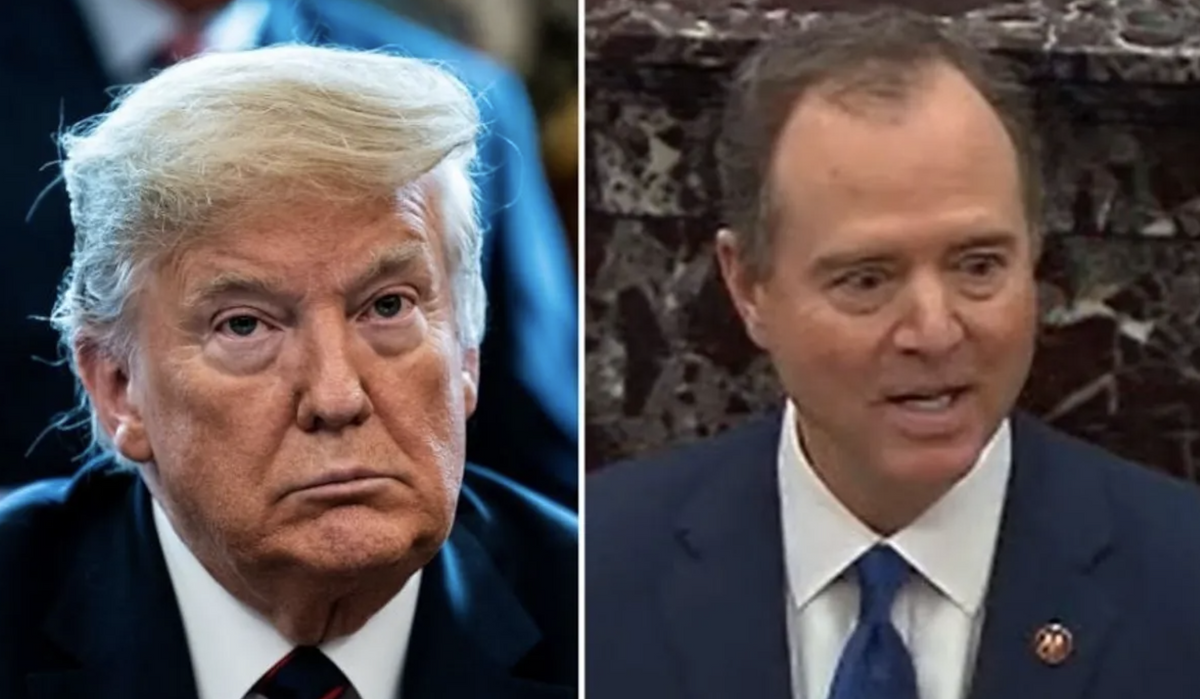 Photo by Erin Schaff-Pool/Getty Images // Senate Television via Getty Images
Given the global pandemic and widespread national unrest in the face of injustice, you're forgiven if it seems President Donald Trump's impeachment proceedings feel like a lifetime ago.
You'll recall that during the impeachment trial in the Senate, House impeachment managers Adam Schiff (D-CA), Jerry Nadler (D-NY), Val Demings (D-FL), Zoe Lofgren (D-CA), Hakeem Jefferies (D-NY), Sylvia Garcia (D-TX) and Jason Crow (D-CO) each made the case that Donald Trump should be convicted for abuse of power and obstruction of Congress.
They warned that if Trump's extortion of the Ukrainian president for his personal political benefit went unchecked, Trump would feel enabled to sic those same behaviors on his own people.
Sadly, that has since come to pass.
Four months later, the House impeachment managers have published an op-ed in the Washington Post warning that Trump's behavior is as corrupt as ever.
The piece reads in part:

"The president was not changed by impeachment. He is as lawless and corrupt as ever. But his wrongdoing has far greater consequences given the acute challenges facing the nation, the failure of those around him to curb destructive impulses, and the continued unwillingness of many members of Congress to serve as a meaningful check and balance as the Founders intended."
"In just the few months since the impeachment trial, more than 110,000 Americans have perished from a pandemic, tens of millions are unemployed, the world has turned away from America, and protests over police brutality and systemic racism have erupted nationwide. Yet Americans looking for leadership find none in the White House. Instead, this president and his administration take actions that rend the foundation of our democracy."
The impeachment managers then point out all the ways Trump has corrupted constitutional norms since his acquittal—his order for the Justice Department to drop a case against his political allies, his withholding of emergency aid from states with governors he disliked, and his efforts to discredit mail-in voting in an effort to force voters to choose between their health or voting in-person during a pandemic.
People widely agreed with their assessment.
Some brought the piece to the attention of moderate Republican Senators who wagged their finger at Trump's actions, but voted to acquit him because they were sure that he'd learn his lesson from impeachment.

Among these Republican senators? Susan Collins of Maine.
What have we wrought?