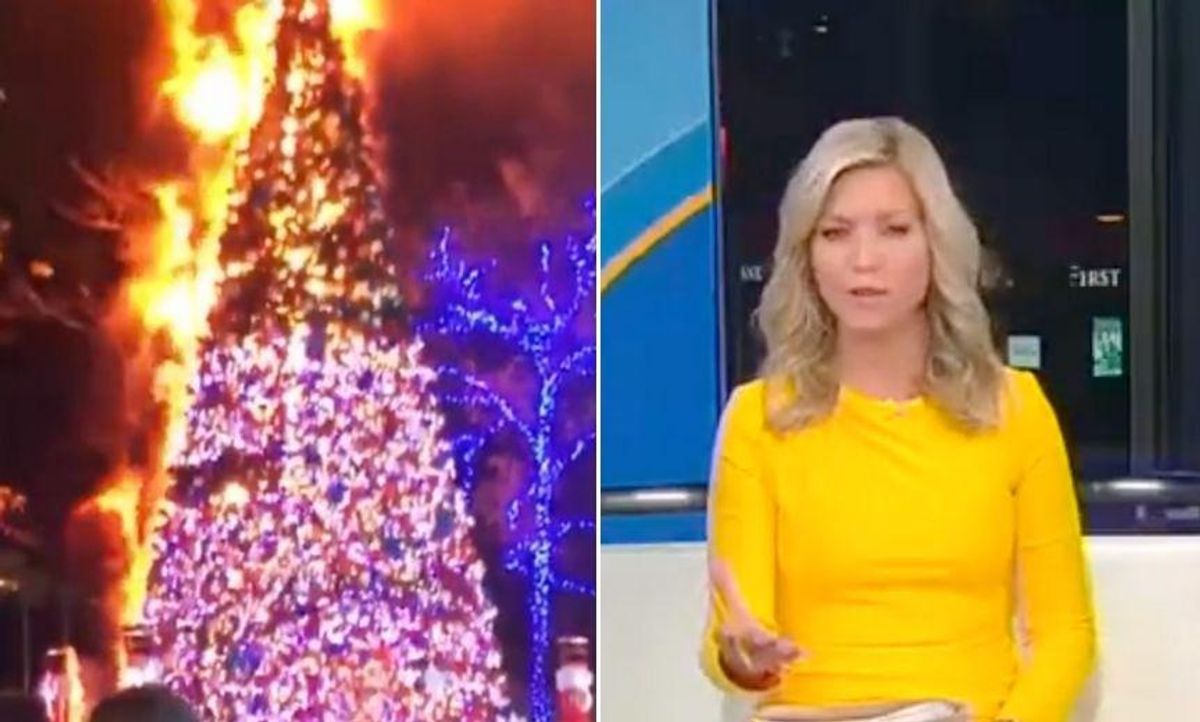 @rawsalerts/Twitter // Fox News
On Tuesday night, the 50 foot Christmas tree outside of the NewsCorp Building—home of the conservative Fox News network—in Manhattan was set ablaze allegedly by 49 year old Craig Tamanaha, who's now in police custody for arson.
Fortunately, there were no fatalities or injuries and the network said in a statement it would soon be rebuilding the tree. No evidence has been reported that the attack was politically or ideologically motivated.
Fox News hosts, many of whom have peddled a proverbial "war on Christmas" to its viewers for the better part of the 21st century, leapt to paint a picture of resilience and yuletide spirit.
But as some may have already suspected, they also made some questionable claims in the process.
Watch below.
Fox & Friends host Ainsley Earhardt delivered an impassioned monologue about what the tree on Fox Square supposedly represents, saying:

"It's a tree that unites us. It brings us together. It's about the Christmas spirit. It is about the holiday season. It's about Jesus. It's about Hanukkah. It is about everything that we stand for as a country. Freedom and being able to worship the way you want to worship. It makes me so mad."
If there's one thing a Christmas tree doesn't represent, it's Hanukkah, Judaism's eight-day festival celebrating the rededication of the Second Temple of Jerusalem.
Earhardt's comments raised some eyebrows.
It wasn't long before the jokes came flooding in.
Awkward.