Win McNamee/Getty Images; Tami Chappell/AFP via Getty Images
Just as some states finally closed public spaces like beaches, calls came from the White House to reopen the United States after social distancing and self-isolation efforts to slow the spread of the viral pathogen behind the global pandemic.
With public health and safety in mind, the Centers for Disease Control and Prevention (CDC) developed guidance for communities to follow.
Both a 17 page set of business plans and easy to follow flow charts were developed by the CDC, an agency within the Department of Health and Human Services.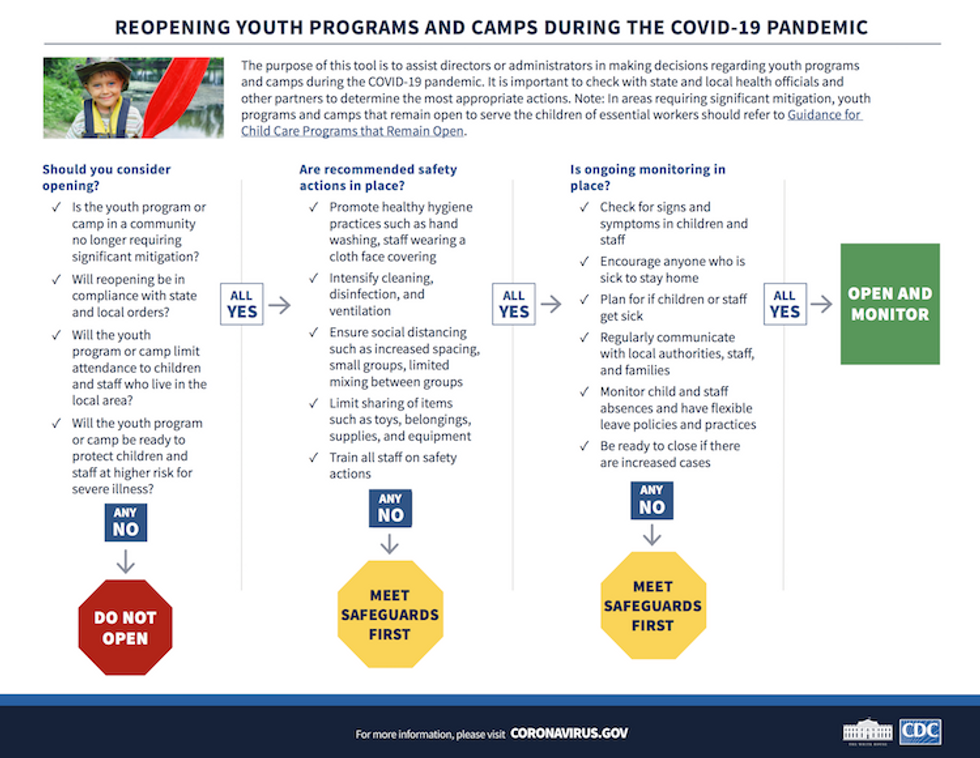 reopening flowchart/CDC.gov
But then the White House pumped the brakes on the CDC's guidance.

The Associated Press obtained copies of both guides on Tuesday, April 28 before the Trump administration decided the guidance would be scrapped. It was originally slated to be published last Friday, May 1.
According to an official at the CDC, the White House said the guidance "would never see the light of day." The move follows the pattern of President Donald Trump and his handpicked task force members—many with no pandemic or public health experience—making decisions and taking center stage in press briefings.
While CDC Director Dr. Robert Redfield is on the task force, it has been two months since the CDC was allowed to address the public.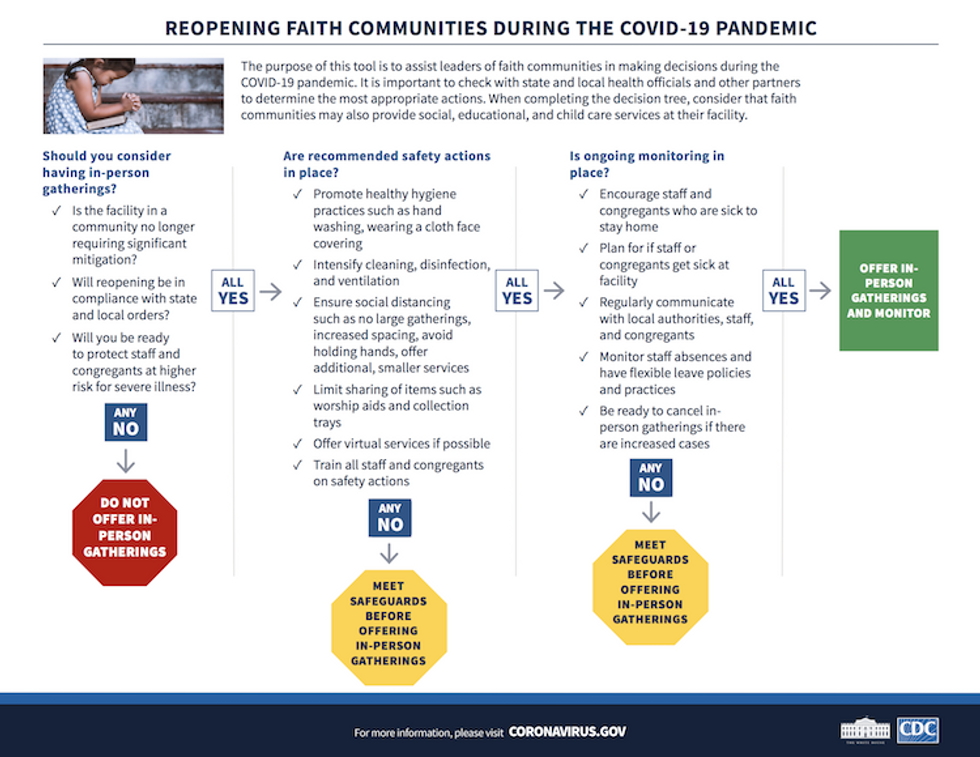 reopening flowchart/CDC.gov
Dr. Howard Koh—Harvard professor and former public health official in the Obama administration during the H1N1 pandemic—noted:

"CDC has always been the public health agency Americans turn to in a time of crisis. The standard in a crisis is to turn to them for the latest data and latest guidance and the latest press briefing."
"That has not occurred, and everyone sees that."
Instead the nightly briefings that were finally stopped last week featured campaign videos, attacks on the press, endorsements for untested medications that may have profited the President personally and suggested medical treatments involving cleaning supplies and UV lights. With the tight control on messaging, people were not surprised that clear, concise guidance from experts was shelved and scrapped.
Before the plans were scrapped, public health law experts said the CDC's guidance could be cited as the reason for certain actions, giving state and local officials and private businesses backing for their decisions.
Lindsay Wiley, an American University public health law expert said:
"It allows the state to say 'well the CDC said to do it this way,' and the judge then is very happy to say 'well yes you consulted CDC and that's the appropriate body,' and then uphold the restrictions and say they're appropriately evidence based."
Whether that potential for federal responsibility was a factor in burying the guidance is unclear.

Another common theme in the Trump administration's pandemic response is a continual pushback of responsibility to states instead of clear leadership or guidance from the federal government. Whether that is a political philosophy or a campaign strategy so President Trump can place blame for any missteps on states is also unclear.
Some examples of the CDC guidance:
Schools should space desks six feet apart, nix any field trips and school assemblies, and have students eat lunch in their classrooms instead of the cafeteria.
Churches should hold services through video streaming or at drive-in or outdoor venues as much as possible, encourage everyone to wear cloth face masks, use a stationary collection box, and schedule extra services if necessary to make sure church pews are not packed and congregants stay at least six feet from each other.
Restaurants should consider using throwaway menus, single-service condiments, disposable cutlery and dishes, install sneeze guards at cash registers, limit the number of employees on a shift, and avoid having buffets, salad bars, and drink stations.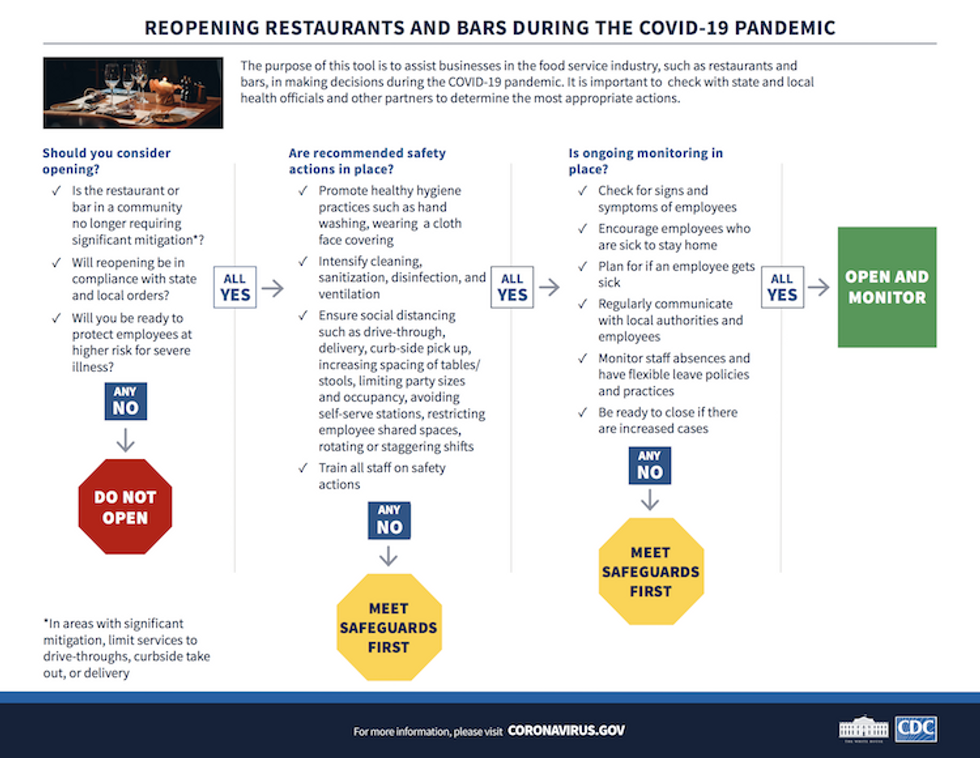 reopening flowchart/CDC.gov
People had differing theories for the White House's reason for their decision to scrap the CDC guidance.
https://t.co/VpgQK4v9NR https://t.co/fNjfOmpxTI

— Katie Phang (@Katie Phang)1588856947.0
@KatiePhang I believe 45 doesn't want to release the CDC Reopening Guildeline Report to the public so he can have h… https://t.co/FHX6vFtx1F

— Shawn The Progressive BlackTechieGuy (@Shawn The Progressive BlackTechieGuy)1588858335.0
@KatiePhang Not surprising...science has never factored into this administration's handling of the pandemic.

— raysin (@raysin)1588855427.0
@usherYarmond @KatiePhang Science, rational thought, non-xenophobic motivation, concern for human life above concer… https://t.co/fgHftWOR20

— MassBayCommuterFail (@MassBayCommuterFail)1588858779.0
@KatiePhang Why is @POTUS trying to hide From the 17 page #CDC guide? Could it be that it shows us A bad diag… https://t.co/PimOK8Jn3g

— POTUSLimericks (@POTUSLimericks)1588859820.0
Others questioned why voters found the lack of expert guidance from the federal government acceptable.

@KatiePhang Why are we allowing this type of reckless behavior continue?

— Stephen Minnich (@Stephen Minnich)1588855575.0
@hawksin5 @KatiePhang Because we are all so desensitized, divided and used to just "protesting" on social media rat… https://t.co/mKJyJKCZLV

— Darque Phoenix (@Darque Phoenix)1588859301.0
@KatiePhang We, the taxpayers, have the right to see that report. We paid for it. #FOIA

— Hugo 🐝🦋🐴🌾🐬🌎 (@Hugo 🐝🦋🐴🌾🐬🌎)1588855776.0
While some provided an answer to that question.

@KatiePhang Good! Corruption being squashed by Trump!

— Aarqn (@Aarqn)1588859248.0
@kristine_kenyon @KatiePhang More unnamed sources. Kiss my arse with your political hack job. RemoveEveryDemocrat… https://t.co/obaqzeDsA4

— Truthbetold (@Truthbetold)1588863727.0
@Truthbe14869190 @kristine_kenyon @KatiePhang Please ignore the guidelines. Ditch the soap in your house, touch cou… https://t.co/yG1z00NM88

— Helena Handbasket (@Helena Handbasket)1588867166.0
Dr. Marcus Plescia, chief medical officer of the Association of State and Territorial Health Officials said:
"States and local health departments do need guidance on a lot of the challenges around the decision to reopen."
"You can say that restaurants can open and you need to follow social distancing guidelines. But restaurants want to know, 'What does that look like?'"
The Trump administration released vague guidelines last month as part of their Opening Up America Again. Whether they will ever release concrete guidance like the information they blocked the CDC from releasing remains to be seen.
The book Epidemics and Society: From the Black Death to the Present is available here.
Keep reading... Show less