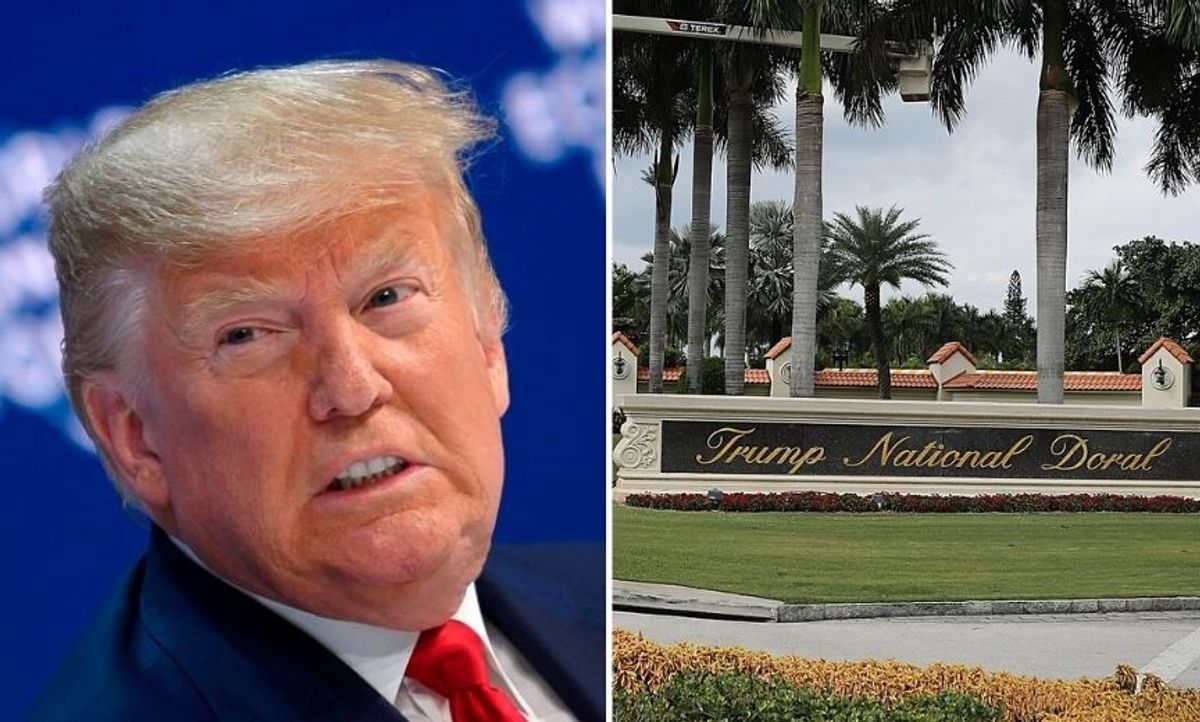 JIM WATSON/AFP via Getty Images // Joe Raedle/Getty Images
President Donald Trump seems determined to use the Presidency to turn a profit while in office.
Just weeks after national outcry forced him to withdraw his efforts to hold the massive 2020 G7 Summit of world leaders at his own Trump Doral Resort in Miami, Trump will soon address the Republican National Committee there for its winter meeting.
And the prices just went up.
Right before the White House announced Trump's visit, the cost for Doral's cheapest rooms leapt from $254 to $539 per night. Given the amount of lawmakers and other staff expected to attend, the brunt of the costs will likely go to taxpayers.
The inflation of the room prices come in addition to already expensive food. After all, the featured motto on the Trump Doral restaurants webpage is:
"SUBTLETY IS NOT OUR STRENGTH, INDULGENCE IS."

They're not lying either—one of the Doral restaurants, BLT Prime, boasts a $106 porterhouse steak.
People weren't even surprised anymore at how blatantly the President has used taxpayer money for personal enrichment.

Not only does the President stay at his resorts, bringing them profit at taxpayer expense, but the resorts often th… https://t.co/Ed0zf8V1OU

— Noah Bookbinder (@Noah Bookbinder) 1579789310.0
In normal times, the would illicit outrage - now it's lost in the chaos: "The doubling of rates may have increased… https://t.co/RkQaoeMnMK

— Amy Siskind 🏳️‍🌈 (@Amy Siskind 🏳️‍🌈) 1579789679.0
Impunity makes crooks more brazen... "Trump's golf resort jacked up its room rates as the president decided on a… https://t.co/NcdMm3d6Gq

— Joshua Holland 🔥 (@Joshua Holland 🔥) 1579788384.0
@thedailybeast re Doral room rate increase - Trump is the grifter-in-chief. No shame, no morals, just more cash by any means

— KeenanQc (@KeenanQc) 1579790212.0
Scam of the century. Our "billionaire" president charging the secret service for things like rooms, golf carts and… https://t.co/sU94XZlf0q

— Emma Arnold (@Emma Arnold) 1579791986.0
Grifting like no other. https://t.co/Terfrzppd3

— Barbara Malmet (@Barbara Malmet) 1579789368.0
Seriously this is what corruption and abuse of power look like. Trump's golf resort jacked up its room rates.… https://t.co/V44sMY0cxP

— David Condreay 🆘 (@David Condreay 🆘) 1579781088.0
"The jump in room rates at Doral continues a pattern of [Trump] hiking rates to take advantage of campaign and elec… https://t.co/sAsTZ14O9A

— Lucy Caldwell (@Lucy Caldwell) 1579783790.0
If conditions at Doral are the same as an undercover reporter exposed two months ago, there will likely be some disgruntled Republicans.
Oh, by the way, we still haven't seen the President's tax returns.
Keep reading...Show less