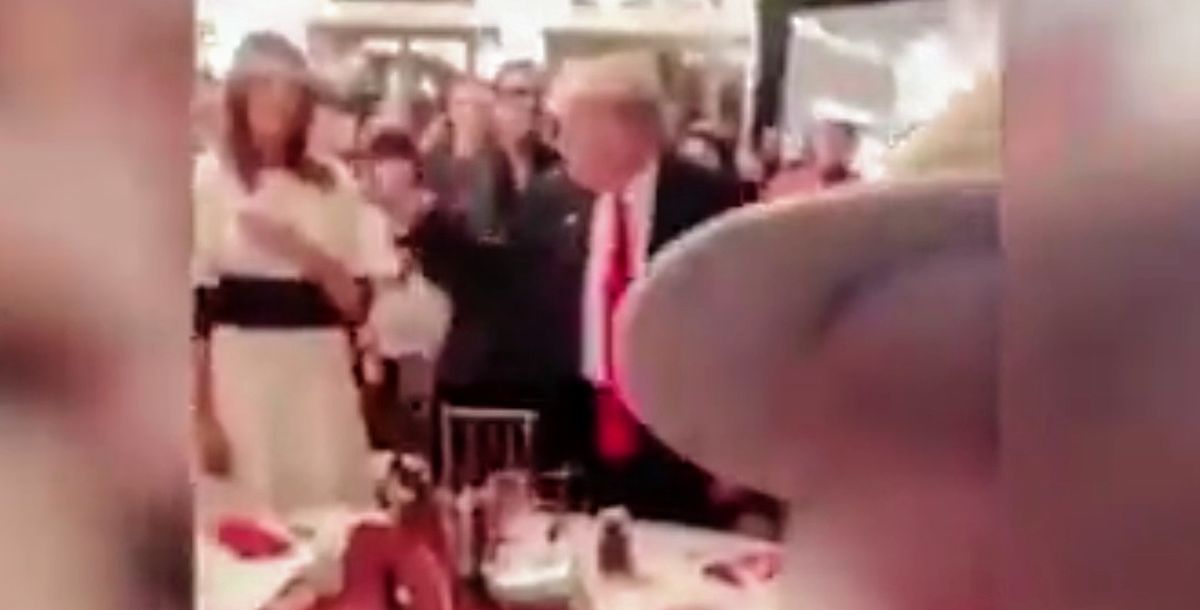 @RobertMaguire_/Twitter
President Donald Trump has been very clear about his stance on any protests against police brutality, racial inequality and injustice that occur during the national anthem.
Less clear is his stance on his own behavior.
In the wake of an embarrassing display of ignorance regarding the location of Kansas City, a new Twitter moment is developing over Trump's performance as Demi Lovato sang the anthem during Sunday's Super Bowl.
Trump did not attend the game in Miami. Instead he spent the time with paying international customers at Mar-a-Lago in nearby Palm Beach, Florida.
One of those willing to pay to spend time with the President released a video of what Trump was doing during the anthem Sunday. The video was posted to Instagram by a "real estate agent for a Russian-American firm who frequents Mar-a-Lago and other Trump properties and events."
From there it moved to Twitter. While First Lady Melania Trump stands still with her hand on her heart, her husband looks more like a hyperactive toddler than a man devoted to respecting the flag or the anthem.
You can watch the video here:
Donald Trump, who cares deeply about the national anthem, is caught goofing off in a video by a "real estate agent… https://t.co/xzYWL4pPBz

— Robert Maguire (@Robert Maguire) 1580763634.0
Video of Trump goofing around during National Anthem before the Super Bowl was "included in an Instagram story by a… https://t.co/ju0iW7gBvz

— Aaron Rupar (@Aaron Rupar) 1580762069.0
Trump has repeatedly said Americans should "stand proudly" during the national anthem, and publicly chastises those… https://t.co/rk8wmrVWsO

— Alyssa Milano (@Alyssa Milano) 1580764421.0
Oh, we're sorry, but @Kaepernick7 taking a knee was disrespectful? Then what is goofing off, talking, pointing and… https://t.co/eU8hHF5KLN

— VoteVets (@VoteVets) 1580766962.0
Trump continues to publicly humiliate himself as dementia dissolves major areas of his brain. With the self control… https://t.co/m17oa3m291

— Tom Joseph (@Tom Joseph) 1580759253.0
His prior behavior during the anthem—where he fidgeted and appeared to not know the words—was noted.

Trump also seems unfamiliar with other well known patriotic songs like "God Bless America."
For no particular reason, here's a reminder that Trump doesn't appear to even know the words to the National Anthem https://t.co/PcpW8HsdCO

— Robert Maguire (@Robert Maguire) 1580764424.0
While Trump has made respect for patriotic songs a core feature of his culture wars, it's worth noting that he also… https://t.co/MEafqIDZll

— Robert Maguire (@Robert Maguire) 1580764646.0
Not content to allow the President to stand alone in his hypocrisy, conservative pundits and the President's favorite network—unless they criticize him—decided to be hypocritical as well.
Fox News and others attacked Beyoncé Knowles-Carter and Shawn "Jay-Z" Carter for remaining seated during the anthem.
Beyoncé & Jay-Z (former crack dealer)sit for the national anthem because apparently the United States of America ha… https://t.co/f3NBZncgYF

— Tomi Lahren (@Tomi Lahren) 1580698766.0
I'm sure Trump acting like an attention-starved adolescent during the anthem will generate just as much right wing… https://t.co/TA15k5mWe9

— Radley Balko (@Radley Balko) 1580762302.0
Four different Fox shows ran segments this morning on Beyonce and Jay-Z not standing for the national anthem at the… https://t.co/rg9KEdEih5

— Matthew Gertz (@Matthew Gertz) 1580761562.0
Some fun feedback from a Fox & Friends First viewer: "They need to live somewhere else if they can't bother to stan… https://t.co/S7zn7do8hO

— Matthew Gertz (@Matthew Gertz) 1580761959.0
Sure glad we spent the past few years listening to Trump's faux outrage over kneeling during the national anthem! H… https://t.co/1xXoqQAcjy

— Adam Best (@Adam Best) 1580767774.0
He's such a hypocritical loon. Let's see all the bigots who worked themselves in a #MAGA lather over Jay-Z and Beyo… https://t.co/aIjMuG2WAl

— Dave Zirin (@Dave Zirin) 1580762191.0
As expected, these same critics of non-violent protest by people of color remained silent about the anthem antics of the President.
Keep reading...Show less