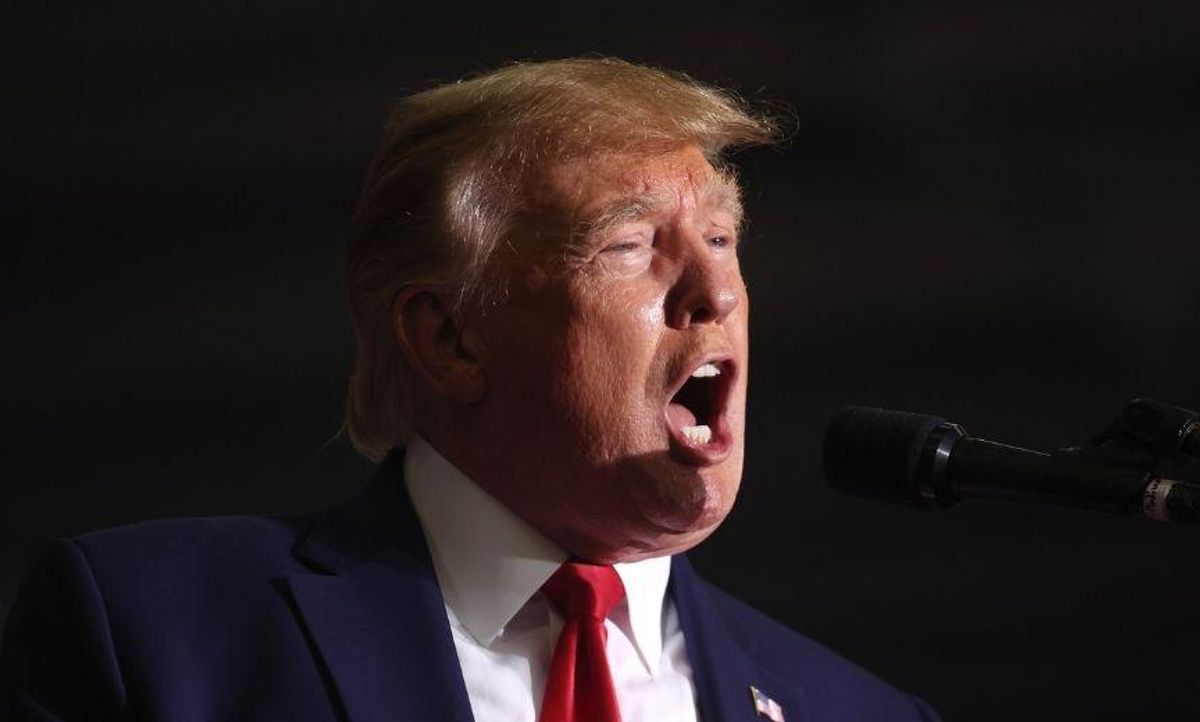 Scott Olson/Getty Images
More than a year after losing the election, after repeated debunking from courts and audits and state officials, and after his lies incited a deadly failed insurrection against the United States Capitol, former President Donald Trump continues to spew his fantasies that widespread fraud coordinated by Democrats "stole" a 2020 presidential election victory from him.
By now, most of Trump's supporters have given up hope that Trump—despite no constitutional basis—will somehow be reinstated to the White House. Nevertheless, a number of prominent Republicans still refuse to acknowledge the fact that President Joe Biden legitimately won the 2020 election.
But—with the possible exception of Disney World—Trump's Mar-a-Lago resort continues to be Florida's biggest venue for fairy tales and fantasies.
Most recently, Trump and his supporters held a Mar-a-Lago movie night, but you'd have been hard-pressed to discover Finding Dory or Evita on the menu.
No, instead the former President showed the self-described documentary, Rigged: The Zuckerberg Funded Plot to Defeat Donald Trump from Citizens United Productions. As the title suggests, the 41 minute documentary claims that Mark Zuckerberg, the chief executive officer of Facebook, used the massive platform to steal the 2020 election from Trump.
Never mind the overwhelming evidence that Facebook was used to help Trump get elected in 2016, or that Trump held an undisclosed dinner with Zuckerberg and Facebook board member Peter Thiel, a Trump supporter, in 2019.
Washington Post reporter Josh Dawsey was there with the scoop.
According to Dawsey's report, Trump and his devotees gathered to drink Trump-branded wine and consume hors d'oeuvres while watching the film, which features top Trump sycophants like former presidential counsellor Kellyanne Conway and far-right Senator Ted Cruz of Texas.
News of the event generated widespread mockery online.
All about the grift $ - Trump made money from every guest there…and many of them have privately acknowledged and know Trump lost. There should have been subpoenas handed out at this event instead of lousy Trump wine. https://t.co/KPW5kpyOC3
— Barbara Comstock (@BarbaraComstock) April 6, 2022
Part of the reason Trump continues to push the Big Lie is bc he's setting up a defense that he had a good faith belief that the election was rigged. It won't work — there are many ways to defeat that defense (if he can even make it at all, which I doubt). https://t.co/tlWol8xQ5Q
— Daniel Goldman (@danielsgoldman) April 6, 2022
Cosseted at Mar-A-Lago, surrounded by sycophants & paying guests, Trump is purposely out of touch with reality. He will never be part of the real world again. What a sad, pathetic excuse for a human being. 🙄 https://t.co/vPm92v30KM
— Tahoe_Gal 🇺🇸 🇨🇦 🇺🇦 (@gal_tahoe) April 6, 2022
This sounds like Hell on earth https://t.co/ZJq32d33NC
— Archduke Metallica (@donachaidh) April 8, 2022
The new definition of "irrelevancy". https://t.co/huzH5GEPGt
— Mike Serpe (@MikeSerpe) April 8, 2022
The grift is still alive. The corruption is still alive. We need accountability. https://t.co/x6jHGslKGL
— Citizens for Ethics (@CREWcrew) April 7, 2022
Others asserted that Facebook helped Trump's reelection chances more than it hurt them.
Let's just hope the popcorn wasn't stale.