[DIGEST: Huffington Post, The Guardian, ScienceAlert, Forbes, Colas, Breaking Energy]
The world's first fully-driveable road made out of solar panels has opened in France.
---
The 0.6-mile stretch, which runs through the municipality of Tourouvre-au-Perche in Normandy, is at the beginning of a two-year test run to determine whether it can generate 280 mWh of electricity per year—enough to power streetlights for the entire village—while withstanding vehicle traffic of up to 2,000 vehicles per day.
International engineering firm Colas installed the durable solar-panel technology, which it calls Wattway, with financing from the French Ministry of the Environment. According to Colas, the test road features 2,880 individual solar panels "covered with a resin containing fine sheets of silicon, making them tough enough to withstand all traffic," from passenger vehicles to freight trucks.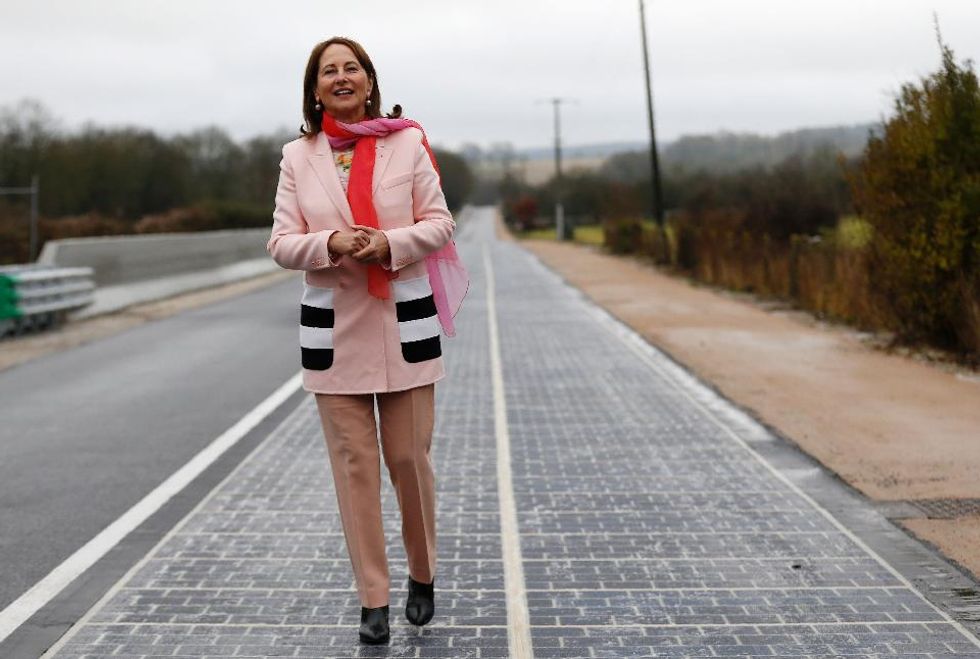 French Minister for Ecology, Sustainable Development and Energy. Tourouvre, Normandy. Credit: Source.
Given the hefty $5.2 million price tag, however, not everyone is sold on the project.
Critics point out that, at this price point, Wattway is 13 times more expensive than traditional rooftop solar panels, which makes even less sense given Normandy's 44 days of full sun a year compared with more southernly cities like Marseille, which receives 170.  
Others point to Wattway's closest analog, the SolaRoad, a solar bicycle path opened in 2014 in The Netherlands. The $3.7 million it cost to build the 230-by-5.6-foot stretch of bikeable road could have purchased 1.8 megawatts of traditional rooftop solar panels, which over six months could have produced 520,000 kWh of electricity—far more than the 3,000 kWh ultimately generated by SolaRoad during the same time period.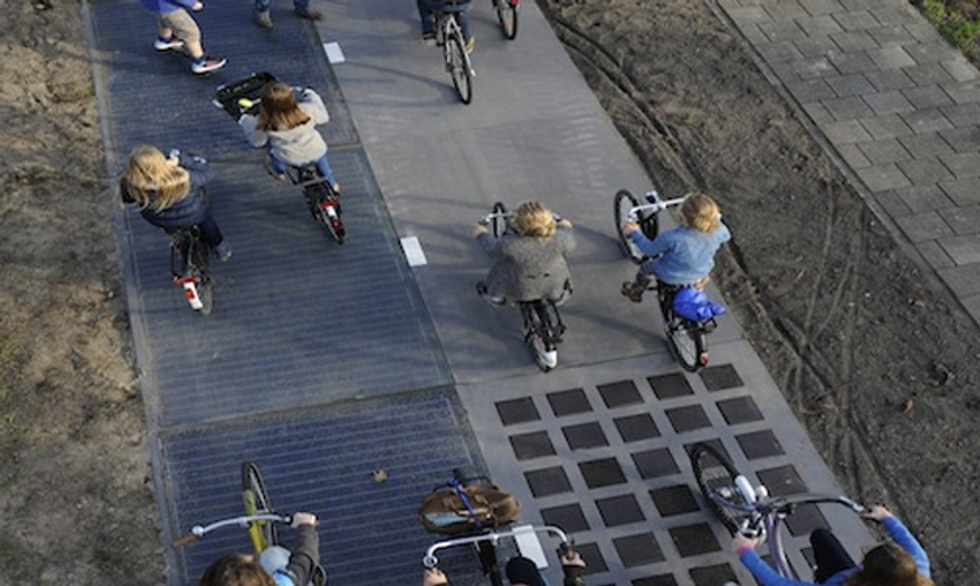 Credit: Source.
In Wattway's case, the fiscal inefficiency of durable photovoltaic technologies — damage-resistant products that convert light to electricity — is especially rankling to some due to the involvement of public funds. (SolaRoad was also partially financed by the Dutch government.)
"It's without doubt a technical advance," said Marc Jedliczka, vice president of Network for Energetic Transition, in an interview with French daily newspaper Le Monde: "But in order to develop renewables, there are other priorities than a gadget of which we are more certain that it's very expensive than the fact it works."
Still, many feel the opportunity to develop and further refine a fledgling technology like driveable solar panels could pay worthwhile dividends in the future.
If the two-year test run goes well, Colas believes it will be able to reduce both costs and return on investment through volume, which dovetails with France's goal to ultimately install 621 miles of solar roads over the next four years. This much surface could provide electricity to about 5 million people—roughly 8 percent of France's population.
A larger experiment on this scale could have broader appeal both in Europe and throughout the world; in fact, Colas has plans for test sites similar to France's in 100 locations worldwide in the next year. On Dec. 20, 2016, Colas installed 50 square meters (approximately 583 square feet) of Wattway solar panels at the Georgia Visitor Information Center in West Point, Ga., which is expected to ultimately generate approximately 7,000 kWh.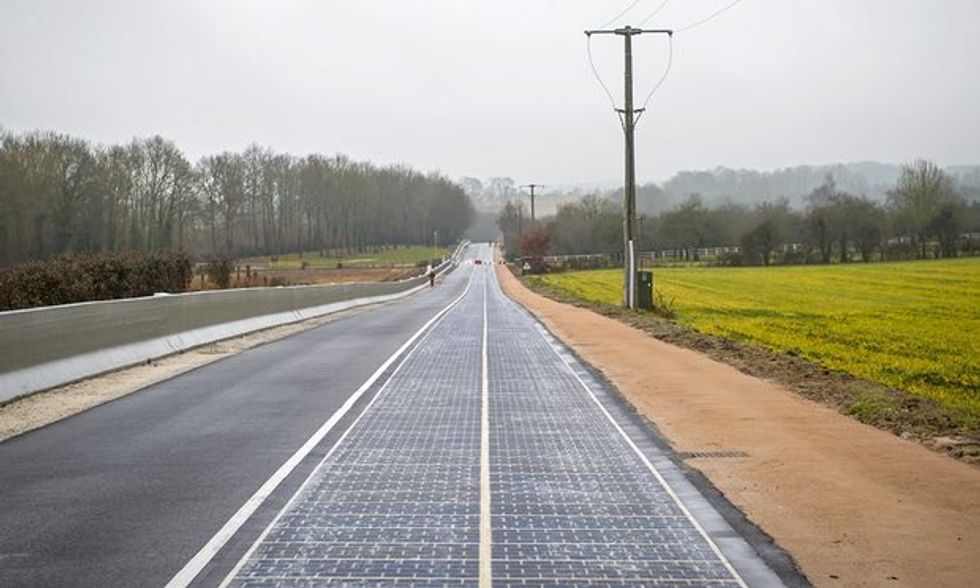 Credit: Source.
"Pavement is only occupied by vehicles some 10 percent of the time," reads promotional materials on Colas' website. "Imagine the solar resources of this surface area, facing the sky."