It sounds like the plot of a sinister mystery. A man is walking his dog along the picturesque shores of British Columbia when the dog darts ahead toward a pile of kelp. Buried within it are the remains of a human foot and lower leg, still encased in a white ankle sock and black running shoe.
This is what happened to Mike Johns, a 56-year old resident of Jordan River, about 70 miles southwest of Vancouver, Canada. "By the looks of it, the foot was totally intact. The ankle bone still worked and the bones were attached at the base of the knee," said Johns.  
---
Johns, worried the foot would be washed back to the ocean or be eaten by a nearby bear, brought it back to his house and called the police.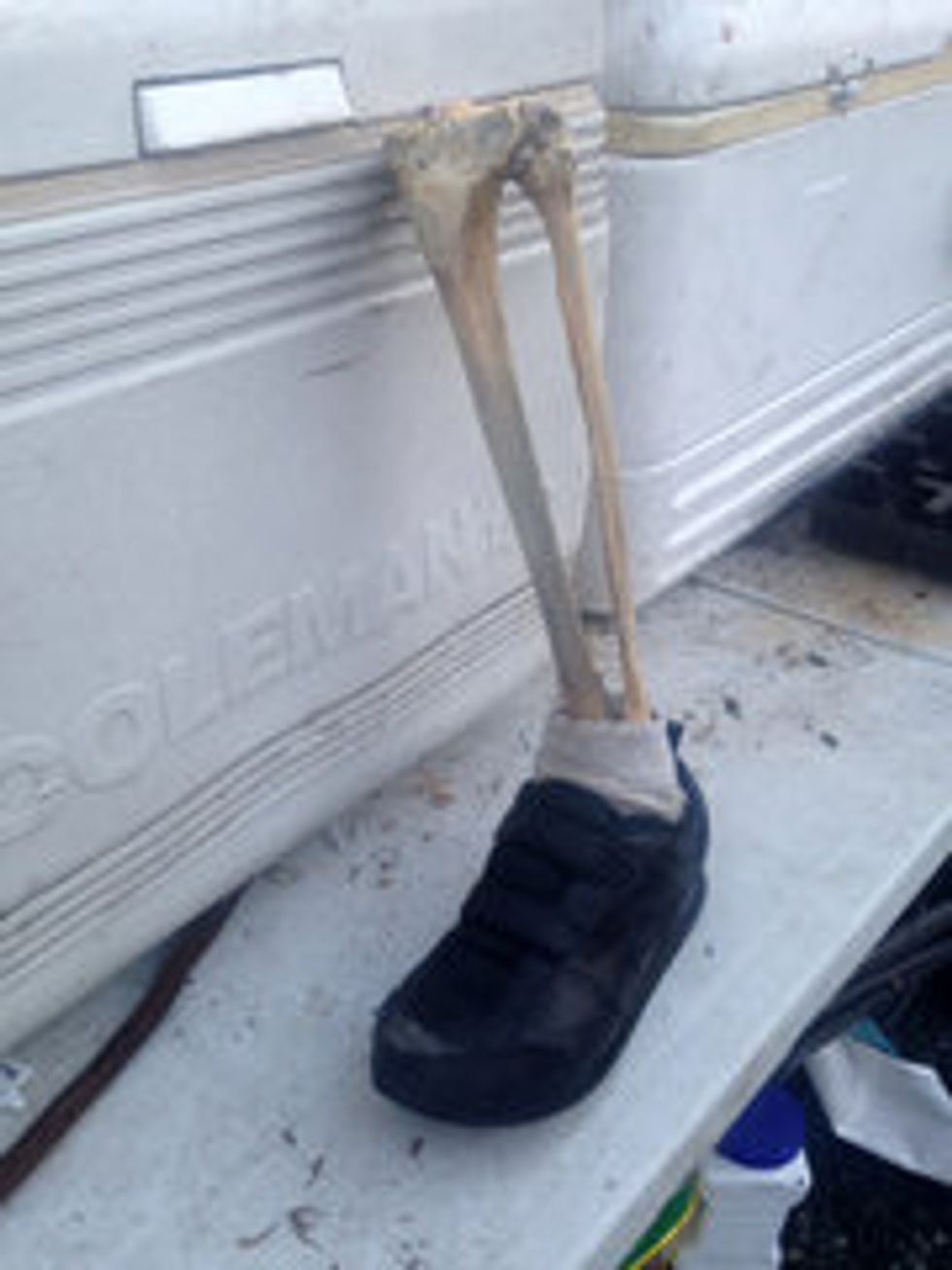 But the police were unfazed. It was the 13th incident of a foot washing ashore, still clad in a running shoe, since 2007. (For the record, police do not advise taking bones from the scene should you be the one to find number 14. They recommend calling the police before touching the remains.)
At first, the rash of sneaker-clad bones sparked as many conspiracy theories as feet. (A plane crash! Tsunami victims! Serial killer!). The mysterious discovery even sparked some to plant "copycat" feet. "We've had people put dog foot skeletons in runners and leave them on the beach," said Barb McLintock of the British Columbia coroner's office. "And somebody even used old chicken bones."
But as testing on the bones has come in, the truth seems less sinister. The provincial coroner's office ruled out foul play for all the previous bones, explaining that none of the bones showed any sign of trauma. Eight of the twelve prior feet were identified as belonging to six people, each of whom either died by suicide or accident. The feet separated naturally from the rest of the bodies during decomposition.
Details about the 13th foot are still being worked out. Officials are working to identify the individual, drawing a swath from as far north as Alaska to as far south as Oregon in their search. At this point, foul play is not suspected.
So why do these feet keep washing up on shore? It turns out the answer lies in the shoes. The shoes have all been made with light but durable materials, which protected the feet from decomposition while simultaneously causing them to float to the surface.
As to why they keep washing up in British Columbia, authorities aren't sure. "I don't really have a succinct reason as to why that is," said Andy Watson of the British Columbia coroner's office. "You know, you look at the sheer nature of the geography and how big the coastline is."
In the meantime, the natives remain nonplussed. "At the beginning, it seemed more strange," said Joshua Constandinou, owner of the Cold Shoulder Café in Jordan River. "But now it happens so many times."