President Donald Trump's budget proposal was not well received by many Congressional Republicans, even the ones who normally support him. The budget, which was released yesterday, makes major cuts to domestic agencies, adds funding to defense, and ignores the entitlements that make up the bulk of the US federal spending.
The Republican criticism is coming from both moderate and conservative Republicans who are sometimes on opposite sides of the same issues on spending.
---
House Armed Services Committee Chairman Mac Thornberry of Texas said that military spending was too low: "It is clear to virtually everyone that we have cut our military too much and that it has suffered enormous damage. In fact, the more we investigate, the deeper the damage we find. Unfortunately, the Administration's budget request is not enough to repair that damage and to rebuild the military as the President has discussed."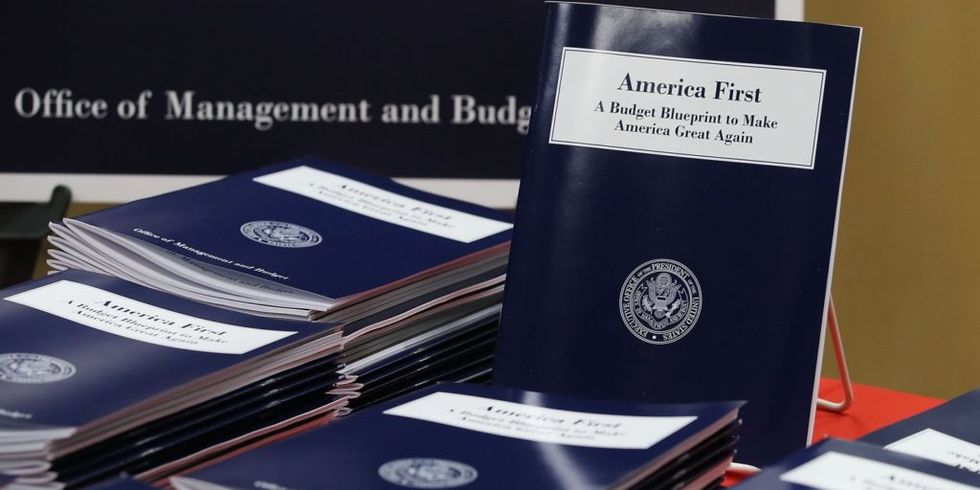 Credit: Source.
But Senator Lindsey Graham disagreed. "These increases in defense come at the expense of national security, soft power, and other priorities."
"The diplomatic portion of the federal budget is very important and you get results a lot cheaper frequently than you do on the defense side. So speaking for myself, I'm not in favor of reducing the (foreign aid) account to that extent," said Majority Leader Mitch McConnell.
Senator Marco Rubio was also concerned by the lack of spending on
the State Department, saying, "American's leadership on the global stage is indispensable. I will be working to ensure Congress' funding priorities allow America to play this role."
Some Republicans were concerned about the cuts to domestic agencies. Representative Chris Collins of New York told CNN that he did not support the $3 million cut to Meals on Wheels. "This is the President's budget, I'm not sure where the details came from," Collins said. "But when we get into appropriations, Meals on Wheels is a wonderful program. It is one I would never vote to cut even one dollar."
The 31 percent decrease in EPA funding would eliminate regional conservancy programs for areas such as the Chesapeake Bay and the Great Lakes. Ohio Senator Rob Portman was concerned about cuts to the Great Lakes Restoration Initiative. In a statement, he said, "I'm committed to continuing to do everything I can to protect and preserve Lake Erie, including preserving this critical program and its funding."
GLRI is critical for #Ohio & generates a total of >$80B in benefits in health, tourism, fishing, & recreation:https://t.co/BC17fHRR40

— Rob Portman (@Rob Portman) 1489678573.0
Trump's budget does not touch entitlement programs, as the president promised he wouldn't during the campaign. Representative Steve Womak was critical of the budget as a result. "There have been many attempts made to try to balance the books of the U.S. government on the backs of the discretionary dollar, and we all know that's a fantasy because the drivers of the debt are on the mandatory side: Medicare, Medicaid, Social Security. Trying to solve for a deficit in the hundreds of billions of dollars cannot be accomplished through deeper cuts to discretionary programs without terrific harm to both the economy and a lot of innocent people."
It seems there will be many negotiations before we know what the real budget will look like. As Graham said in a tweet, "Historically, presidential budgets do not fare well with Congress." Trump's budget appears to fall in line with that history.