Lauren Boebert tried to rip Pete Buttigieg with bizarre 'derailment' meme but Secretary Pete reminded her that she wants to 'cut railroad safety inspections.'
24 April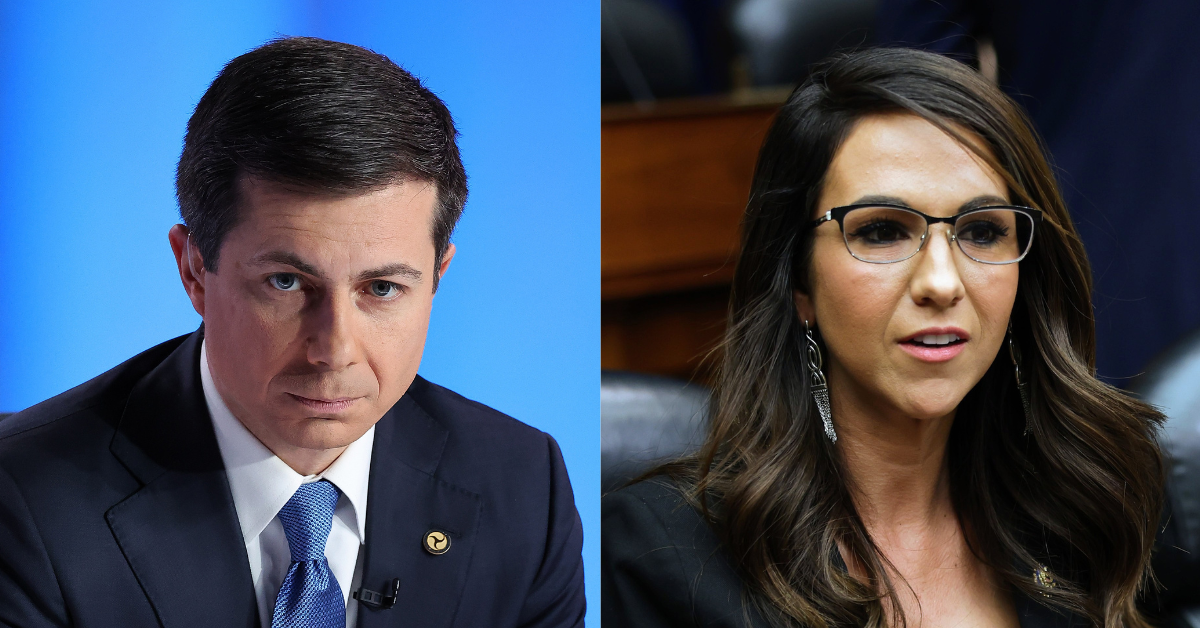 Paul Morigi/Getty Images; Kevin Dietsch/Getty Images
Colorado Republican Representative Lauren Boebert spent last week trying, and largely failing, to troll Transportation Secretary Pete Buttigieg.
Instead of responding in-kind to her juvenile taunts, Buttigieg took the high road and reminded her that GOP budget proposals would make a bad problem even worse.
Boebert's most recent attempt to mock Buttigieg was a meme image of herself spraying water on a derailed train on fire.
The GOP member of Congress captioned her meme:
"Out here preparing for Mayor Pete's next derailment."
Secretary Buttigieg responded with simple facts:
"Your budget plan cuts railroad safety inspections."
He continued in a second tweet:
"We estimate its impact on FRA would mean about 1,000 fewer rail safety inspection days next year and 30,000 fewer miles of track inspected annually."
"If you care about preventing derailments, please change course and help us increase accountability for freight railroads."
Buttigieg was far from the only one to respond negatively to Boebert's meme.
Boebert used train derailments to criticize Buttigieg earlier in the week, too.
On Saturday, she shared a report of a derailment in Rockwood, Maine and tried to imply that Buttigieg was somehow directly at fault for the derailment.

She said:
"Buttigieg is running this country's rail system like a toddler playing with his first toy train set."
People were quick to point out Buttigieg and the Biden administration weren't the ones who made changes to rail industry regulations.
The Trump administration did that.
Again, rather than rising to the bait, Buttigieg had a reasoned response to Boebert's attempt at trolling.
He invited Boebert and her GOP colleagues to discuss their proposed cuts that could result in even less safe railroads.
"If you care about derailments, we need to talk about your House GOP Freedom Caucus budget proposal that would cut railroad safety inspections."
In a followup tweet, he linked to a White House statement that described the proposed cuts in the MAGA Republican House Freedom Caucus' proposed budged as "devastating."
The statement said the plan's cuts would endanger public safety, especially by scaling back rail inspections and regulation in a time when most lawmakers are calling for an increase in rail regulation.
"At a time when train derailments are wreaking havoc on community safety, the extreme MAGA Republican House Freedom Caucus proposal would lead to 11,000 fewer rail safety inspection days next year alone, and 30,000 fewer miles of track inspected annually—enough track to cross the United States nearly 10 times."
"Since the Norfolk Southern train derailment, bipartisan Senators have called for more rail inspections, not fewer."
In a time with so many high-profile and devastating train derailments causing lawmakers from both parties to call for increased inspections, cutting the budget for rail inspections definitely isn't going to fix the problem.