Throughout his time in Congress, former Representative Joe Walsh (R-IL) was one of the body's most conservative members. He was a vocal opponent of former President Barack Obama and a skeptic of the climate crisis.
Though initially a supporter of outgoing President Donald Trump, Walsh withdrew his support after Trump's display of fealty to Russian leader Vladimir Putin in Helsinki in 2018. Walsh eventually apologized for helping get Trump elected, attempted to primary him for the 2020 Republican nomination, and remains an unabashed critic of the President
Trump upended months of negotiations on another wave of pandemic relief last week when he signaled a refusal to sign a bill that only gave $600 in direct relief to Americans making under $75 thousand a year, instead calling for two thousand dollar checks for each American.
Though Trump has since signed the relief bill, Democrats in Congress are echoing his calls for two thousand dollar payments, putting Republicans in the unenviable position of deciding whether to vote with Trump or refusing to expand relief.
Congressman Mo Brooks (R-AL), a Trump loyalist who may object to the congressional certification of the 2020 election on Trump's behalf next week, spoke out against the expanded relief with a common Republican objection: How are we going to pay for it?
Watch below.

Brooks said of the two thousand dollar checks:

"Someone's gotta show me how we're going to pay for it. I mean, how far before we ultimately go into debilitating insolvency and bankruptcy that's gonna do great damage to our country and do more damage in fact than [the virus] ever could have done?"
Walsh took aim at his former colleague's logic, noting Republicans' lack of concern for the national debt after Trump took office.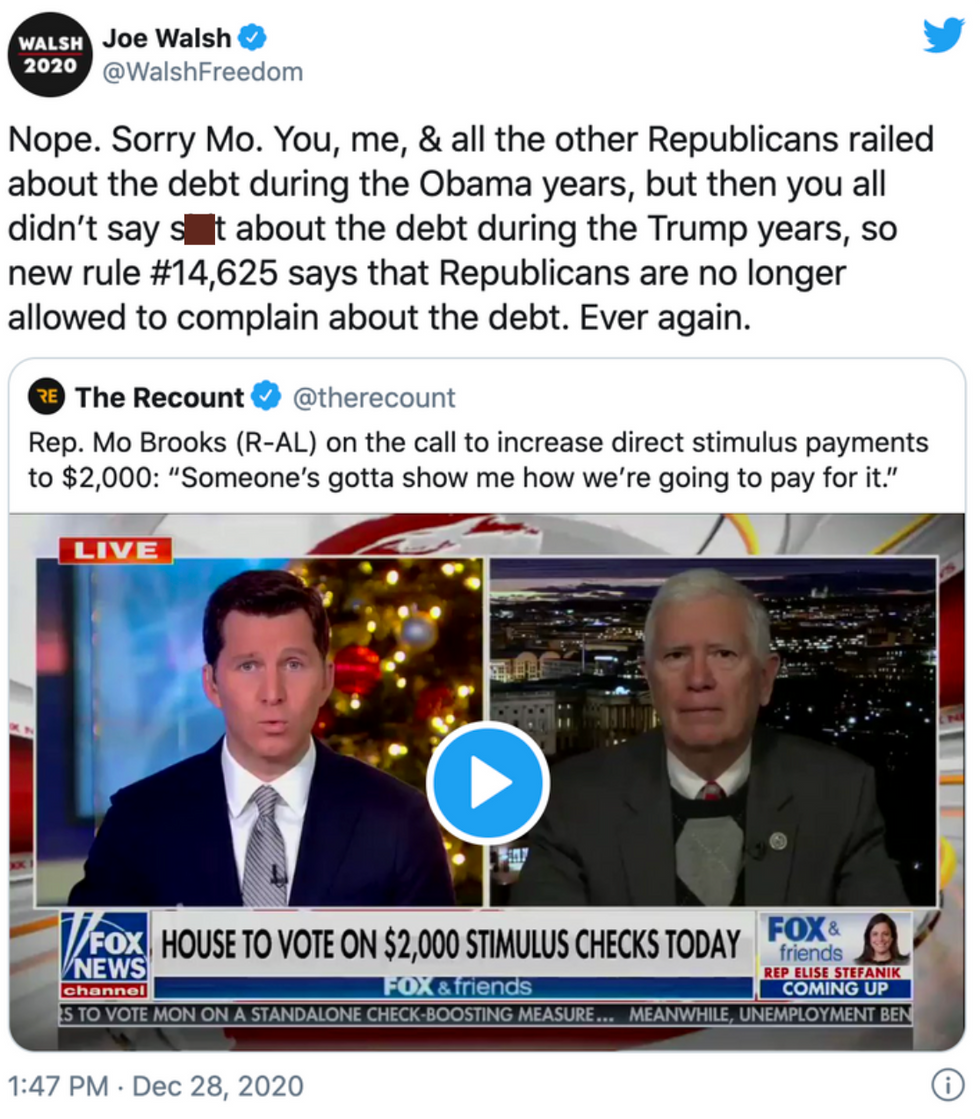 Under Trump, the national debt reached $20 trillion for the first time in the United States' history, and currently sits at over $27 trillion.
People largely agreed with Walsh's point, even if they didn't agree with his politics.

Walsh wasn't the only one to push back against Brooks' logic.
The House has passed a standalone bill changing the $600 to two thousand dollars in direct relief payment. That bill will be under consideration in the Republican majority Senate on Tuesday.