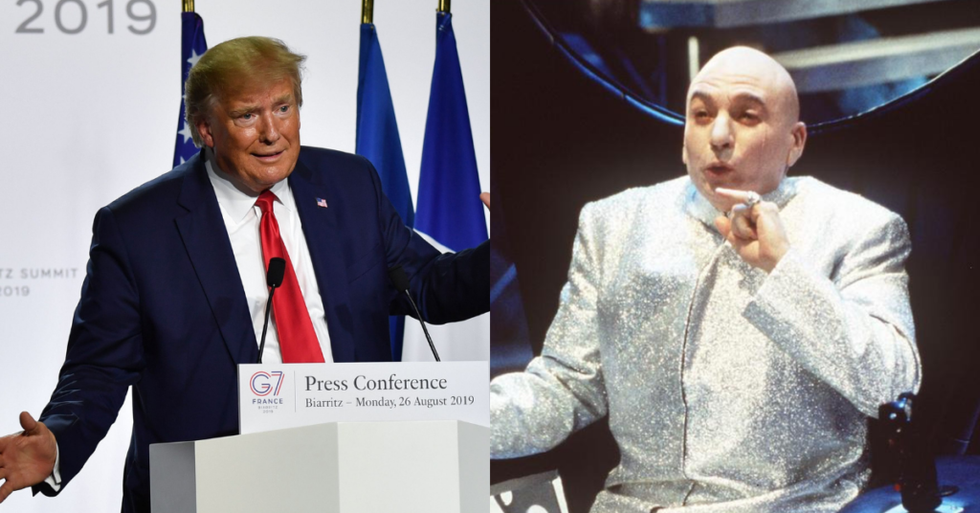 Nicholas Kamm/AFP/Getty Images; Getty Images
In modern times, the idea of a moat as a defense sounds ridiculous. Fill that moat with snakes and alligators and you have the plot for a James Bond or Austin Powers film.
But that suggestion—a border moat with reptilian deterrents—is precisely what the President of the United States suggested. And not Presidents Martin Van Buren or Millard Fillmore—whose mid 19th century options were decidedly limited.
President Donald Trump—the fourth President to serve in the 21st century—made the suggestion according to a report by The New York Times. But only after being told shooting migrants even just in the legs would be illegal.
Once news broke of the gator and snake-filled moat, Dr. Evil starting trending on Twitter.
You'll recall that in Austin Powers, the Mike Myers comedic caricature of every Bond villain, famously asked for a pool of sharks with "frickin' laser beams" as a weapon.
No word on whether Trump wanted frickin' laser beams on his alligators or not, but the similarity in thought processes was too close for people to not make the connection.
President Trump responded on Twitter to the story he wanted a border "Moot" which was later deleted and corrected to read "Moat."
But not before being captured for posterity.
$6.1 billion dollars is being transferred from the Defense Department's budget to pay for Trump's border wall. Perhaps they can also offer a 21st century solution for security?
The Austin Powers trilogy is available here, complete with a pool of sharks with frickin' laser beams.
Keep reading...Show less