Paul Manafort, Donald Trump's campaign manager in 2016, challenged Special Counsel Robert Mueller's authority to investigate the crimes he was indicted on. Lawyers for Manafort asked a judge to dismiss charges including money laundering, conspiracy and false statements.
In response, Mueller released a memo from Deputy Attorney General Rod Rosenstein outlining the scope and specific allegations against individuals to be investigated. The heavily redacted memo, to remove any portions relating to individuals other than Manafort, proves Mueller had authority to investigate Manafort.
---
The memo, signed by Deputy Attorney General Rod Rosenstein, refers to a May 2017 appointment order directing Mueller to begin investigating possible coordination between the Trump campaign and Russia. The original appointment also covered "any matters that arose or may arise directly" from his probe.
But the supplemental August 2, 2017, memo provides specific allegations against key members of the Trump administration to fully investigate.
Manafort's appeal of his indictments hinged on his claim Mueller overreached on the scope of the Russia investigation by charging him for actions that occurred before the 2016 presidential election. He based this on the May 2017 appointment document.
But the second bullet point under the specific Manafort allegations, on page 3 of the August memo, covers the time frame and actions Manafort claimed Mueller had no right to investigate.
Mueller's  investigation included allegations that Manafort committed crimes related to "payments he received from the Ukrainian government before and during the tenure of (former Ukrainian) President Viktor Yanukovych."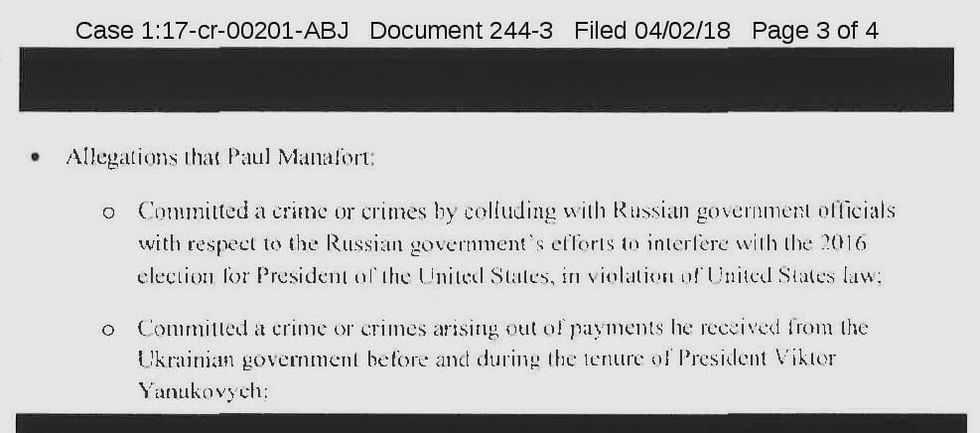 Page 3 excerpt of Rod Rosenstein memo to Robert Mueller (Office of Special Counsel)
The full memo covers four pages with the first page being simply a cover page to protect information contained within.
Page 2 states that the original appointment memo was written in generalized terms to allow for release to the public without revealing the specific actions and individuals to be investigated. It states the purpose of this memo was to give those specifics.
Most of page 3 has been blacked out, an action referred to as redacting. This protects sensitive information from becoming known while it may be used to hurt the ongoing investigation against individuals other than Manafort.
Page 4 of the memo refers to "additional matters described in 28 C.F.R. Part 600.4(a). The 28th Congressional Federal Register, Part 600, section 4, subsection a states:
§ 600.4 Jurisdiction.

(a)Original jurisdiction. The jurisdiction of a Special Counsel shall be established by the Attorney General. The Special Counsel will be provided with a specific factual statement of the matter to be investigated. The jurisdiction of a Special Counsel shall also include the authority to investigate and prosecute federal crimes committed in the course of, and with intent to interfere with, the Special Counsel's investigation, such as perjury, obstruction of justice, destruction of evidence, and intimidation of witnesses; and to conduct appeals arising out of the matter being investigated and/or prosecuted."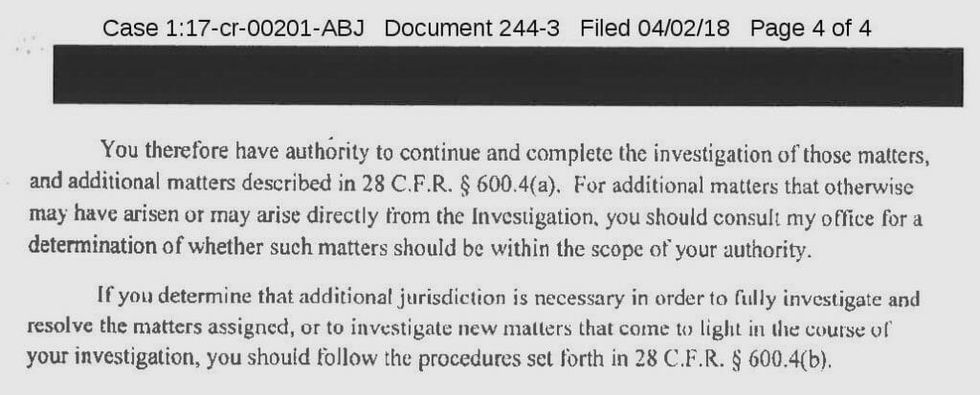 Page 4 excerpt of Rod Rosenstein memo to Robert Mueller (Office of Special Counsel)
The memo, included below in the form released by Mueller to address Manafort's attempt to appeal his indictment, has captured attention for those portions that can be seen and speculation for those that can't.
🔥WHOA🔥 Three months after his order appointing Mueller, Rosenstein wrote a memo detailing alleged crimes by specif… https://t.co/D1SrX2dR0M

— Dr. Dena Grayson (@Dr. Dena Grayson) 1522730717.0
The cover page of the 4 page memo (below) includes the case number and date of the beginning date of the initial inquiry. It also specifies this is Attachment C of that initial filing, meaning there is also an attachment A and B. It cannot be determined how many additional attachments may exist.