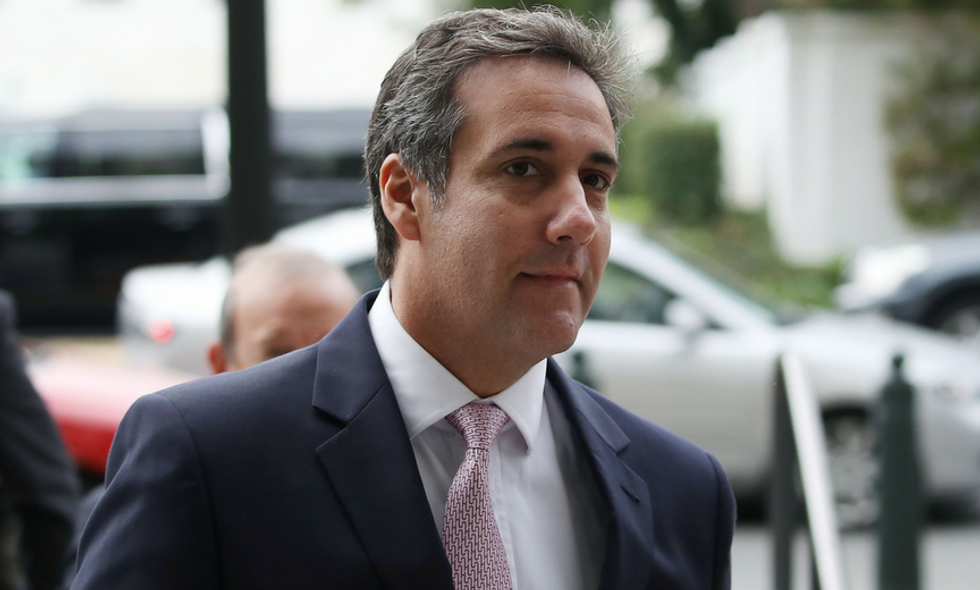 WASHINGTON, DC - SEPTEMBER 19: Michael Cohen, President Trump's personal lawyer arrives at the Hart Senate Office Building to be interviewed by the Senate Intelligence Committee on September 19, 2017 in Washington, DC. The committee is investigating alleged Russian interference in the 2016 U.S. presidential election. (Photo by NICHOLAS KAMM/AFP/Getty Images)
President Donald Trump's embattled former attorney and "fixer," Michael Cohen reached a plea deal this afternoon with federal prosecutors of the Southern District of New York.
Cohen had been under investigation for bank and tax fraud amounting to over 20 million dollars and, additionally, for his efforts to buy the silence of women who reportedly had affairs with Mr. Trump.
Cohen surrendered to the FBI this afternoon before a court proceeding in which he pled guilty to five counts of tax fraud and one count of falsifying statements to a financial institution, as well as two counts of campaign finance violations. Cohen admitted in court to making the hush payments at Trump's instruction.
The terms of the plea reportedly have Cohen serving three to five years in federal prison. His sentencing is scheduled for December 12.
According to sources, the plea deal does not mandate cooperation with Special Counsel Robert Mueller's investigation into the possibility of collusion between Russian officials and Trump's presidential campaign, however the man who once said he'd take a bullet for the president later pledged to put his family and country--not the president--first. Cohen will still be permitted to voluntarily assist the Special Counsel and Robert Mueller could recommend a reduction in his sentence.
The news of Cohen's likely prison sentence has resurrected a tweet of his from 2015:
To which users are reacting with glee:
@Bonoboism @MichaelCohen212 @HillaryClinton This tweet is absolutely one of funniest goddamn things I've read in two years.

— 𝔻𝕖𝕤𝕥𝕣𝕦𝕔𝕥𝕚𝕠𝕟 𝔹𝕒𝕪 𝔸𝕣𝕥𝕚𝕤𝕥 (@𝔻𝕖𝕤𝕥𝕣𝕦𝕔𝕥𝕚𝕠𝕟 𝔹𝕒𝕪 𝔸𝕣𝕥𝕚𝕤𝕥) 1523308259.0
Looks like the free room and board is headed your way @MichaelCohen212 We will dance nightly outside your prison w… https://t.co/hI5ljq1PTn

— AAdams (@AAdams) 1534877249.0
The agreement indicates a huge development in the Special Counsel's investigation and brings to fruition efforts that made some of the biggest headlines of the year.
One effort was that of adult film actress Stormy Daniels and her attorney Michael Avenatti.
Daniels originally made the allegations that Cohen brokered a 130 thousand dollar deal days before the 2016 election to secure her silence of an early 2000's affair with then-candidate Donald Trump.
With some of the charges reportedly involving the payments, many are commending Daniels, including her attorney Michael Avenatti.
We should all take a moment and applaud the tremendous courage and fortitude of @StormyDaniels, who has refused to… https://t.co/Kl0t8OvwWF

— Michael Avenatti (@Michael Avenatti) 1534874254.0
History will rightfully treat her as a hero for what lies ahead. #Basta

— Michael Avenatti (@Michael Avenatti) 1534874255.0
Why is Michael Cohen pleading guilty today? Because @StormyDaniels went public about payments that were violations… https://t.co/Lae4DSCDBo

— Pé Resists (@Pé Resists) 1534878054.0
@4everNeverTrump @StormyDaniels Don't underestimate women. Ms. Clifford has turned out to have far more courage, gr… https://t.co/XOUKkI8hOw

— MWilliwaw (@MWilliwaw) 1534878442.0
The news has Avenatti, a self-proclaimed street fighter, setting his sights on the president.
.@RudyGiuliani Buckle Up Buttercup. You and your client completely misplayed this... https://t.co/peLpswrDO1

— Michael Avenatti (@Michael Avenatti) 1534876229.0
Avenatti later went on to say the developments would allow his team to depose the president under oath:
The developments of today will permit us to have the stay lifted in the civil case & should also permit us to proceed with an expedited deposition of Trump under oath about what he knew, when he knew it, and what he did about it. We will disclose it all to the public.
While next steps for all involved are still unclear, today seems to be a watershed moment for the investigation, with the president's right hand man and former Republican National Committee finance chair pleading guilty to financial crimes. It casts a foreboding shadow for the president and possibly others.
This article has been updated from its original version as more up to date information has been reported.
Keep reading...Show less