Illinois Republican Representative Adam Kinzinger continued his criticism of President Donald Trump's decision to abandon Kurdish allies in Syria with a United States military withdrawal. Trump also gave Turkish President Recep Tayyip Erdoğan the green light to begin an invasion of the area.
Kinzinger—a military veteran of both Iraq and Afghanistan—shared a screenshot of a Wall Street Journal (WSJ) article on Twitter with the caption:
---
"Wow. We bombed our own base on purpose, because of the impulsive decision by [Donald Trump] didn't leave time to evacuate the right way. Is this the America you grew up believing in?"
Wow. We bombed our own base on purpose, because of the impulsive decision by @realDonaldTrump didn't leave time to… https://t.co/IQuEuveZSt

— Adam Kinzinger (@Adam Kinzinger)1571277725.0
The full WSJ screenshot can be seen here.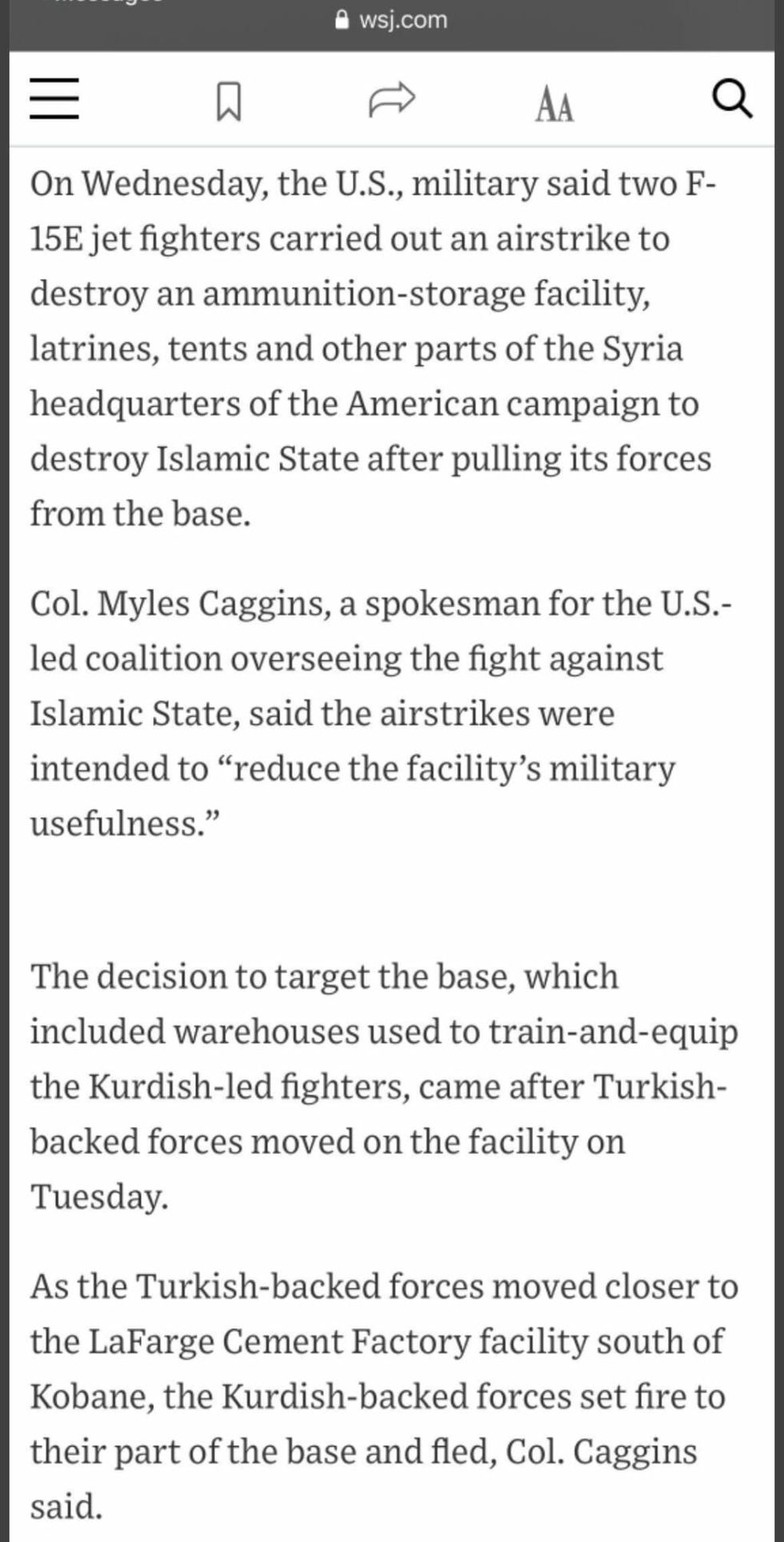 @RepKinzinger/Twitter
In the article excerpt, The Wall Street Journal reports US F-15E fighters carpet bombed a former joint operation location shared by the US military and their Kurdish allies. The Kurds had abandoned the base of operations and the invasion by Turkey pushed toward their location.
According to Kinzinger—who has the combat experience to back up any claims—Trump's decision to immediately begin the military withdrawal did not give US forces the necessary time to decommission or properly turn over joint operation locations to allies.
Trump found few defenders on Twitter—the President's favorite forum for communication.
@RepKinzinger @realDonaldTrump Country over party. Donald Trump needs to go.

— Art Martin (@Art Martin)1571278230.0
@gartmartin9 @RepKinzinger @realDonaldTrump A man who sells our democracy to create sham conspiracy theories to win… https://t.co/QZ4EeDt8hm

— Time2Act (@Time2Act)1571278737.0
Kinzinger was not alone in his criticism either.
Honestly it's hard to construct a better metaphor for the Trump administration than the fact that the United States… https://t.co/FBjElfm4h4

— Binyamin Appelbaum (@Binyamin Appelbaum)1571275738.0
@BCAppelbaum @JBENEDI32714453 Entirely in the absurdist mode of Joseph Heller, who wrote: "It was almost no trick .… https://t.co/mmW3kRFT0K

— Snow Nguyen (@Snow Nguyen)1571318379.0
@BCAppelbaum Bwhahaha, @realDonaldTrump can't even get keeping beautiful and strategic bases that defend national i… https://t.co/XnOwQxxPDw

— Vincent Fabello (@Vincent Fabello)1571278599.0
People shared how the fallout from Trump's ill-advised decision played on an international stage. Russian media openly mocked the United States.
@BCAppelbaum @juliettekayyem Here in New Zealand the news footage of a Russian reporter showing off the base from w… https://t.co/Pzfr0i7cFt

— Jo McKee (@Jo McKee)1571277958.0
@BCAppelbaum Hello, is anyone watching? Is anyone watching out for our safety? Are you comprehending what's happeni… https://t.co/SeaYdPewze

— ThinxFactory (@ThinxFactory)1571306222.0
@BCAppelbaum @MargaretFenwic8 Putin put #Trump in office to destroy the US and #Republicans cheer because they can… https://t.co/mYtswnIjsK

— Stan: The ALIEN Marketing Guy (@Stan: The ALIEN Marketing Guy)1571309229.0
Some raised concerns over what exactly the United States left behind during the immediate withdrawal.
@BCAppelbaum And left nukes behind, apparently: https://t.co/Gc1sFIawlH

— Suspended4Resisting (@Suspended4Resisting)1571276611.0
@Suspended4Resi1 @BCAppelbaum If trump really pisses Erdogan off, he could easily use them on one of our allies, if… https://t.co/2y0HasbaYr

— odell lynch (@odell lynch)1571278552.0
People again questioned who President Trump worked for and where his loyalties lie.
@RepKinzinger This is beyond politics, he's basically working against us

— Christine Galea (@Christine Galea)1571279511.0
But others reminded Kinzinger who enabled Trump.
@RepKinzinger @youwantawar @realDonaldTrump It's the America @gop, your Party, created. The @gop is completely corr… https://t.co/8pGHvUmBuY

— ✨Pamela Wallace 💐 🐶🐴🌞 (@✨Pamela Wallace 💐 🐶🐴🌞)1571306334.0
The President continues to receive pushback from his own party and former fervent supporters. However so far he shows no signs of changing his mind.
The book The Plot to Destroy Democracy: How Putin and His Spies Are Undermining America and Dismantling the West is available here.