Even a broken clock...
25 October 2019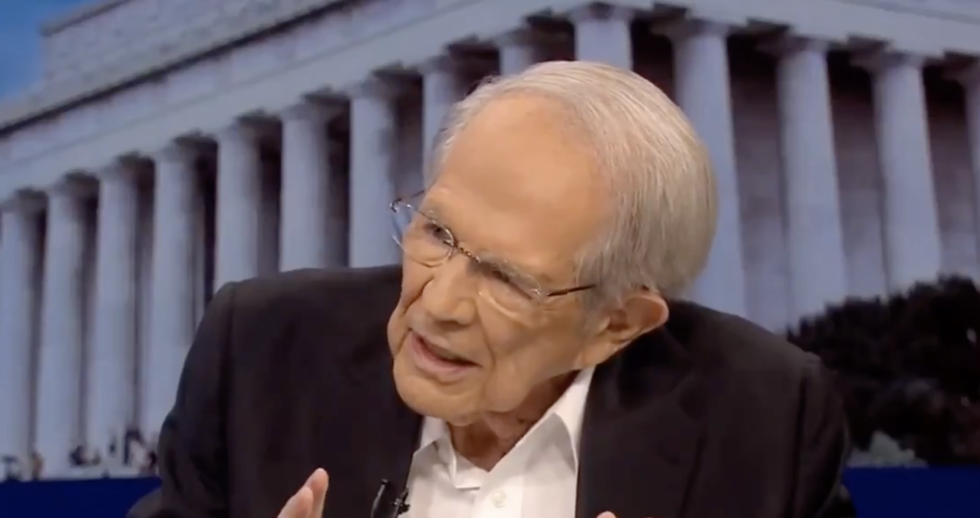 CBN
President Donald Trump's decision to withdraw US Special Forces from northern Syria is still receiving backlash for abandoning Kurdish allies in the region, leaving them vulnerable to aggression from neighboring Turkey.
Even far-Right televangelist and 700 Club host Pat Robertson is decrying the move, despite his staunch support for Donald Trump.
Earlier this month, Robertson said the withdrawal put Trump "in great danger of losing the mandate of Heaven."
Now, Robinson is comparing the President's misguided optimism to that of former British Prime Minister Neville Chamberlain, whose reliance on promises from Adolf Hitler resulted in concessions from the U.K. and the expansion of Hitler's hold over Europe during World War II.
Watch below.
Pat Robertson says Trump is a modern-day Neville Chamberlain for abandoning Syria, predicting that he'll be re-elec… https://t.co/5dJAZdiK7f

— Right Wing Watch (@Right Wing Watch) 1571936626.0
More often than not, the views expressed by Robertson on his show range from ignorant to downright harmful, but in this case, the comparisons of Trump to Chamberlain were spot on:
"The President of the United States is modeling Neville Chamberlain...We have surrendered territory to a wicked dictator and have given over the best army in the Middle East, has been disbanded."
Robertson reminded viewers that Chamberlain was reelected, and he thought Trump would be reelected too, but that "within a year or more after the election, we're going to be struggling for our life."
He continued:
"Those who will not heed the lesson of history are doomed to live it again."
People were surprised to find themselves agreeing with Robertson.
@RightWingWatch Jesus... What is this world where I'm like "you know Pat Robertson has a really good point here".

— Lord Anthony (@Lord Anthony) 1571936796.0
@RightWingWatch Wow! I can't believe that I'm agreeing with this snake oil salesman!!

— Blue Indigo (@Blue Indigo) 1571943144.0
@RightWingWatch Even old men with cataracts can sometimes see the light.

— Movie_Ev (@Movie_Ev) 1571937841.0
@RightWingWatch Never thought that I would agree with Pat Robertson- guess that he's not on Russia's payroll.

— Joan Setka (@Joan Setka) 1571955446.0
A white evangelical, Pat Robertson's audience are widely religious Trump supporters. Some hoped that Robertson's willingness to critique the President could lead one of Trump's most loyal demographics to question its support.
@RightWingWatch Maybe my mom will start seeing Trump for what he is now that one of the televangelists telling her… https://t.co/fMCBFxhqma

— 🌲HelicopterDogMom🐶 (@🌲HelicopterDogMom🐶) 1571937646.0
@RightWingWatch I am so conflicted about this. On one hand, no duh Pat. What have we been telling you for 3 years?… https://t.co/VtBoJeFWos

— Equal Rights Amendment Coffee☕️ (@Equal Rights Amendment Coffee☕️) 1571968700.0
Trump claims that there is now a permanent ceasefire in place in Northern Syria, but his critics thinks he's more naive than Neville Chamberlain for believing it.
Keep reading...Show less