In 2007, Donald Trump received a star on the fabled Hollywood Walk of Fame for his role in producing the Miss Universe pageant. While The Apprentice had appeared on television by then, the far more successful incarnation of the show, The Celebrity Apprentice did not debut until 2008.
But now, after repeated vandalism that either created a mess—like spray paint or protest stickers—or damaged or completely demolished Trump's star, the city of West Hollywood wants the star gone. The city council voted unanimously on Monday to petition Los Angeles and the Hollywood Chamber of Commerce to remove it.
---
And Star Wars actor and recipient of his own star on the Walk of Fame, Mark Hamill, knows just what to do with the location once Trump's star is gone. The sci-fi icon took to Twitter Monday with his suggestion.
How about replacing it with someone who really earned it? Like Carrie Fisher?"
Less than 24 hours later, Hamill's message earned over 87,000 likes and over 21,000 retweets and over 2,300 comments. The city of West Hollywood agreed as well.
A writer who worked with Fisher, Paul Slansky, concurred.
According to Hamill, there was no love lost between Fisher and Trump.
Some could not fathom that the actress, singer, screenwriter, acclaimed author and mental health advocate did not already have a star on the Walk of Fame. Since its launch in 1960, the Hollywood Walk of Fame honored over 2,500 celebrities.
In reality, anyone can apply for a star—all it takes is mailing an application and a fee of $40,000 (as of 2018) to the Hollywood Chamber of Commerce. In other words, if you have some connection to the entertainment industry and the cash, you too can have a star.
Even God approved of a star for Fisher in place of Trump's as The Good God Above stated in the following tweet.
Others remembered their favorite moments between Hamill and Fisher.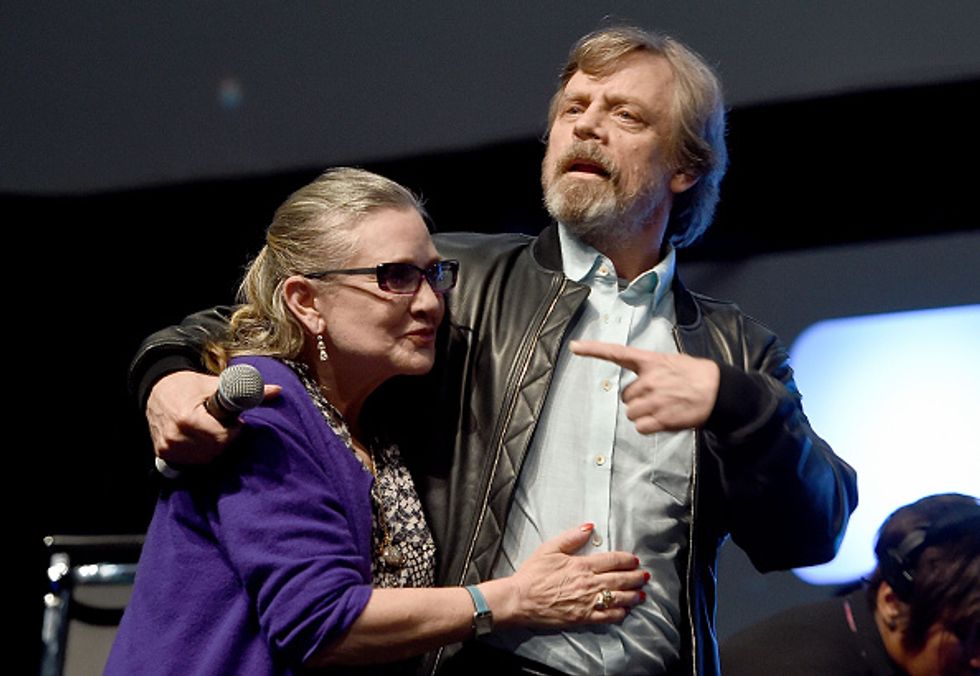 Mark Hamill and Carrie Fisher on stage during Future Directors Panel at the Star Wars Celebration 2016 at ExCel on July 17, 2016 in London, England. (Photo by Ben A. Pruchnie/Getty Images for Walt Disney Studios)
Fisher suffered a heart attack on a transatlantic flight and later died at a Los Angeles hospital on December 27, 2016. Many found Fisher specifically replacing Trump a perfect solution.
Although one person provided another hero deserving of a star.
Since Trump entered politics in 2015, two people destroyed Trump's star—requiring complete removal and replacement by the Hollywood Chamber of Commerce—and many others have vandalized it.
After their unanimous vote, West Hollywood Mayor John Duran stated:
The West Hollywood City Council did not pass the resolution because Donald Trump is a conservative or a Republican. Earning a star on the Hollywood Walk of Fame is an honor. When one belittles and attacks minorities, immigrants, Muslims, people with disabilities or women—the honor no longer exists."
According to the Walk of Fame guidelines, a conduct requirement is part of keeping the honor of a star. The Walk of Fame committee is reportedly reviewing removing the stars of Bill Cosby and Harvey Weinstein as well.