During a closed door meeting with top Pentagon officials on January 18, 2018, President Donald Trump reportedly directed the military to plan a big parade for Pennsylvania Avenue in Washington, DC. Trump proposed this idea before, but Pentagon officials dissuaded him due to the logistical nightmare such an event creates. However this time was different.
"The marching orders were: I want a parade like the one in France," an anonymous military official stated to The Washington Post. "This is being worked at the highest levels of the military."
---
Trump frequently expressed publicly and privately a desire to have a grand military parade after attending Bastille Day celebrations in France last year. President Trump and the First Lady attended as guests of French President Emmanuel Macron in 2017 to commemorate the 100th anniversary of the United States entry into World War I.
Tuesday evening, Sarah Huckabee Sanders, White House Press Secretary, confirmed the parade rumors stating Trump wants a celebration allowing Americans to show appreciation for the military.
But massive parades in the nation's capital displaying military might, such as the May Day parades of Russia or the frequent parades in North Korea, rarely occur in the United States for a good reason. Parades cost money, especially in a nation as large as the United States. To have a celebration in Washington DC, you need to get people and vehicles to the nation's capital from their home bases around the country.
Estimates for shipping military vehicles alone range in the millions of dollars per type of equipment. Add to that the travel costs for military personnel including housing and meals and the Pentagon budget simply cannot absorb that kind of expense.
And those funds must come from the current Department of Defense coffers unless congress passes a special funding authority just for the parade. Given the ongoing debate on the budget for 2018, congress authorizing a $22 million handout for a parade remains unlikely.
But as Commander-In-Chief of the armed forces, any order from the president requires action. Which, some theorize, is why Pentagon officials leaked the story. The theory, bandied about during Morning Joe on MSNBC during a panel discussion about better ideas than a May Day style military parade, quickly gained traction on Twitter.
Debate over the merits of the parade continues across social media platforms. The Army Times, an "independent source for news and information on the most important issues affecting careers and personal lives" of Army personnel and their families, created an online poll about the parade.
It asked: "Should there be a parade showcasing troops and military equipment in Washington, D.C.?". Respondents could choose "Yes, it's a great opportunity to show off U.S. military might" or "No, it's a waste of money and troops are too busy".
As of 3:30pm EST Thursday, over 52,300 people voted. 11 percent voted in favor of the parade while 89 percent were against it.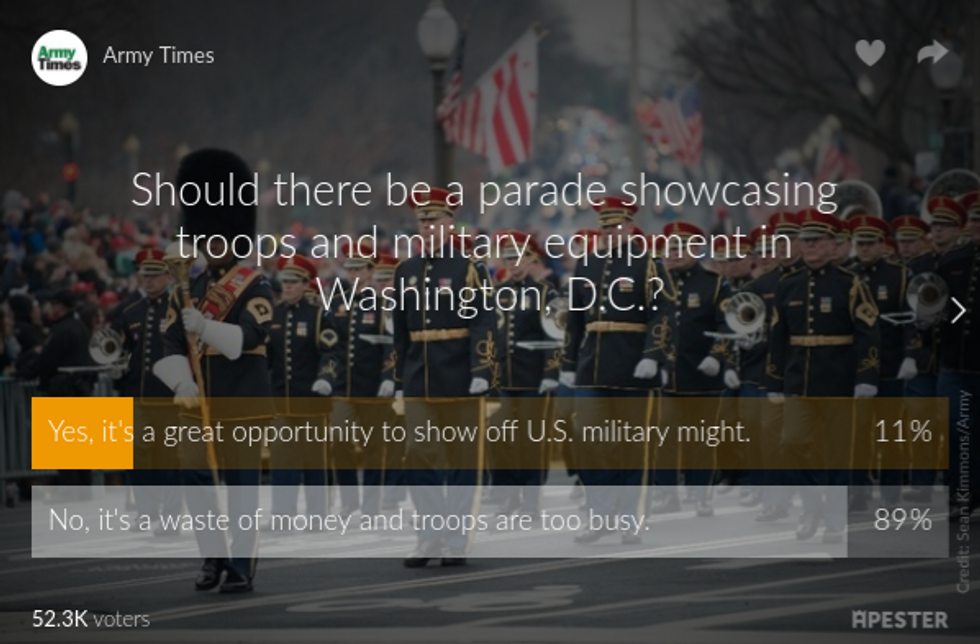 Army Times online poll 2/7/2018
In online discussion, a disabled Vietnam veteran who suffered shrapnel wounds to the head costing him his right eye stated, "So much better ways to field the money it would take to make this happen." Another retired Vietnam veteran added, "Do something meaningful for All Veterans who aren't able to march! From a Disabled USAF, US Army vet. That's right, both branches!". A Desert Storm veteran added her thoughts saying, "I would much rather see the money for a parade spent on healthcare and other forms of assistance for veterans and active duty soldiers."
Watch the full discussion from Morning Joe below and decide for yourself. Is this military parade a good idea or an expense the United States military cannot afford?