On top of recent accusations of money laundering, Paul Manafort, President Donald Trump's former campaign chairman, secretly worked for a Russian oligarch to advance the interests of Russian leader Vladimir Putin, according to a report from The Associated Press.  As early as 2005, Manafort signed a $10 million annual contract with Putin ally Oleg Deripaska to "influence politics, business dealings and news coverage inside the United States, Europe and the former Soviet republics to benefit the Putin government," the AP report continues.
"We are now of the belief that this model can greatly benefit the Putin government if employed at the correct levels with the appropriate commitment to success," Manafort wrote to Deripaska in a 2005 strategy memo. The effort, he continued, "will be offering a great service that can re-focus, both internally and externally, the policies of the Putin government."
---
In memos, Manafort proposed that Deripaska and Putin would benefit from lobbying Western governments, particularly the U.S., to allow oligarchs to retain formerly state-owned assets in Ukraine. He recommended building "long term relationships" with Western journalists and a multitude of measures to improve recruitment, communications, and financial planning by Russian sympathizers in the region.
Manafort also considered extending his existing work in eastern Europe to Uzbekistan, Tajikistan, and Georgia. He pledged to further legitimize governments friendly to Putin and to undermine anti-Russian figures through political means, nonprofit front groups and media operations.
The AP obtained documents which laid out Manafort's plans, including strategy memoranda and records showing international wire transfers for millions of dollars. It is still unclear how much work he performed while under contract. People familiar with the relationship between the two men, who spoke on condition of anonymity because they were not authorized to discuss the secret payments publicly, said money transfers to Manafort amounted to tens of millions of dollars, continuing through at least 2009.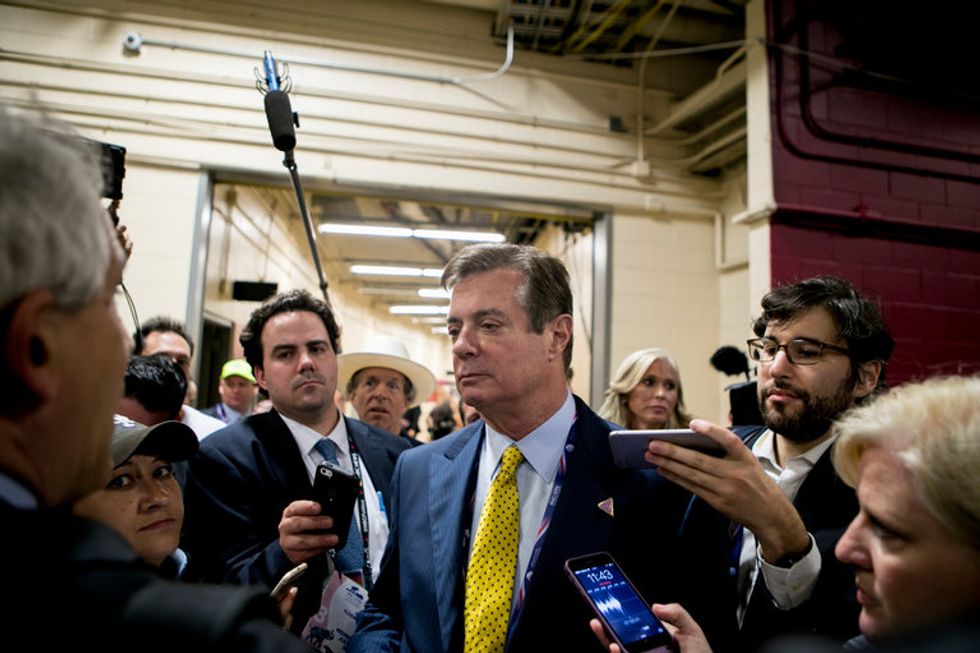 Paul Manafort speaks to reporters during the Republican National Convention last year. (Credit: Source.)
The documents further reveal that Manafort pushed policies as part of his work in Ukraine "at the highest levels of the U.S. government — the White House, Capitol Hill and the State Department." He also said he had hired a "leading international law firm with close ties to President Bush to support our client's interests." He did not identify the firm. Manafort also declined to identify legal experts for the effort at leading universities and think tanks, including Duke University, New York University and the Center for Strategic and International Studies.
Manafort never disclosed details about the lobbying work to the Justice Department during the period he worked under contract. Under the Foreign Agents Registration Act, people who lobby in the U.S. on behalf of foreign political leaders or political parties must provide detailed reports about their activities to the Justice Department. While failing to register is a felony and can result in imprisonment up to five years and a fine up to $250,000, the government rarely files criminal charges.
When pressed for comment, Manafort confirmed he worked for Deripaska in various countries, but suggested he was the subject of a "smear campaign." He accused the media of casting his work in an "inappropriate or nefarious" light.
"I worked with Oleg Deripaska almost a decade ago representing him on business and personal matters in countries where he had investments," Manafort said. "My work for Mr. Deripaska did not involve representing Russian political interests."
Manafort's work appears to contradict the Trump administration's assertions and Manafort himself that he never worked for Russian interests. White House Press Secretary Sean Spicer said yesterday that Manafort "played a very limited role for a very limited amount of time," even though as Trump's presidential campaign chairman Manafort led it up to the Republican National Convention.
According to a U.S. official who spoke to AP reporters on condition of anonymity, Manafort is a leading focus of the U.S. intelligence investigation of the Trump administration's Russian ties. While FBI Director James Comey, in confirming the federal investigation to Congress this week, declined to say whether Manafort was under investigation, Manafort's name was mentioned 28 times during the hearing of the House Intelligence Committee.
Manafort was forced to resign from Trump's campaign last August amid revelations that he, while working in Ukraine as an international consultant, allegedly pocketed $12.7 million in cash payments from Ukraine's former ruling party between 2007 and 2012. The report, initially published in the New York Times, asserts that the money could be part of an illegal, off-the-books system. Officials with Ukraine's National Anti-Corruption Bureau say the listed payments come from a handwritten ledger used to keep track of off-the-books payouts by former Ukranian president Viktor Yanukovych's pro-Russian Party of Regions. Manafort's name appears 22 times in the ledger.
CNN reports that Ukrainian lawmaker Sergii Leshchenko claims a document found in a safe in Kiev may be evidence Manafort tried to mask payments to him from former pro-Russian Ukrainian President Viktor Yanukovych's party. Leshchenko provided CNN a six-page document that appears to bear Manafort's signature on a contract and invoice for 501 units of assorted computer equipment, yielding a payment of $750,000. The invoice is on letterhead from Manafort's consulting company, based in Alexandria, Va., dated Oct. 14, 2009, to a Belize-based company.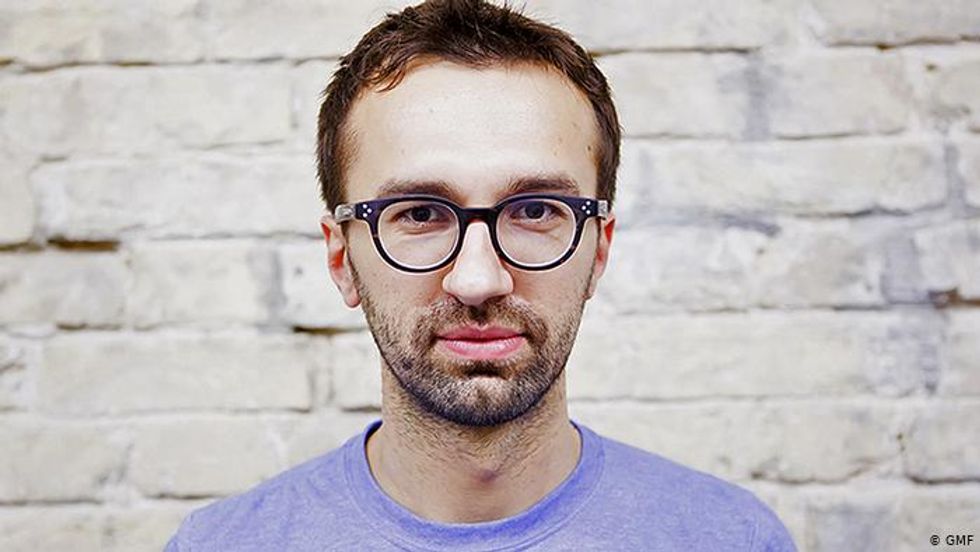 Sergii Leshchenko. (Credit: Source.)
Leshchenko alleges Manafort falsified an invoice to the Belize company to legitimize the $750,000 payment to himself and that he used offshore accounts to move the money.
"I have found during this investigation that [Manafort] used offshore jurisdictions and falsified invoices to get money from the corrupt Ukrainian leader," Leshchenko said during a news conference in downtown Kiev.
While CNN has been unable to verify the document's authenticity, but the date of the invoice and the $750,000 listed on it match the details logged in the ledger.
A spokesman for Manafort denied the allegations. "The allegations against Paul Manafort are baseless, as reflected by the numerous statements from NABU officials who have questioned the validity of the so-called ledger evidence against Mr. Manafort," said Jason Maloni. "Any new allegations by an Serhiy [sic] Leshchenko should be seen in that light and summarily dismissed."