The decision by four U.S. intelligence chiefs to present both President Obama and President-elect Trump with a synopsis of allegations that the Russian possess compromising material on Trump indicates that things are getting quite serious.  
On Nov 1, we originally reported a portion of this story after Mother Jones published information about an ex MI6 operative's report, which contained damaging charges that Trump may have been blackmailed by Russian agents. Yesterday, CNN revisited these explosive allegations after learning that excerpts from the report had been included as an addendum to intelligence packets, presented to both President Obama and President-Elect Trump, and that senior Senate leaders and intelligence agencies had had copies of the full report and had been investigating and circulating it for months.
---
Here is what is currently known, and importantly not known, at this time.
Last October a former British spy handed the FBI the memos based on his recent interactions with Russian sources alleging that the Russian had acquired "Kompromat" (compromising materials) on Trump of a personal and financial nature. Russian intelligence allegedly also had compiled a dossier on Hillary Clinton based on "bugged conversations she had had during various visits to Russia and intercepted phone calls." According to CNN, the intelligence chiefs (Director of National Intelligence James Clapper, FBI Director James Comey, CIA Director John Brennan, and NSA Director Admiral Mike Rogers) briefed Trump about these documents to make him aware of the circulation of such allegations among intelligence agencies, senior members of Congress and other government officials in Washington. The same sources speaking to CNN also maintain that Moscow intended to damage Clinton's candidacy and at the same time boost that of Trump.
The information in the memos also included unverified information that the Russian government has been cultivating ties with Trump for over five years, and that Russia provided campaign intelligence on Hillary Clinton to Trump's team.
Russia flatly denied all the allegations, which have not yet been independently verified. Moscow dismissed the claims as a "total hoax" with a Kremlin spokesman reassuring that "the Kremlin does not have compromising information about Trump."
CNN nevertheless decided to go forward with the story, noting that the allegations were apparently credible enough to be included in the intelligence packets given to Mr. Trump.
Following the CNN report, Buzzfeed released the main 35-page document itself. While many criticized the move, others noted that it is not standard procedure for the intelligence community to brief the President and President-elect on material which does not bear on a certain degree of credibility.
The president-elect vehemently denied the claims.
Early this morning he sent several other tweets. He attacked Intelligence agencies for the leak of the so called "fake news" to the public.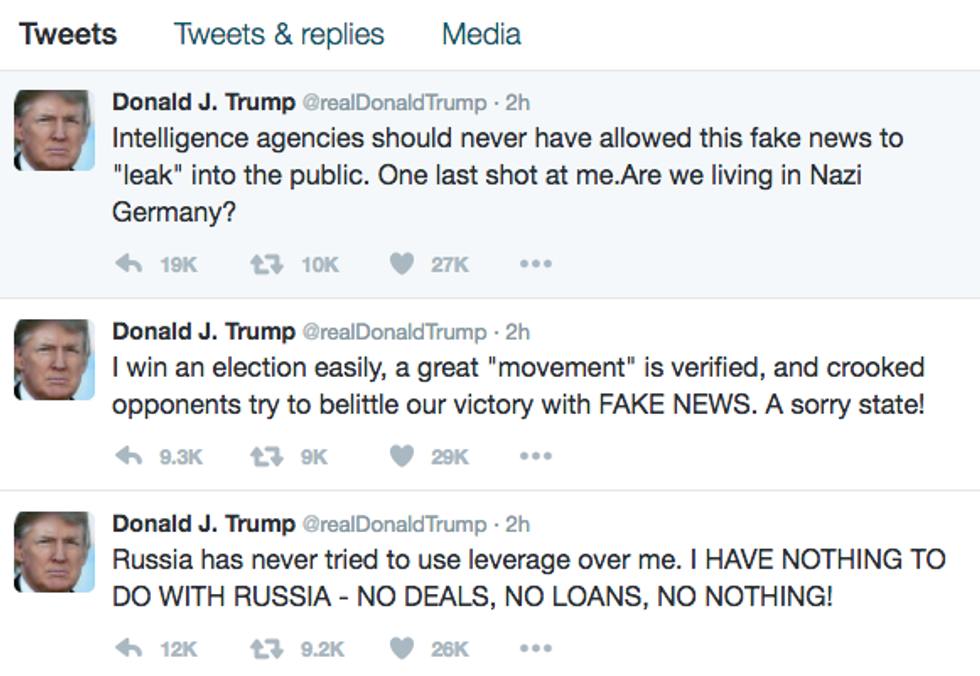 Donald Trump's lawyer speaking to Mic stressed that the dossier is nothing more than "fake news." "It's so ridiculous on so many levels. Clearly the person who created this did so from their imagination or did so hoping the liberal media would run with this fake story for whatever rationale they might have" Mr. Cohen said.
In an interview with NBC News President Barack Obama said he had not seen the news accounts of Trump's Russian ties but noted that "as a matter of principle and national security, I don't comment on classified information."