Rapper and designer Ye trolled billionaire Elon Musk with an unflattering shirtless picture of Musk before the tech billionaire confirmed he suspended Ye's Twitter account. Ye tweeted a swastika—which is widely recognized for its appropriation by the Nazi Party and by neo-Nazis—merged with a Star of David.
The photo in question was one of several taken over the summer while Musk vacationed with Ari Emmanuel—the CEO of the media agency Endeavor—on the Greek island of Mykonos.
They prompted many to body shame Musk at a time when he was being scrutinized for a highly contentious legal battle with Twitter, which he was ultimately forced to purchase after attempting to back out of a deal to acquire the platform.
Ye and Musk shared a bonkers text exchange shortly before Musk imposed a 12-hour suspension. Just before Ye's account went dark, he posted a photo of the shirtless Musk as his "final tweet."
You can see Ye's tweet and the photo below.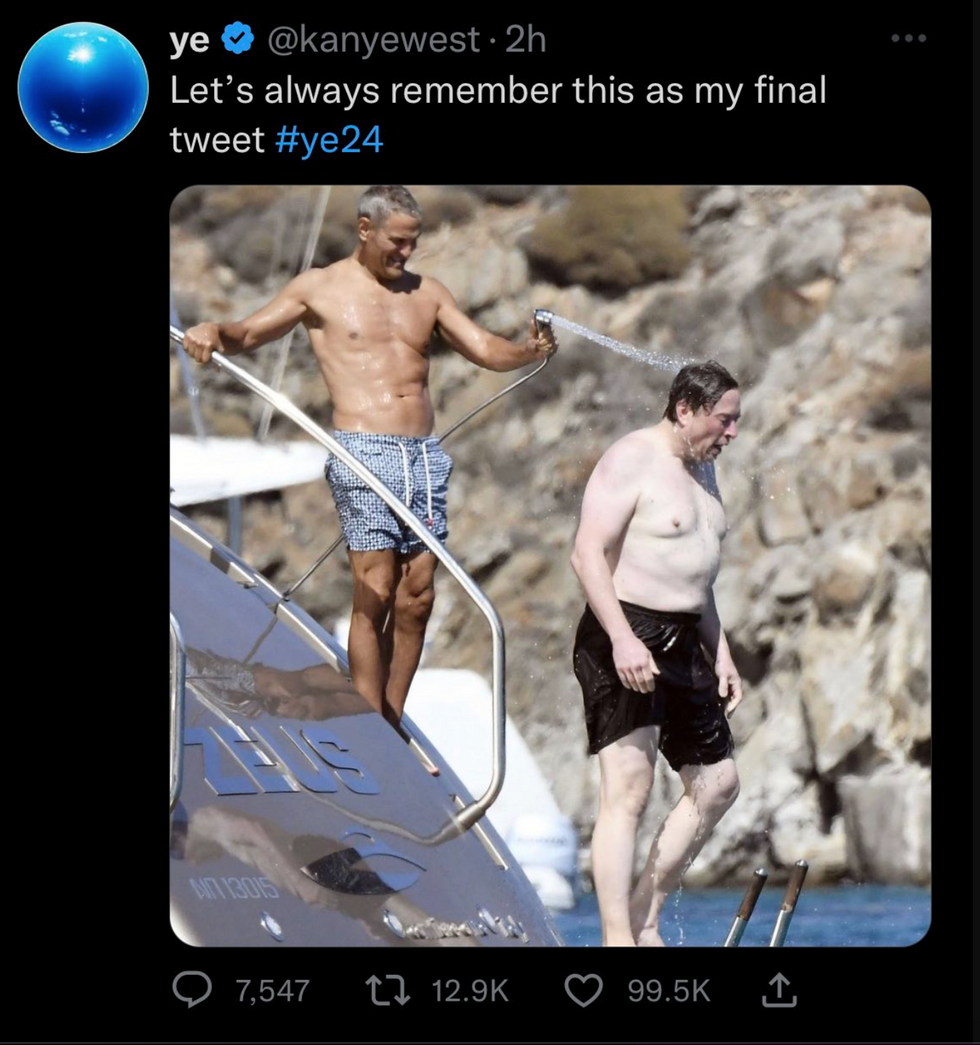 @kanyewest/Twitter
Ye's infraction on the social media platform marked yet another controversy amid a series of high-profile scandals related to his antisemitism, which has only reflected badly on Musk, who in October said he expressed his "concerns" to Ye after Ye was locked out of Twitter for posting an antisemitic tweet.
While many might assume that Musk retaliated against the rapper—who recently announced a 2024 presidential bid on the Republican ticket—Musk has been quite clear that Ye's suspension was related to the swastika Ye had tweeted earlier.
Musk appeared good-humored about the whole debacle, calling the photos taken of him over the summer "motivation to lose weight."
The controversy has only amplified concerns many have about Musk's ability to moderate content on Twitter.
Musk issued the suspension shortly after Ye was admonished for telling Infowars conspiracy theorist Alex Jones there were "good things" about German Nazi Party leader Adolf Hitler, who orchestrated the systematic genocide of more than 11 million people including over six million Jews and millions of Romani, disabled people, LGBTQ+ people, and critics of the Nazi regime.

In the text exchange the two men shared, Musk—who just two months ago declared himself a "free speech absolutist"—said Ye had "gone too far" in sharing an image of a swastika intertwined with a Star of David, which the Nazis used during the Holocaust to identify Jews.
An unrepentant Ye pushed back against Musk and his influence over Twitter's as of yet unclear content moderation policies before appearing to compare himself to Jesus Christ, suggesting he developed a martyr complex in response to financial and personal troubles of his own doing since doubling down on antisemitic rhetoric that cost him lucrative business endorsements and access to his social media accounts.