After Elon Musk told advertisers to go 'f***' themselves during a bizarre DealBook interview, X CEO Linda Yaccarino tried to spin it positively somehow.
01 December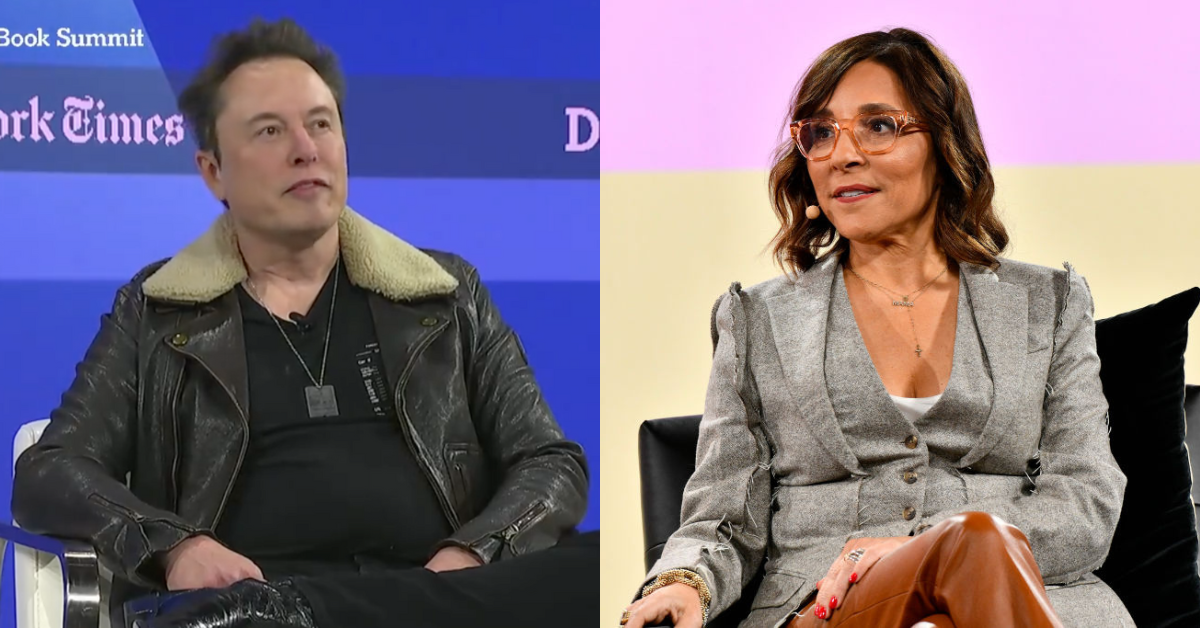 @andrewrsorkin/X; Jerod Harris/Getty Images for Vox Media
After billionaire Elon Musk told advertisers to "go f**k themselves" during a bizarre DealBook interview, Linda Yaccarino, the CEO of X, formerly Twitter, was mocked for the rather upbeat spin on what observers largely agreed was a disastrous affair.
Musk had earlier issued the profane response to advertisers that withdrew their advertisements from X amid a controversy over his posts, which were criticized as antisemitic.
Musk also called out Disney CEO Bob Iger in his rant during the New York Times DealBook Summit, admitting an advertising boycott could tank the social media platform—though he insisted such a development would not be his fault.
But to hear Yaccarino tell it, Musk merely "gave a wide ranging and candid interview" during the event, seeming to overlook the dire financial straits the company finds itself in amid a widespread advertiser boycott.
She added, thanking the company's "partners who believe in our meaningful work, that:

"[Musk] also offered an apology, an explanation and an explicit point of view about our position. X is enabling an information independence that's uncomfortable for some people."
"We're a platform that allows people to make their own decisions. And here's my perspective when it comes to advertising: X is standing at a unique and amazing intersection of Free Speech and Main Street — and the X community is powerful and is here to welcome you."
You can see her post below.

Though X has been bleeding advertisers for months, Musk's current controversy arose after Musk agreed with Jewish conservative Charles Weber, who, addressing Israel's campaign against Hamas and the humanitarian crisis in Gaza, said that "Jewish communities have been pushing the exact kind of dialectical hatred against whites that they claim to want people to stop using against them."
Musk responded that Weber was speaking "the actual truth" when he said he doesn't care that "western Jewish populations [are] coming to the disturbing realization that those hordes of minorities that support flooding their country don't exactly like them too much."
Disney is among several firms, including IBM, Apple, and Lionsgate, that have withdrawn ads from X due to Musk's controversial tweet and reports from Media Matters highlighting their ads alongside offensive content. Musk has taken legal action against Media Matters over the report.

Musk said he "should in retrospect not have replied to [Weber] and should have written in greater length what I meant." He said he was "sorry" but claimed his "clarifications were ignored by the media and essentially I handed a loaded gun to those who hate me and arguably to those who are antisemitic."
Reports suggest X may face financial repercussions, with estimates ranging from $11 million to as much as $75 million in potential losses from the advertiser pullout.
Given all these facts, people were quick to point out how much Yaccarino's post rang false.

Representatives from several marketing agencies revealed in interviews with the New York Times that the brands they represent have remained resolute in their decision to refrain from advertising on X.

Some have gone as far as advising advertisers to halt any posting activity on the platform. The recent temporary pauses in spending on X are anticipated to evolve into indefinite freezes due to Musk's remarks, which offer no incentive for a return to the platform.