Elon Musk says he 'wanted to punch' Ye for the swastika tweet that led to his suspension.
05 December 2022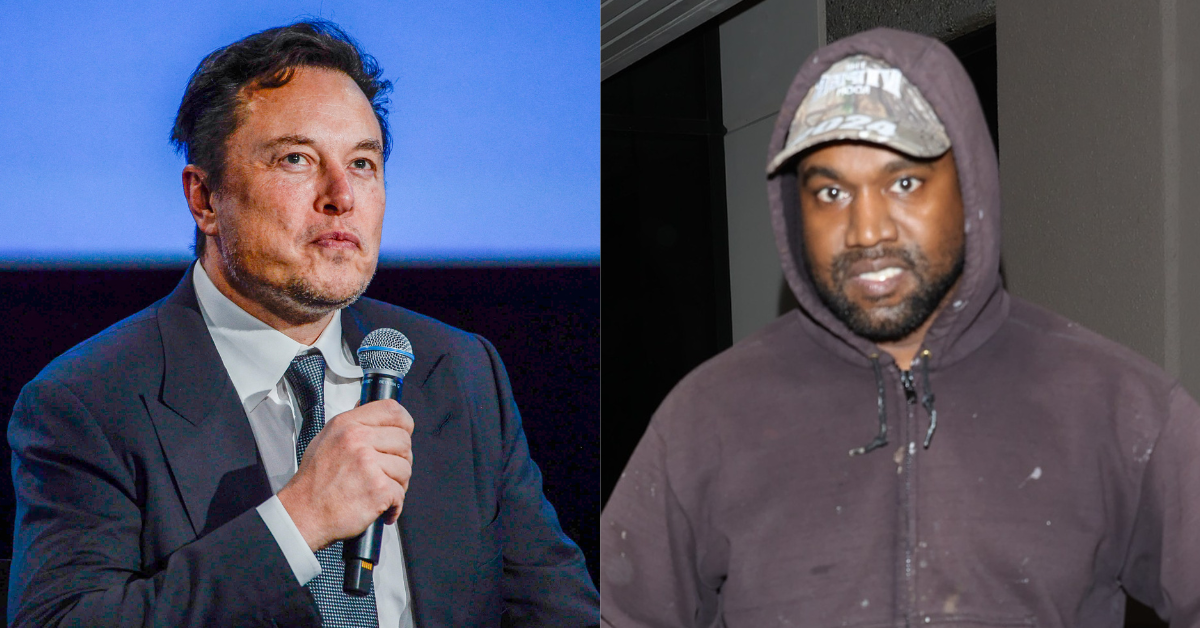 Carina Johansen/NTB/AFP via Getty Images; Rachpoot/Bauer-Griffin/GC Images/Getty Images
In a Twitter question and answer roundtable discussion on Saturday, current Twitter CEO Elon Musk quipped rapper and designer Ye's tweet depicting a swastika intertwined with the Star of David incited him to violence because it made him want to punch the musician.
Musk said:
"I personally wanted to punch [Ye], so that was definitely inciting me to violence. That's not cool."
Musk—though he has repeatedly described himself as a "free speech absolutist"—suspended Ye's account for "inciting violence."
Ye was also suspended from the site in October before Musk took over the company for another obviously antisemitic tweet in which he claimed he would go "death [sic] con 3 On JEWISH PEOPLE."
In that same tweet, he claimed he couldn't be antisemitic because "black [sic] people are actually Jew".
Musk also called to attention Ye's recent InfoWars interview with Alex Jones, during which even Jones laughed loudly to obscure what he was saying or tried to redirect Ye to get him away from topics that were too much for even Jones.
Among the absolutely ridiculous things Ye said on InfoWars was that he "liked" Hitler and "loved" Nazis.
Jones followed up the Nazi comment with a laugh and quickly seemed to try to get Ye to stop talking.
"We're all crazy. The whole world's crazy. This is absolutely lit. This is lit, lit, lit, lit, lit."
Musk further clarified his reasoning for suspending Ye for "incitement of violence."
"...because at some point you have to say what is incitement to violence because it is against the law in the U.S."
"Posting swastikas in what obviously is not a good way is an incitement to violence."
Musk claimed he "tried his best" with Ye, but would be suspending his account anyway.
To which several people responded, essentially, "What did you think would happen?"
Many of Musk's own fans criticized him for what they see as a breach of their version of "free speech".
Ye is not the only person spouting antisemitic rhetoric who Musk allowed back onto the platform after he took over.
Well-known neo-Nazi Andrew Anglin was allowed back onto the platform after 10 years of being banned. Anglin previously said things that absolutely violated Twitter's terms of service and incited online harassment campaigns against journalists.
Despite his claims he had deleted all of the old content on his account and intended to follow Twitter's Terms Of Service (TOS) from now on, one of the things he chose to tweet on his first day back on the platform was support for Ye's bizarre rant about liking Hitler.
Anglin said:
"Saying you love Hitler is not even a big deal. No one cares about that. The man died 80 years ago."
In addition to Musk reinstating the accounts of people who have previously used the platform for hate speech, recent research from organizations like the Anti-Defamation League indicated an unprecedented surge in the use of slurs and other hate speech on the platform after Musk took charge.
ADL specifically noted a troubling increase in antisemitic content.
"In the past few weeks, the ADL noted both an increase in antisemitic content on the platform and a decrease in the moderation of antisemitic posts..."
Musk says he wants Twitter to be a platform for "free speech" but how will he handle the balance between free speech and hate speech, and how will he handle content moderation?
Only time will tell.