BBC News reports that Russia and Turkey are each offering differing accounts of exactly what it was that brought the plane down. Russia's defense ministry claims the jet crashed after being hit by fire from the ground. Turkey, on the other hand, claims that Turkish F-16s took out the plane for violating Turkish airspace.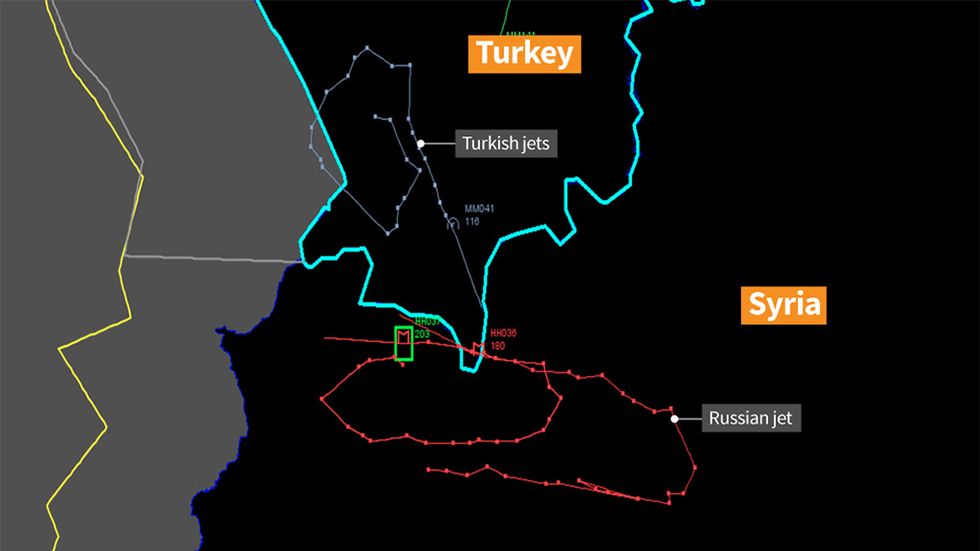 Credit: Aljazeera. The alleged violation by the Russian warplane according to Turkish authorities
---
Turkish military officials allege that, in accordance with the rules of engagement, the Russianpilots were given a total of ten warnings over a period of five minutes before their plane was shot down. Russian officials, however, claim to have "objective proof" that the plane never strayed into Turkish airspace.
According toReuters, this is the first time since World War II that Russian and NATO planes have been flying combat missions in the same air space, and an incident like this has been feared since Russia began airstrikes against Syria back in September. Though Russian officials claimed that the attacks were aimed at ISIS strongholds, it later became clear that the airstrikes weretargeted at opponents of Syrian President Bashar al-Assad.
Several news sources are reporting that the Russian fighter plane came down in what is a rebel held area.
According toALJAZEERA, the crash site is near the Antakya Mountains over Yamadi village. It's an area that has seen a great deal of recent violence;BBC News reports that the crash site is in an area where air strikes and clashes on the ground between Syrian government
forces and rebels took place earlier in the day. More than1,700 people have reportedly fled the area due to intense fighting that has occurred over the past few days. Reuters reports thatRussian jets have been involved in the conflict.
Though both pilots were able to eject from the craft, their status remains unknown; the Russian defense ministry has been quoted saying thatefforts are underway to locate them. According to Reuters,Turkmen Forces have captured one of the pilots and are currently looking for the second.
The downing of the Russian fighter jet comes on the heels of already increasing tensions between Turkey and Russia. Reuters reports that Turkey had just called for a U.N. Security Council meeting regarding recent attacks on Turkmens in Syria and that the Turkish foreign ministry had summoned the Russian ambassador to "warn him that there would be 'serious consequences' if the Russian air force did not immediately stop bombing 'civilian Turkmen villages' in Latakia province."
At a meeting with King Abdullah II of Jordan on Tuesday, Russian President Vladimir Putin was quoted by the New York Times saying that the incident would have "serious consequences for Russian-Turkish relations." President Putin added that the incident was a "stab in the back" to those who would seek to combat terrorism and accused Turkey of aiding the Islamic State by assisting in the sale of its oil reserves.